Search London wiki and Pub wiki history sites
Queen Victoria, Ealing Green, Ealing W5
This is the Horse and Groom in 1839 and earlier, prior to renaming. * This pub is now called Finnegan's Wake (2010). ** Now known as The Grove. ***
Ealing pub history index
A listing of historical public houses, Taverns, Inns, Beer Houses and Hotels in Middlesex. The Middlesex listing uses information from census, Trade Directories and History to add licensees, bar staff, Lodgers and Visitors.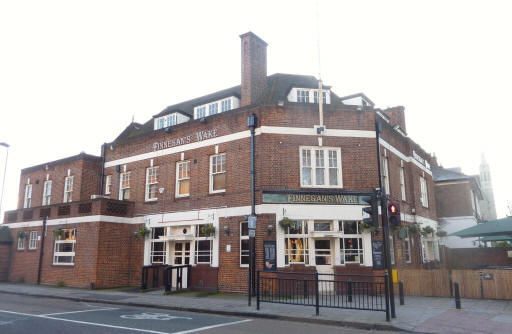 Queen Victoria, 1 Ealing Green, Ealing, W5 - in January 2010
Kindly provided by Stephen Harris
Residents at this address.
1826/Daniel Ebrell/../../../Pigot's Directory *

1839/Richard Norden/../../../Pigot's Directory *

1851/Samuel S. Douglas/../../../Post Office Directory *

1851/Samuel S Douglas/Licensed Victualler/47/Clerkenwell, Middlesex/Census
1851/Katherine Douglas/Wife/46/St Martins, Middlesex/Census
1851/Charlotte Douglas/Daughter/15/Poplar, Middlesex/Census
1851/Alfred H Douglas/Son/12/Poplar, Middlesex/Census
1851/Charlotte Bell/Sister in Law, Proprietor of Houses/48/Marylebone, Middlesex/Census
1851/John F Cawthorne/Cousin, Fund Holder/18/Islington, Middlesex/Census
1851/Ann Farmer/House Servant/18/Bermondey, Surrey/Census
1851/Frank Harriss/Pot Boy/17/Chiswick, Middlesex/Census

1855/George Royal/../../../Post Office Directory **

1861/Jane St Leger/Licensed Victualler Wife/39/Hammersmith, Middlesex/Census
1861/Jane A St Leger/Daughter, Barmaid/14/Ealing, Middlesex/Census
1861/Emily St Leger/Daughter/6/Whitechapel, Middlesex/Census
1861/William M St Leger/Son/4/Whitechapel, Middlesex/Census
1861/Mary Ann St Leger/Daughter/2/St Pancras, Middlesex/Census
1861/Mary McDonald/House Servant/16/Ireland/Census
1861/William Neighbour/Potman/18/Ealing, Middlesex/Census

1866/J Goodchild/../../../Post Office Directory

1874/James Goodchild/../../../Post Office Directory

1878/James Goodchild/../../../Post Office Directory

1881/George Crook/Licensed Victualler/25/Lambeth, Surrey/Census
1881/Amy L Crook/Wife/25/London, City/Census
1881/Charles G Crook/Son/11 months/Peckham, Surrey/Census
1881/Eliza Ann Crook/Mother, widow/55/Devon/Census
1881/Hannah Frost/Barmaid/21/Norfolk/Census
1881/Hester Jowett/General Servant/22/York/Census

1889/John Cox/../../../Kelly's Ealing & Acton Directory, 1889-90 **

1890/John Cox/../../../Post Office Directory

1893/William C Barker/../../../Kelly's Ealing & Acton Directory, 1893-94 **

1894/C W Barker/../../../Post Office Directory

1896/Ralph Pastorelli/../../../Kelly's Directory *

1899/Frank Geo Ware/../../../Post Office Directory

1907/Frank George Ware/../../../Kelly's Directory **

1914/Frank Geo Ware/../../../Post Office Directory

1926/Frank Geo Ware/../../../Post Office Directory

1933/Arthur W. House/../../../Kelly's Directory *

1937/Arthur W House/../../../Post Office Directory



* Provided By Ewan

** Provided By Stephen Harris

*** Provided By Tris