Three Pigeons, 23 High Street, Ealing, W5
Ealing pub history index
This was part of the Rat & Parrot chain then a bar called Parkview. Closed around 2010 and converted to commercial use. ***
A listing of historical public houses, Taverns, Inns, Beer Houses and Hotels in Middlesex. The Middlesex listing uses information from census, Trade Directories and History to add licensees, bar staff, Lodgers and Visitors.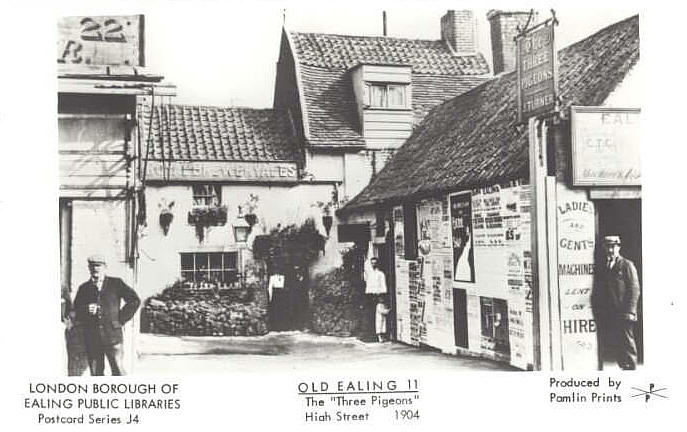 Three Pigeons, High Street, Old Ealing - in 1904
Kindly provided by Colleen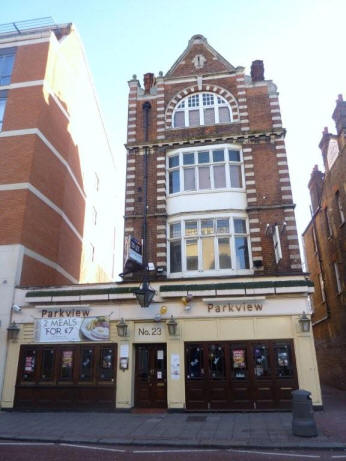 Three Pigeons, 23 High Street, Ealing, W5 - in January 2010
Kindly provided by Stephen Harris
Residents at this address.
1851/James Bishop/beer retailer/../../Post Office Directory *

1851/James Bishop/Beer House Keeper/57/Marsh Magna, Somerset/Census
1851/Margaret Bishop/Wife/57/Crewkerne, Somerset/Census
1851/Mary Ann Butler/Daughter, Assistant/26/City of London, Middlesex/Census
1851/George Hawkins/Pot Boy/16/Isleworth, Middlesex/Census
+ Lodgers

1861/Thomas Preedy/Beer Shop Keeper/30/Souldern, Oxfordshire/Census
1861/Emma Preedy/Wife/31/Taplow, Buckinghamshire/Census
1861/Eliza Preedy/Daughter/5/Chelsea, Middlesex/Census
1861/Walter Preedy/Son/2/Ealing, Middlesex/Census
1861/Clara Preedy/Daughter/1 month/Ealing, Middlesex/Census

1878/John Stock/beer retailer/../../Post Office Directory *

1881/John Nicholas Stock/Beerhouse Keeper/45/Aswick, Somerset/Census
1881/Jane Stock/Wife/46/Ramsgate, Kent/Census
1881/Edmond Bussly/Nephew, Errand Boy/16/Ramsgate, Kent/Census

1889/John Stock/../../../Kelly's Ealing & Acton Directory, 1889-90 **

1890/Jesse Simmons/beer retailer/../../Kelly's Directory *

1893/Jesse Wm. Simmons/../../../Kelly's Ealing & Acton Directory, 1893-94 **

1894/Jesse W Simmons/Beer Retailer/../../Post Office Directory

1896/Horace J. Conway/beer retailer/../../Kelly's Directory *

1907/Charles Tubb/../../../Kelly's Directory **

1926/Edwin J. Brown/beer retailer/../../Kelly's Directory *

1933/Percy W. Slark/beer retailer/../../Kelly's Directory *



* Provided By Ewan

** Provided By Stephen Harris

*** Provided By Tris