Bricklayers Arms, 7 & 9 Angel Road, Edmonton
Edmonton index
In this 1960s photo of the Bricklayers Arms, Angel road, Edmonton, the buildings around it had already been demolished to widen the North Circular road but the pub lasted until 1995, at which time it was called Mr B's. ***
A listing of historical public houses, Taverns, Inns, Beer Houses and Hotels in Middlesex. The Middlesex listing uses information from census, Trade Directories and History to add licensees, bar staff, Lodgers and Visitors.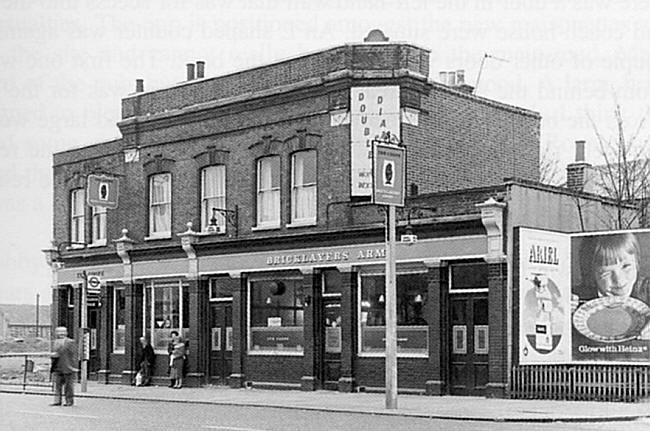 Bricklayers Arms, Angel Road, Edmonton in the 1960s
Kindly provided by Vincent O'Loughlin
Residents at this address.
1871/Richard Pepper/Beerhouse Keeper/55/Romford, Essex/Census
1871/Eliza Pepper/Wife/59/Edmonton, Middlesex/Census
1871/David Pepper/Son/18/Edmonton, Middlesex/Census
1871/Jemima Pepper/Daughter/20/Edmonton, Middlesex/Census

July 1871/Richard Pepper/Outgoing Licensee/../../Era Newspaper

July 1871/Benjamin Abbott/Incoming Licensee/../../Era Newspaper

1881/George E Wicks/Beer Retailer/55/Edmonton, Middlesex/Census
1881/Alice Brand/Housekeeper/58/March, Cambridge/Census
1881/Sidney Bayford/Lodger, Labourer/40/Furney Pellam, Hertford/Census
1881/Mark Wyboard/Lodger (Boarder), Labourer/52/Albury, Hertford/Census
1881/Henry Morris/Lodger (Boarder), Flowerpot Maker (Earthenware)/53/Deptford, Kent/Census
1881/George Nash/Lodger (Boarder), Labourer/30/S Woolwich, Kent/Census
1881/Arthur Allison/Lodger (Boarder), Labourer/28/Ipswich, Suffolk/Census
1881/Thomas Wisbey/Lodger (Boarder), Labourer/23/Waltham Cross, Hertford/Census

1891/Christopher Bowman/Beerhouse Keeper/41/Dilham, NOrfolk/Census
1891/Elizabeth Bowman/Wife/37/Calton Fore Hoe, Norfolk/Census
1891/Jonathan N Bowman/Son/15/Wymondham, Norfolk/Census
1891/George H M Bowman/Son/13/Wymondham, Norfolk/Census
1891/Arthur E Bowman/Son/9/Loughton, Essex/Census
1891/Alice M Bowman/Daughter/6/Edmonton, Middlesex/Census
1891/Lydia Adams/General Servant/14/Stoke Newington, Middlesex/Census

1894/C Bowman/Beer Retailer/../../Post Office Directory

1899/C Marvell/Beer Retailer/../../Post Office Directory

1901/Emma Hale/Wife, Publican, Inn Keeper/41/Edgware, Middlesex/Census
1901/Edward Hale/Publican, Inn Keeper/51/Edgware, Middlesex/Census
1901/Lilian Hale/Daughter/14/Edgware, Middlesex/Census

1902/Mrs Emma Hale/Beer Retailer/../../Post Office Directory

1911/Walter Freeman Holman/Licensed Victualler/33/Witham, Essex/Census
1911/Alice May Holman/Wife, Assistant/23/Stratford, Essex/Census
1911/Elsie May Holman/Daughter/2/Edmonton, Middlesex/Census
1911/Walter Holman/Son//Edmonton, Middlesex/Census
1911/Jennett Emily Honor/Cook/23/Tottenham, Middlesex/Census
1911/Clara Louise Lambers/Monthly Nurse/59//Census

1914/Walt Holman/Beer Retailer/../../Post Office Directory

1926/William LeadbetterBeer Retailer/../../Post Office Directory