Search London wiki and Pub wiki history sites
Bull Inn, 161 Silver Street, Upper Edmonton N18
Edmonton index
At Tanners End in 1871 and 1881 census. Name given in 1821, 1857 and 1874 as Black Bull.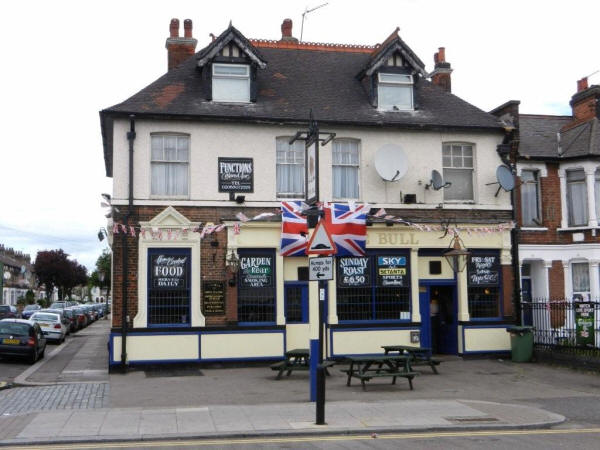 Bull Inn, 191 Silver Street, Edmonton, N18 - in May 2011
Kindly provided by Stephen Harris
A listing of historical public houses, Taverns, Inns, Beer Houses and Hotels in Middlesex. The Middlesex listing uses information from census, Trade Directories and History to add licensees, bar staff, Lodgers and Visitors.
Residents at this address.
1798/John Horwell / Public House Keeper /../../Proceedings of the Old Bailey **

1798/Thomas Braster / Servant /../../Proceedings of the Old Bailey **

1821/John Percival / Publican /../../Proceedings of the Old Bailey **

1855/Henry Fryer/../../../Post Office Directory **

1857/Henry Fryer / Public House Keeper /../../Proceedings of the Old Bailey **

1871/John Brown/Publican/37/Tottenham, Middlesex/Census
1871/Elizabeth Brown/Wife/37/Rushall, Wiltshire/Census
1871/John Brown/Son/8/Tottenham, Middlesex/Census
1871/Albert Brown/Son/6/Tottenham, Middlesex/Census
1871/Oliver Brown/Son/2/Leyton, Essex/Census
1871/Jemima Seymour/General Servant/16/Edmonton, Middlesex/Census

1874/John Brown/../../../H D Miles London & Suburban Licensed Victuallers Directory **

1881/John Brown/Publican, Widow/47/Tottenham, Middlesex/Census
1881/John Brown/Son/18/Tottenham, Middlesex/Census
1881/Albert G Brown/Son/16/Tottenham, Middlesex/Census
1881/Oliver A Brown/Son/14/Leyton, Essex/Census
1881/Martha Perry/Niece, Housekeeper/25/Bussell, Wiltshire/Census
1881/Emily L Edmonds/Niece/5/Kennington, Middlesex/Census

1891/Henry Hazelwood/Publican/46/Lypson, Bucks/Census
1891/Ellen Hazelwood/Wife/44/Gloucestershire/Census
1891/Rose Hazelwood/Daughter/8/London/Census
1891/Ralph Bowery/Stepson, Barboy/15/Gloucester/Census
1891/Emily Sellers/Niece, Barmaid/21/Melbourne/Census

1896/William R Holman/../../../Post Office Directory

1899/Chas Holman/../../../Post Office Directory

1902/Charles Holman/../../../Kellys Directory

1914/Fredk C Marks/../../../Post Office Directory

1926/F C Marks/../../../Post Office Directory

1937/F C Marks/../../../Post Office Directory



** Provided By Stephen Harris