Search London wiki and Pub wiki history sites
George, 5 The Town, Enfield
Enfield pub history index
A listing of historical public houses, Taverns, Inns, Beer Houses and Hotels in Middlesex. The Middlesex listing uses information from census, Trade Directories and History to add licensees, bar staff, Lodgers and Visitors.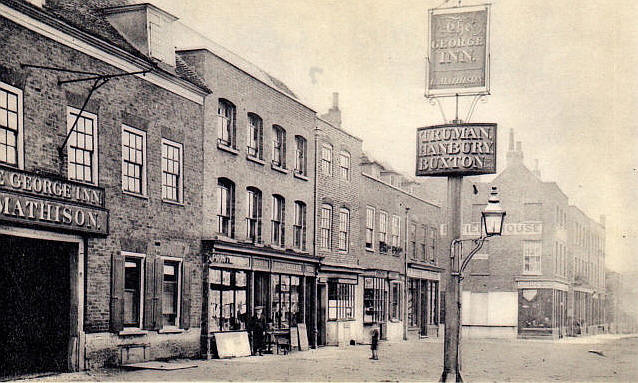 George, Enfield - circa 1885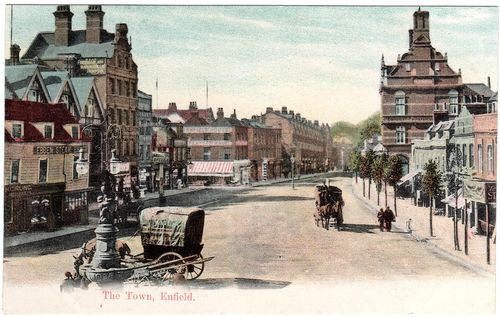 The Town, Enfield showing the George
Kindly provided by Colleen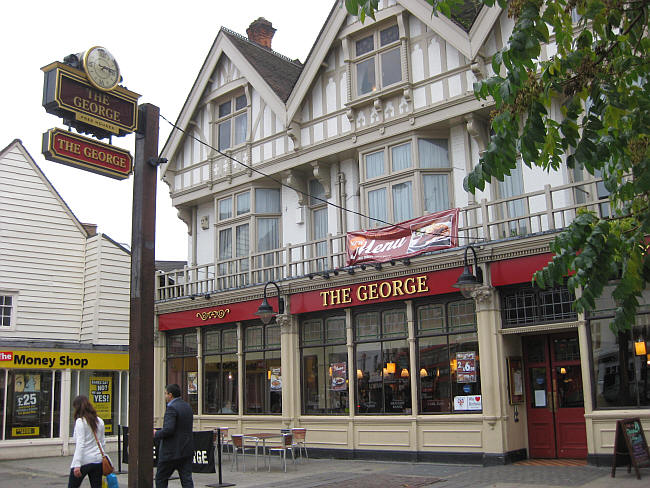 The George, 5 The Town, Enfield - in September 2012
Kindly provided by Dolores Dilley
The following entries are in this format:
Year/Publican or other Resident/Relationship to Head and or Occupation/Age/Where Born/Source.
1839/Robert Mathison/../../../Pigots Directory

1851/Robert Mathison/George commercial inn, Enfield Town/../../Post Office Directory

1855/Robert Mathison/George inn, Enfield Town/../../Post Office Directory

1861/Robert Mathison/Victualler/65/Middlesex/Census
1861/Jane Mathison/Wife/60/Cheshunt, Hertfordshire/Census
1861/Frances Mathison/Daughter/35/Enfield, Middlesex/Census
1861/Ann Mathison/Daughter/33/Enfield, Middlesex/Census
1861/Arthur Bellamy/Potman/24/Enfield, Middlesex/Census
1861/Josiah Clarke/Boarder, Labourer/20/Sandon, Hertfordshire/Census

1866/Robert Mathison/George Inn/../../Post Office Directory

1871/Frances Mathison/Licensed Victualler/46/Enfield, Middlesex/Census
1871/Ann Mathison/Sister, Licensed Victualler/44/Enfield, Middlesex/Census
1871/Maria Blunt/Domestic Servant/22/Enfield, Middlesex/Census
1871/George Hagger/Ostler/21/Baldock, Hertfordshire/Census

1874/Robert Mathison/George hotel, Enfield Town/../../Post Office Directory

1878/Robert Mathison/../../../Post Office Directory

1881/Robert Mathison/Licensed Victualler/52/Enfield, Middlesex/Census
1881/Charlotte R Mathison/Wife/41/Deptford, Kent/Census
1881/Annie Mathison/Daughter/17/Enfield, Middlesex/Census
1881/Francis L Mathison/Daughter/15/Enfield, Middlesex/Census
1881/Helen E Mathison/Daughter/9/Enfield, MiddlesexCensus
1881/Jessie D Mathison/Daughter/6/Enfield, Middlesex/Census
1881/Robert D Mathison/Son/4/Enfield, Middlesex/Census
1881/Frank G Barnes/Ostler/24/Cheshunt, Hertford/Census
1881/Alma J Gibson/General Servant/23/Islington, Middlesex/Census
1881/Ellen Collins/General Servant/19/Enfield, Middlesex/Census

1890/Ernest Harry Jones/George Inn, Town/../../Post Office Directory

1891/Ernest H Jones/Licensed Victualler/31/London/Census
1891/Sarah Jones/Wife/35/Tunbridge Wells, Kent/Census
1891/Lilly Jones/Daughter/4/Enfield, Middlesex/Census
1891/Dora J Jones/Daughter/10 months/Enfield, Middlesex/Census
1891/Barbara Price/Mother in Law/56/Mayfield, Sussex/Census
1891/Ellen Price/Cousin, Assistant/32/Tunbridge Wells, Kent/Census
1891/Thomas Williamson/Ostler/29/Waltham Cross, Hertfordshire/Census
1891/Rebecca Doug/Domestic Servant/21/Southgate, Middlesex/Census
1891/Alice Harper/Domestic Servant/21/Islington, London/Census

1894/Ernest Harry Jones/../../../Post Office Directory

1896/John Herman Ernst/../../../Post Office Directory

1899/John Herman Ernst/../../../Post Office Directory

1914/William Robert Freeman/../../../Post Office Directory

1926/Alfred James Standbrook/George Hotel, 5 The Town/../../Post Office Directory

1933/Alfred Jas Standbrook/George Hotel, 5 The Town/../../Post Office Directory

1937/Alfred Jas Standbrook/George Hotel, 5 The Town/../../Post Office Directory