Search London wiki and Pub wiki history sites
All public house, restaurants, bars etc closed for the forseeable future on 20th March 2020, but this is a history site. But how about the landlords give their tenants a break, no business, then please charge them no rent.
Kings Head, 19 The Town, Enfield
Listed as the Market Place, The Town in 1914 and earlier
Enfield pub history index
A listing of historical public houses, Taverns, Inns, Beer Houses and Hotels in Middlesex. The Middlesex listing uses information from census, Trade Directories and History to add licensees, bar staff, Lodgers and Visitors.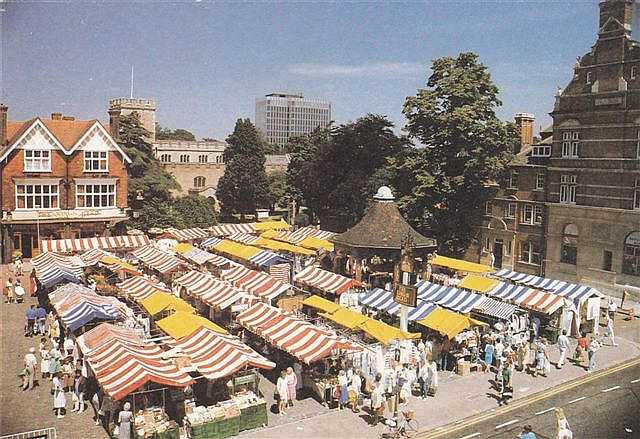 Kings Head & Market Place, Enfield
Kindly provided by Colleen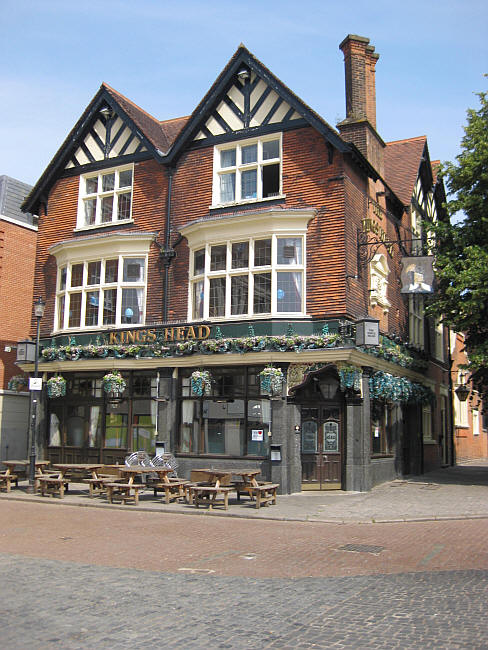 Kings Head, Market Place, Enfield - in July 2013
Kindly provided by Dolores Dilley
The following entries are in this format:
Year/Publican or other Resident/Relationship to Head and or Occupation/Age/Where Born/Source.
I have just found a distant ancestor was Inn Keeper of the Kings Head in 1841 census and still a licensed victualler in 1851 in Enfield Town. ***

1841/William Glover/Inn Keeper/35/Middlesex/Census ***
1841/Emma Glover/../25/Middlesex/Census
1841/Jas Glover/../2/Middlesex/Census
1841/Fredk Glover/../5 months/Middlesex/Census
1841/Anne taylor/../20/Middlesex/Census
1841/Sarah Huckle/Female Servant/25/Middlesex/Census
1841/Emma Hardy/Female Servant/14/Middlesex/Census
1841/Joseph Potts/Ostler/20/Middlesex/Census
1841/Richard Wilbert/Pot Boy/35/Middlesex/Census

1855/William Glover/Kings Head, Enfield Town/../../Post Office Directory

1851/William Glover/Licensed Victualler employing 2 men/42/Hackney, Middlesex/Census ***
1851/Emma Glover/Wife/35/London, Middlesex/Census
1851/William Glover/Son/14/Enfield, Middlesex/Census
1851/James Glover/Son/12/Enfield, Middlesex/Census
1851/Frederick Glover/Son/10/Enfield, Middlesex/Census
1851/Emma Glover/Daughter/8/Enfield, Middlesex/Census
1851/Jessy Glover/Daughter/6/Enfield, Middlesex/Census
1851/Kate Glover/Daughter/3/Enfield, Middlesex/Census
1851/Laura Glover/Daughter/2/Enfield, Middlesex/Census
1851/Alice Glover/Daughter/4 months/Enfield, Middlesex/Census
1851/Frances Fisher/Niece, Barmaid/20/London, Middlesex/Census
1851/Fanny Taylor/Niece/7/Enfield, Middlesex/Census
1851/Lois Kent/Cook/23/Little Ada, Hertfordshire/Census
1851/Harriet Payne/Housemaid/19/Royden, Essex/Census
1851/Martha Glynn/Nursemaid/15/Enfield, Middlesex/Census

1855/W Glover/Kings head inn, Market Place/../../Post Office Directory

1861/George Baldwin/Licensed Victualler/34/Worlingham, Surrey/Census
1861/Ann Baldwin/Wife/24/Wickham, Kent/Census
1861/George F Baldwin/Son/2 months/Enfield, Middlesex/Census
1861/Henry Baldwin/Brother, Servant/25/Worlingham, Surrey/Census
1861/Julia Sullivan/House Servant/22/Dublin/Census
1861/Susannah Anderson/Nursemaid/9/Enfield, Middlesex/Census

1866/George Baldwin/Kings Head commercial inn/../../Post Office Directory

1871/George Baldwin/Licensed Victualler/44/Worlington, Surrey/Census
1871/Frances Baldwin/Wife/44/Faversham, Kent/Census
1871/George F Baldwin/Son/10/Enfield, Middlesex/Census
1871/Austin Harris/Nephew, Servant/15/Faversham, Kent/Census
1871/Frank Harris/Nephew/13/Faversham, Kent/Census
1871/Elizabeth A Boa/Servant/18/Dorchester, Dorset/Census
1871/William McLaren/Lodger, Railway Station Master/32/Belmont, Stirlingshire/Census

1874/Geo Baldwin/Kings Head commercial inn & bowling green, Enfield Town/../../Post Office Directory

1878/Geo Baldwin/../../../Post Office Directory

1881/George Baldwin/Licensed Victualler/54/Waslingham, Surrey/Census
1881/Francis M Baldwin/Wife/54/Faversham, Kent/Census
1881/George Baldwin/Son/24/Enfield, Middlesex/Census
1881/Austin Harris/Nephew, Ostler/25/Faversham, Kent/Census

1890/Frederick Hall/Kings Head Inn, Market Place/../../Post Office Directory

1891/Frederick Hall/Licensed Victualler/38/Lambeth, London/Census
1891/Eliza Hall//Wife/37/Devon/Census
1891/Florence Jennings/Barmaid/22/Middlesex/Census

1894/Miss Elizabeth Annie Lowe/../../../Post Office Directory

1899/William T McMurtrie/../../../Post Office Directory

1914/Harry Finn/Kings Head Hotel, Market Place/../../Post Office Directory

1926/Henry Edward Finn/Kings Head Hotel, 19 The Town/../../Post Office Directory

1933/B J Chandler/Kings Head Hotel, 19 The Town/../../Post Office Directory

1937/Charles Thomas Hayball/Kings Head Hotel, 19 The Town/../../Post Office Directory



*** Provided By Hazel Kerr