Search London wiki and Pub wiki history sites
Railway Inn, 229 Ordnance Road, Enfield Lock
Enfield pub history index
A listing of historical public houses, Taverns, Inns, Beer Houses and Hotels in Middlesex. The Middlesex listing uses information from census, Trade Directories and History to add licensees, bar staff, Lodgers and Visitors.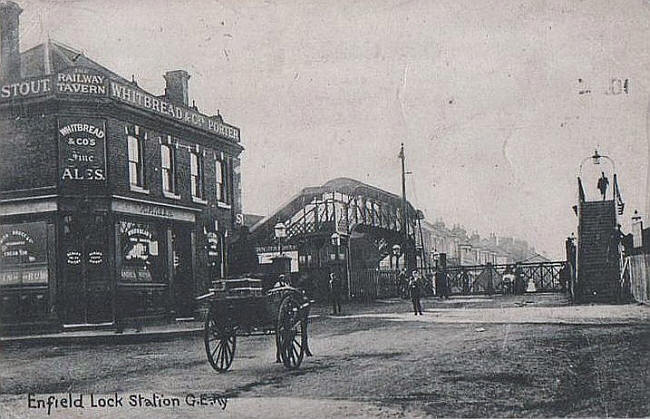 Railway Tavern, 229 Ordnance Road, Enfield Lock - circa 1905
Kindly provided by Stephen Harris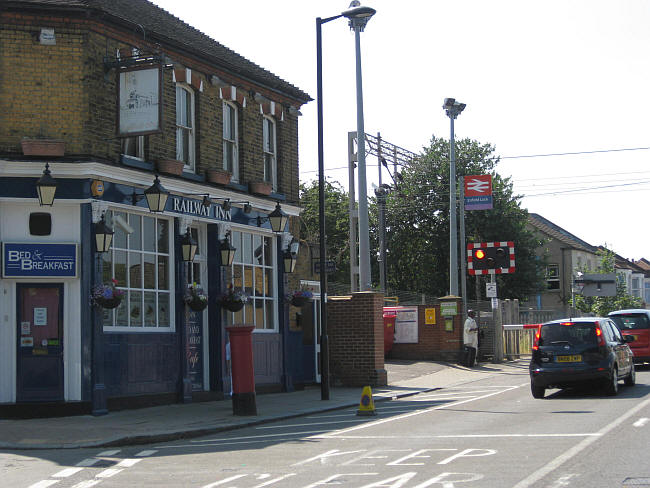 Railway Inn, 229 Ordnance Road, Enfield - in July 2013
Kindly provided by Dolores Dilley
The following entries are in this format:
Year/Publican or other Resident/Relationship to Head and or Occupation/Age/Where Born/Source.
1890/Louis Spielman/../../../Post Office Directory

1891/Louis Spielmann/Publican/49/Hamburg, Germany/Census
1891/Bertha Spielmann/Wife/48/Solingen, Germany/Census
1891/Matilda Piper/Barmaid/24/Richmond, Surrey/Census
1891/Kate Greenal/Barmaid/23/Tidal Basin, Essex/Census
1891/Agns Giles/General Servant/19/Bishops Stortfotf, Essex/Census
1891/Edward Osborn/Potman/33/Aldingdon, Kent/Census
1891/Richard Warboy/Potman/18/Hackney Road, Middlesex/Census

1894/Alfred Louis Spielman/../../../Post Office Directory

1899/Arthur Frank Keem/../../../Post Office Directory

1901/Arthur F Keene/Licensed Victualler/38/Faversham, Kent/Census
1901/Ada Keene/Wife/30/Cranbrook, Kent/Census
1901/Gladys Keene/Daughter/5/Enfield Lock, Middlesex/Census
1901/Constance Keene/Daughter/4/Enfield Lock, Middlesex/Census
1901/Rendell M George/Boarder, Barman/30/Whitchurch, Dorset/Census
1901/John L Peters/Boarder, Barman/17/West Ham, Essex/Census
1901/Annie Brown/Boarder, Domestic Servant/19/Edmonton, Middlesex/Census

1911/Arthur Keem/Licensed Victualler/49/Faversham, Kent/Census
1911/Ada Keem/Wife/40/Cranbrook, Kent/Census
1911/Gladys Keem/Daughter/15/Enfield Lock, Middlesex/Census
1911/Constance Keem/Daughter/14/Enfield Lock, Middlesex/Census
1911/Doris Keem/Daughter/8/Enfield Lock, Middlesex/Census
1911/Annie White/Domestic Servant/21/Cranbrook, Kent/Census
1911/Sydney Edwards/Domestic Servant/20/Enfield Wash, Middlesex/Census

1914/Arthur Frank Keem/Railway Inn, 246 Ordnance Road, Wash/../../Post Office Directory

1926/Arthur Thomas Olley/Railway Inn, 229 Ordnance Road, Lock/../../Post Office Directory

1933/G Iredale/Railway Inn, 229 Ordnance Road, Lock/../../Post Office Directory

1937/Jn Hayday/Railway Inn, 229 Ordnance Road, Lock/../../Post Office Directory