Search London wiki and Pub wiki history sites
Rising Sun, 48 Church Street, Enfield
Enfield pub history index
Earlier address is in the High Street.
A listing of historical public houses, Taverns, Inns, Beer Houses and Hotels in Middlesex. The Middlesex listing uses information from census, Trade Directories and History to add licensees, bar staff, Lodgers and Visitors.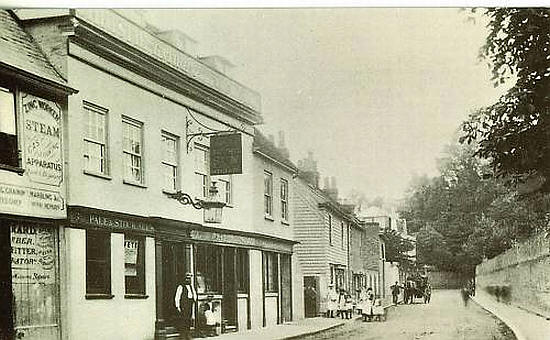 Rising Sun, Enfield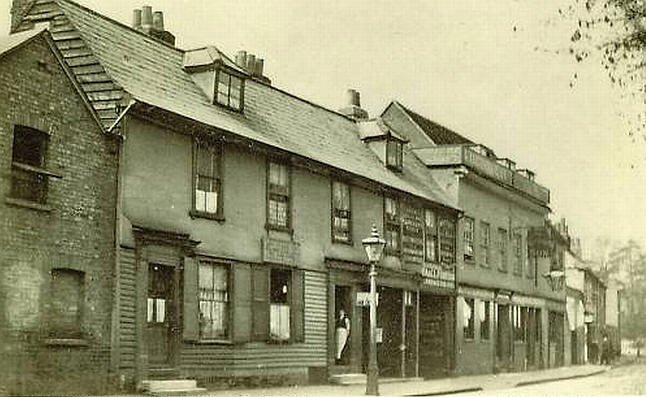 Rising Sun, Enfield - circa 1902
Both kindly provided by Colleen
The following entries are in this format:
Year/Publican or other Resident/Relationship to Head and or Occupation/Age/Where Born/Source.
1839/William Jordan/../../../Pigots Directory ****

1851/John Gadd/Rising Sun, Enfield Town/../../Post Office Directory ****

1855/Francis Jessup/Rising Sun, Enfield Town/../../Post Office Directory ****

1861/William Dedman/Victualler/31/Cheshunt, Hertfordshire/Census ****
1861/Eliza Dedman/Wife/29/Bentley, Hampshire/Census
1861/Anne E Dedman/Daughter/4/Cheshunt, Hertfordshire/Census
1861/Eliza A Dedman/Daughter/3/Cheshunt, Hertfordshire/Census
1861/William T Dedman/Son/2/Hoddesdon, Hertfordshire/Census
1861/Walter H Dedman/Son/1/Alford, Lincolnshire/Census
1861/William Dedman/Father, Cellerman, Widow/62/Adam, Hertfordshire/Census
1861/Mary A Whittaker/Barmaid/22/Nottingham, Nottinghamshire/Census
1861/Charlotte Gates/Servant/15/Edmonton, Middlesex/Census
1861/Ann Land/Servant/13/Chelsea, Middlesex/Census
1861/Frederick Harding/Servant/20/Gilstone, Hertfordshire/Census

1866/Ebenezer Biscoe/Rising Sun, Enfield Town/../../Post Office Directory ****

1871/Ebenezer Biscoe/Licensed Victualler/47/Enfield, Middlesex/Census ****
1871/Henrietta Biscoe/Wife/46/Nunney, Somerset/Census
1871/Henry Biscoe/Son, Clerk/18/Enfield, Middlesex/Census
1871/Annie Biscoe/Daughter/13/Enfield, Middlesex/Census
1871/Sarah A Young/Niece/16/London, Middlesex/Census
1871/George Wyatt/General Servant/14/East India/Census

1874/Ebenezer Biscoe/Rising Sun, Enfield Town/../../Post Office Directory ****

1878/Ebenezer Biscoe/../../../Post Office Directory ****

1881/Ebenezer Biscoe/Licensed Victualler/56/Enfield, Middlesex/Census ****
1881/Henrietta Biscoe/Wife/56/Frome, Somerset/Census
1881/Annie Biscoe/Daughter/23/Enfield, Middlesex/Census
1881/Sarah H Young/Niece, Hosiers Assistant/26/Minories Aldgate, Middlesex/Census
1881/Ann Sleaufles/General Servant/18/Enfield, Middlesex/Census
1881/Samuel Grywood/Potman/21/Islington, Middlesex/Census

1890/William Robert Shuter/Rising Sun, wine & spirit merchant, large billiard rooms, two tables, Church Street/../../Post Office Directory ****

1891/William R Shuter/Publican/39/Dalston, Middlesex/Census ****
1891/Charlotte Shuter/Wife/36/Paddington, Middlesex/Census
1891/William H Shuter/Son/12/Paddington, Middlesex/Census
1891/Gertrude H Shuter/Daughter/10/Lambeth, Surrey/Census
1891/Ernest R Shuter/Daughter/5/Hounslow, Middlesex/Census
1891/Lilian A Shuter/Son/2/Twickenham, Middlesex/Census
1891/Sarah E Slade/Mother, widow/59/Paddington, Middlesex/Census
1891/Eliza Butterworth/Barmaid/23/Barnet, Hertfordshire/Census
1891/Alice Rebecca Wilson/General Servant/18/Enfield, Middlesex/Census

1894/Charles Willis/../../../Post Office Directory ****

1899/Frederick Butcher/../../../Post Office Directory ****

1914/Mrs Martha Butcher/../../../Post Office Directory ****

1926/Mrs S A Frost/Rising Sun, 48 Church Street/../../Post Office Directory ****



**** Provided By Kevan