Search London wiki and Pub wiki history sites
Spotted Cow, Bulls Cross, Enfield
Enfield pub history index
A listing of historical public houses, Taverns, Inns, Beer Houses and Hotels in Middlesex. The Middlesex listing uses information from census, Trade Directories and History to add licensees, bar staff, Lodgers and Visitors.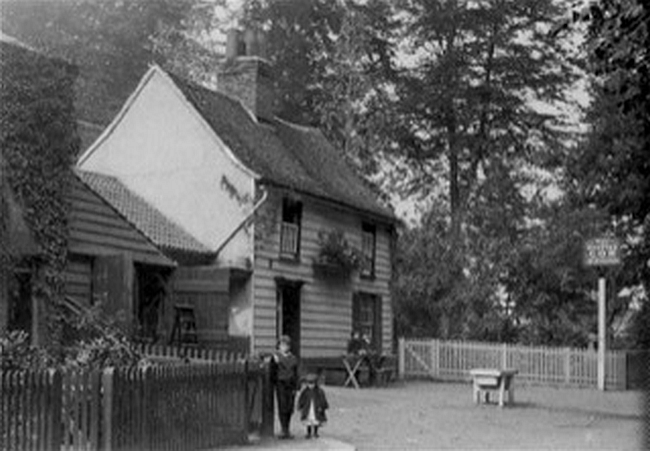 Spotted Cow, Bulls Cross, Enfield - circa 1910
Kindly provided by Dolores Dilley
The following entries are in this format:
Year/Publican or other Resident/Relationship to Head and or Occupation/Age/Where Born/Source.
1861/James Collins/Beer Shop Keeper/78/Reading, Berkshire/Census ****
1861/Lucy Collins/Wife/80/Enfield, Middlesex/Census
1861/Charles Bowles/Lodger, Ag Labourer/56/Southampton, Hampshire/Census

1871/Mary Sage/Beer House Keeper, Widow/70/Islington/Census ****
1871/Louisa Smith/Daughter, Widow/30/Islington/Census
1871/Arthur Orton/Grandson/3/Islington/Census

1881/Mary Everett/Beer House Keeper, Widow/42/Cheshunt, Hertford/Census ****
1881/Albert Everett/Son/12/Kennington, Surrey/Census
1881/Frank Everett/Son/10/Wimbledon, Surrey/Census

1891/Mary Everett/Beer House Keeper, Widow/53/Cheshunt, Hertfordshire/Census ****
1891/Emily Everett/Daughter/26/Kennington, Surrey/Census
1891/Richard A Everett/Son, Plumber/22/Kennington, Surrey/Census
1891/Frank S Baker/Lodger, Carpenter & Joiner/30/Horsham, Sussex/Census

1911/Richard Albert Everett/Plumber/42/Vauxhall, London/Census ****
1911/Isabella Kate Everett/Wife, Beer House Keeper/30/St Elmo, Malta/Census
1911/Nelson Herbert Hewitt/Brother in Law, Machinist/22/Aldershot, Hampshire/Census
1911/Frances Mary Everett/Daughter/4/Bulls Cross/Census
1911/Albert Leslie Everett/Son/2/Bulls Cross/Census
1911/Alice Aggus/Domestic Servant/17/Dengie, Essex/Census

1914/Isabella Kate Everett/Beer Retailer, Bulls Cross/../../Post Office Directory ****



**** Provided By Kevan