Search London wiki and Pub wiki history sites
Sun & Woolpack, 640 Hertford Road, Waltham Cross
At Enfield Wash, Waltham in 1899, at 2 Hertford Road until at least 1933
Enfield pub history index
A listing of historical public houses, Taverns, Inns, Beer Houses and Hotels in Middlesex. The Middlesex listing uses information from census, Trade Directories and History to add licensees, bar staff, Lodgers and Visitors.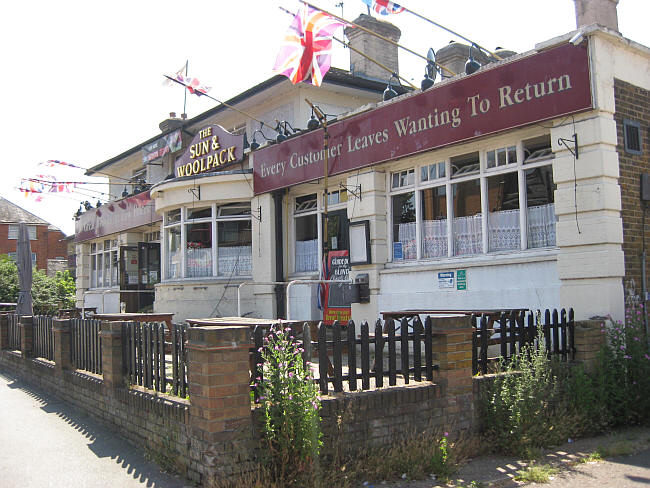 Sun & Woolpack, 640 Hertford Road, Enfield - in July 2013
Kindly provided by Dolores Dilley
The following entries are in this format:
Year/Publican or other Resident/Relationship to Head and or Occupation/Age/Where Born/Source.
1839/Jno Gilbert/../../../Pigots Directory

1851/Mrs Rhoda Pitches/Sun & Woolpack, Enfield Wash/../../Post Office Directory

1855/Edward James Wymack/Sun & Woolpack, Freezy Water/../../Post Office Directory

1861/Edward James Wyman/Licensed Victualler/48/England/Census
1861/Rhoda Wyman/Wife/48/Bath, Somerset/Census
1861/Charles Humphreys/Servant/25/Broxbourne, Hertfordshire/Census

1866/Edward James Wyman/Licensed Victualler, Sun & Woolpack, Enfield Wash/../../Post Office Directory

1871/Edward Wyman/Licensed Victualler, Widow/59/Islington/Census
1871/John Parker/Lodger, Engineer/37/Folkestone, Kent/Census

1874/Edward James Wyman/Sun & Woolpack, Enfield Wash/../../Post Office Directory

1881/William Pichford/Licensed Victualler/46/Old Park, Shropshire/Census
1881/Emma Pichford/Wife/41/Enfield, Middlesex/Census
1881/Emma Whitham/General Servant/21/Petersborough, Northampton/Census

1890/William Herny Pitchford/Sun & Woolpack, Enfield Wash/../../Post Office Directory

1891/William H Pitchford/Licensed Victualler, Widow/51/Birmingham/Census
1891/M Priske/Housekeeper/41/Enfield, Middlesex/Census
1891/B Brand/General Servant/17/Birmingham/Census

1894/Isaac Wilson/../../../Post Office Directory

1899/W Shelfer/../../../Post Office Directory

1914/Henry Arthur Field/Sun & Woolpack, 2 Hertford Road/../../Post Office Directory

1926/George Gillham/Sun & Woolpack, 2 Hertford Road, Freezywater/../../Post Office Directory

1933/Arthur Dennis/Sun & Woolpack, 2 Hertford Road, Freezywater/../../Post Office Directory

1937/Sydney Sell/Sun & Woolpack,640 Hertford Road, Freezywater/../../Post Office Directory