Pub history and pub wiki
Old White Lion, High Road, East Finchley N2
Finchley pub history index
This building was demolished c1937 when East Finchley station was rebuilt to become part of the Northern Line. The main road was widened and the new pub was moved further back from both the station and the road. It reopened in 1939. ***
A listing of historical public houses, Taverns, Inns, Beer Houses and Hotels in Middlesex. The Middlesex listing uses information from census, Trade Directories and History to add licensees, bar staff, Lodgers and Visitors.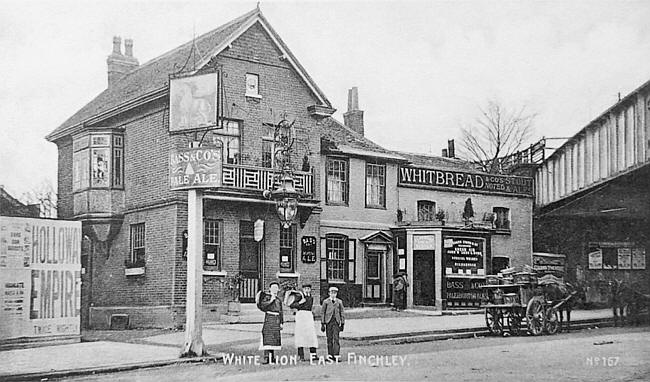 White Lion, High road, East Finchley - circa 1910
Kindly provided by Vincent O'Loughlin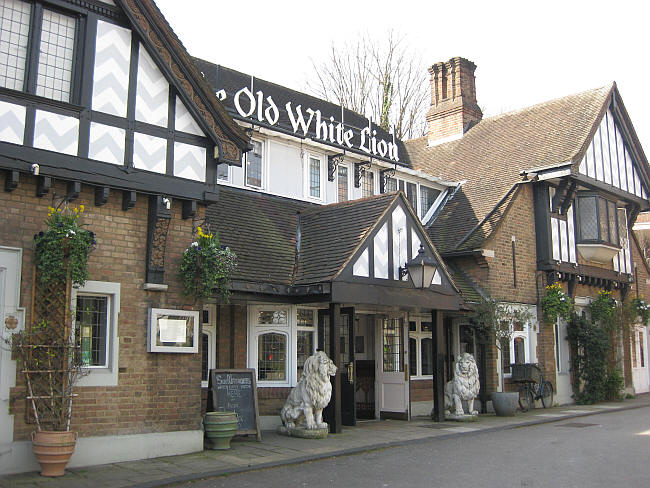 Old White Lion, High Road, East Finchley - in March 2014
Kindly provided by Dolores Dilley
The following entries are in this format:
Year/Publican or other Resident/Relationship to Head and or Occupation/Age/Where Born/Source.
1839/Neat Ladd/../../../Pigots Directory

1861/William Taylor/Licensed Victualler/28/Clerkenwell, Middlesex/Census
1861/Matilda Taylor/Wife/30/St Sepulchre, Middlesex/Census
1861/Katherine Badderly/Wifes sister/21/Clerkenwell, Middlesex/Census
1861/George Schofield/Potman/28/Finchley, Middlesex/Census
1861/Ann Oakly/House Servant/23/Hertford, Hertfordshire/Census

1866/W Taylor/../../../Post Office Directory

1871/William Taylor/Publican/36/London/Census
1871/Matilda Taylor/Wife/45/London/Census
1871/Mary Badderly/Sister in Law, Asistant/30/London/Census
1871/Katherine Paddon/Sister in Law, Asistant/28/London/Census
1871/Ellen A Gay/Domestic Servant/26/London/Census
1871/Abigail Donham/Assistant/14/Middlesex/Census
1871/Martha Whitbread/Nurse Child/13/Middlesex/Census
1871/Frank Paddon/../1/Middlesex/Census
1871/Alfred Paddon/../2 months/Middlesex/Census

1874/William Taylor/../../../Post Office Directory

1878/Thomas Ellors Bee/../../../Post Office Directory

1881/Thomas E Bee/Licensed Victualler/47/London, Middlesex/Census
1881/Marianne Bee/Wife/36/Lincoln/Census
1881/Thomas J Bee/Son/5/Finchley, Middlesex/Census
1881/Ethel Bee/Daughter/3/Finchley, Middlesex/Census
1881/Rose Lightfoot/Barmaid/20/London, Middlesex/Census
1881/Ada Lightfoot/Barmaid/16/London, Middlesex/Census
1881/Bessie White/Domestic Servant/19/London, Middlesex/Census

1890/Thomas E Bee/../../../Post Office Directory

1891/Thomas Ellers Bee/Licensed Victualler/57/Hull, Yorkshire/Census
1891/Marianne Bee/Wife/45/South, Lincolnshire/Census
1891/Alice Marianne Bee/Daughter/13/Finchley, London/Census
1891/Elizabeth Bowers/Barmaid/21/Tottenahm/Census
1891/Agatha Yates/Barmaid/24/Hailey Castle, Worcester/Census
1891/Ada Clusinan/General Servant/20/Highgate, London/Census

1894/Thomas Ellors Bee/../../../Post Office Directory

1899/Thomas Pickett/../../../Post Office Directory

1901/Thomas Pickett/Proprietor of Public House/42/Brighton, Sussex/Census
1901/Marian Pickett/Wife, Proprietoress of Public House/42/Lambeth, London/Census
1901/Beatrice Marshall/Barmaid/19/Catford, Kent/Census
1901/Mary Roberts/Barmaid/21/Islington, Middlesex/Census
1901/James Couzens/Cellerman/23/Norwich, Norfolk/Census

1914/Cubitt Cooke/Proprietoress/../../Post Office Directory

1926/Thomas Hurrey/../../../Post Office Directory

1937/Thomas Hurrey/../../../Post Office Directory




* Provided By Tris

*** Provided By Vincent O'Loughlin
Search for a pub, an address or person
And Last updated on: Wednesday, 03-Jul-2019 19:47:13 BST