Sir Walter Scott, 17a Perth Road, Finsbury Park N4
Now called the Faltering Fullback, though a Sir Walter Scott sign can also be seen.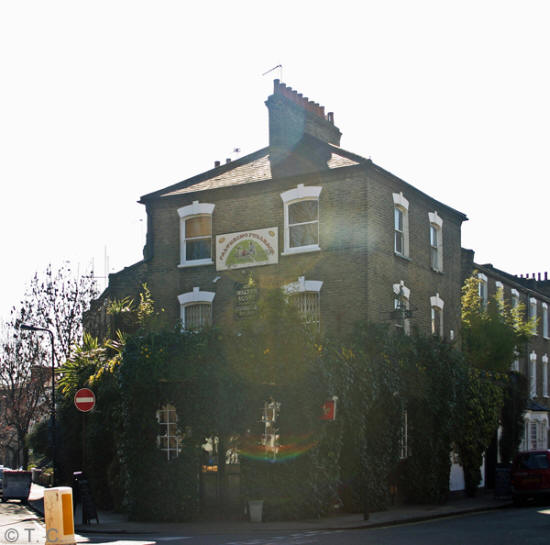 Sir Walter Scott, 19 Perth Road, N4 - in March 2011
Kindly provided by Tris
A listing of historical public houses, Taverns, Inns, Beer Houses and Hotels in Middlesex. The Middlesex listing uses information from census, Trade Directories and History to add licensees, bar staff, Lodgers and Visitors.
Residents at this address
1874/William Kelly/../../../Post Office Directory

1878/Benjamin Whitaker/../../../Post Office Directory

1890/Mrs M Masters/../../../Post Office Directory

1894/Anthony Clark/../../../Post Office Directory

1899/Thomas Edmund Prince/../../../Post Office Directory

1914/Jn Mayo/../../../Post Office Directory

1926/Jn Mayo/../../../Post Office Directory

1937/Reginald Harris/../../../Post Office Directory

My parents ran the pub 1960 - 1962, my father was Ron Barnes. My parents them moved to Essex to manage the Cock inn at Boreham. **

My Uncle was the landlord of the Sir Walter Scott from around 1961 to 1965. His name was Stanley Ronald Wager. He moved onto a pub called the Flying Dutchman in Hildenborough Kent in 1965. Sadly he died in 1987, a few years after retiring. **

My father and mother Chris Cummins and Phyllis Cummins were the licensees between 1981 to 1989. They then returned and bought the freehold in 1994 and changed the name to the Faltering Fullback and remained at the pub until they retired in 2001. ***




* Provided By Stuart Cass

** Provided By Stuart Barnes

*** Provided By Chris Cummins