Black Boy & Still, 56 High Street, Hampstead NW3
Hampstead pub history index
Licenced as The Still in 1751. *** This pub was present by 1816 and I think it was probably demolished when the High Street was restructured in around 1890. **
These buildings were demolished soon after the photograph was taken in 1886, The High Steeet was widened and Heath Street was extended westwards.
The pub would have been opposite the Hampstead Tube station if it were still standing.
The Cock & Crown and Yorkshire Grey were also demolished as part of these works.
A listing of historical public houses, Taverns, Inns, Beer Houses and Hotels in Hampstead, London.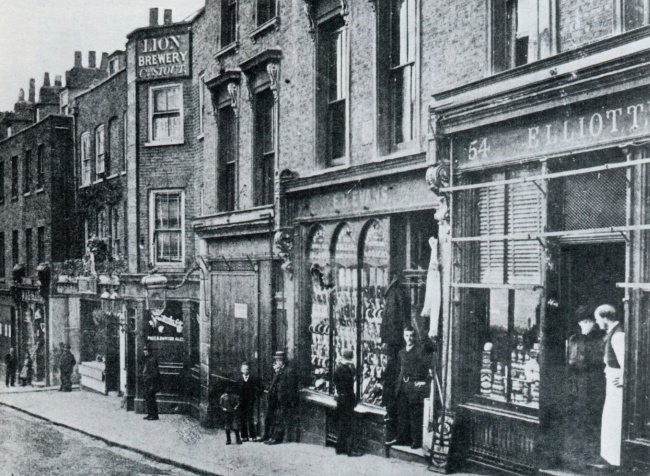 The Black Boy & Still, Hampstead High Street in 1886.
Kindly provided by Vincent O'Loughlin
Residents at this address
1826/H Wells/../../../Pigot's Directory

1839/William Male/../../../Pigot's Directory *

April 1847/Charles Disthrop/Outgoing Licensee/../../Era

April 1847/Edward Ely/Incoming Licensee/../../Era

Morning Advertiser 23 April 1851 - Licence transfers
Black Boy and Still, Hampstead, Samuel Godesave to John Taylor

1855/Thomas Jewiss/../../../Post Office Directory **

February 1857/John Taylor/ Outgoing Licensee /../../The Era

February 1857/William Palmer/ Incoming Licensee /../../The Era

1861/Rebecca Woodcock/Inn Keeper, Widow/42/London, Middlesex/Census
1861/Henry Henwood/Son, Publican/22/London, Middlesex/Census
1861/Cordelia Henwood/Daughter/23/London, Middlesex/Census
1861/William Woodcock/Son/13/Middlesex/Census
1861/James Slater/Visitor, Officer of Inland Revenue/25/Lymington, Hertfordshire/Census
1861/Hannah Hill/House Servant/17/Hampstead, Middlesex/Census
1861/Henry Wilkinson/Potman/25/Hertfordshire/Census
+ Lodgers

October 1861/Henry Henwood/Outgoing Licensee/../../Morning Post

October 1861/William Scholes/Incoming Licensee/../../Morning Post

April 1868/Simeon Stone/Outgoing Licensee/../../Era Newspaper

April 1868/David Putney/Incoming Licensee/../../Era Newspaper

1871/David Putney/Licensed Victualler/36/Stepney, Middlesex/Census
1871/Emma E Putney/Wife/45/Surrey/Census
1871/Emma Putney/Daughter/15/Lambeth/Census
1871/Julia Putney/Daughter/14/Islington, Middlesex/Census
1871/David C Putney/Son/11/Paddington, Middlesex/Census
1871/Maryann Dorman/Domestic Servant/25/Suffolk/Census

1872/David Putney/../../../Post Office Directory **

1874/David Putney/../../../Post Office Directory **

1878/Thomas O Watson/../../../Post Office Directory **

1882/Herbert James Oxford/../../../Kelly's Directory **




* Provided By Ewan

** Provided By Stephen Harris

*** Provided By Tris

**** Provided By Vincent O'Loughlin