Princess of Wales, 121 Abbey Road, St Johns Wood NW8
Hampstead pub history index
A listing of historical public houses, Taverns, Inns, Beer Houses and Hotels in Hampstead, London.
Demolished, an estate pub probably dating from the 1960s occupies this site contained within a housing block called Emminster; now officially called the Cricketers, the pub sign displays the name Lillie Langtry. ***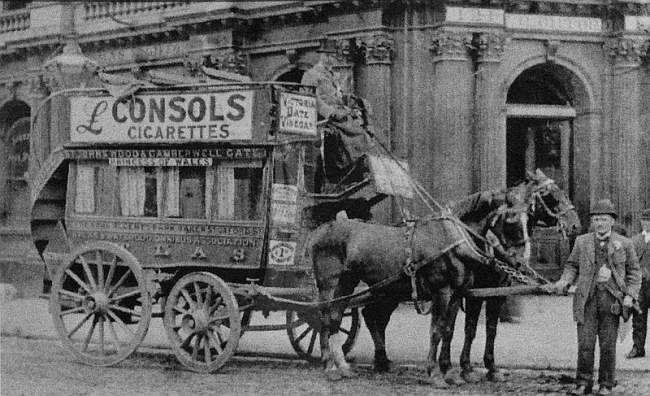 Princess of Wales, 121 Abbey Road, NW6 - Photo dated 1897, note the destination - Princess of Wales - on the side of the omnibus.
Kindly provided by Tris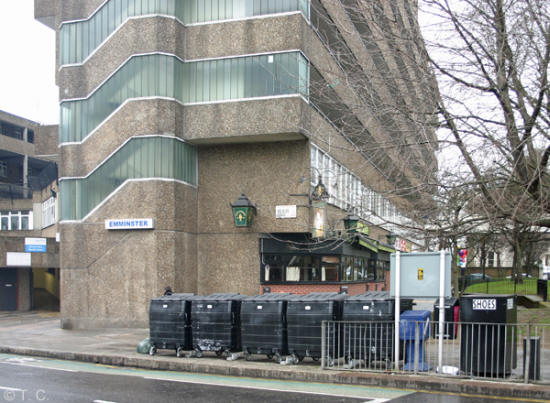 Princess of Wales Hotel, 121 Abbey Road, NW6 - in January 2011
Kindly provided by Tris
Residents at this address
February 1866/Robert Yeo/Outgoing Licensee/../../Era

February 1866/John Allen/Incoming Licensee/../../Era

1871/James Varney/Licensed Victualler/43/Hammersmith, Middlesex/Census
1871/Emma Varney/Wife/41/Chelsea, Middlesex/Census
1871/Emma E Varney/Daughter/20/Pimlico, Middlesex/Census
1871/Lydia J Varney/Daughter/19/Pimlico, Middlesex/Census
1871/Eliza M Varney/Daughter/17/Pimlico, Middlesex/Census
1871/Helena M Varney/Daughter/16/Pimlico, Middlesex/Census
1871/James W Varney/Son/10/Pimlico, Middlesex/Census
1871/Edith H Varney/Daughter/7/Maidstone, Kent/Census
1871/Minnie B Varney/Daughter/5/Maidstone, Kent/Census
1871/Lilian M Varney/Daughter/2/Doveley, Kent/Census
1871/Rose E Elliott/Housemaid/16/Aylesford, Kent/Census
1871/Sarah Pope/Cook/32/Latimer, Herefordshire/Census
1871/Harriet Chambers/Nursemaid/19/Hanningfield, Essex/Census
1871/James Topley/Barman/23/Knightsbridge, Middlesex/Census

1891/William R Hayden/Licensed Victualler/31/Devizes, Wiltshire/Census
1891/Sophia S Hayden/Wife/25/Old Ford, London/Census
1891/Johana Sullivan/Cook/53/County Kerry/Census
1891/Ada H Lucas/Barmaid/17/Exeter, Devon/Census
1891/Elizabeth Reynolds/Barmaid/21/Bodmin, Cornwall/Census
1891/Arthur Dickson/Waiter/18/Hastings, Sussex/Census
1891/Thomas Hodgson/Errand Boy/15/LOndon/Census

1899/Thomas Richard Gifford/../../../Post Office Directory

1921/Frederick Hill/../../../Post Office Directory

1934/Charles Glenister/../../../Post Office Directory

1938/Alfred Herbert Rice/../../../Post Office Directory



** Provided By Stephen Harris

*** Provided By Tris