Spaniards Inn, Spaniards Road, Hampstead
Hampstead pub history index
This pub was established by 1585. ** It is actually listed as part of North Finchley in the census. The address is variously given in old sources as Heath End, Hampstead Heath or Upper Heath, and even Highgate Road in 1839. *
A listing of historical public houses, Taverns, Inns, Beer Houses and Hotels in Middlesex. The Middlesex listing uses information from census, Trade Directories and History to add licensees, bar staff, Lodgers and Visitors.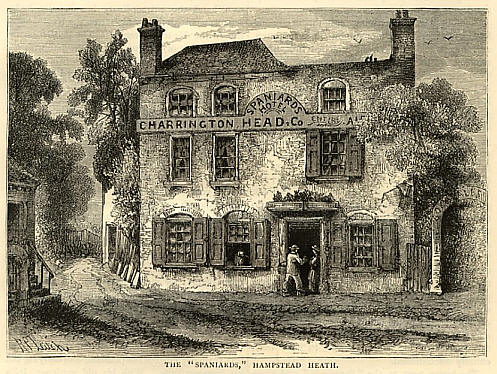 The Spaniards Hotel, Hampstead Heath
Kindly provided by Colleen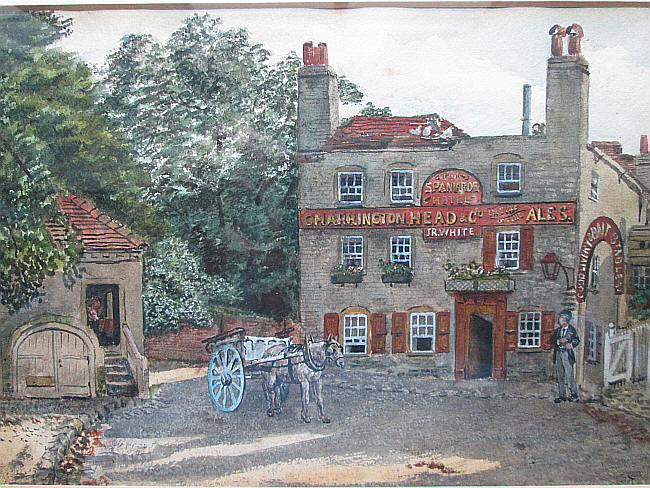 Spaniards Inn, Hampstead Heath - circa 1880
I date it as 1880 or earlier because I believe that after 1880 "Charrington Head" ceased to be known by that name and just used "Charrington & Co".
Kindly provided by Brian Fowler
Spaniards Inn, Hampstead Heath - circa 1881, Licensee W Hudson
Kindly provided by Michael Hocken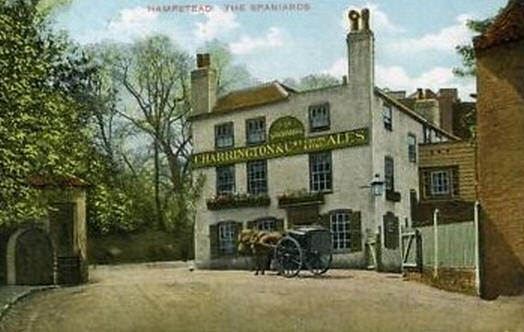 Spaniards Inn, Spaniards Road - in 1900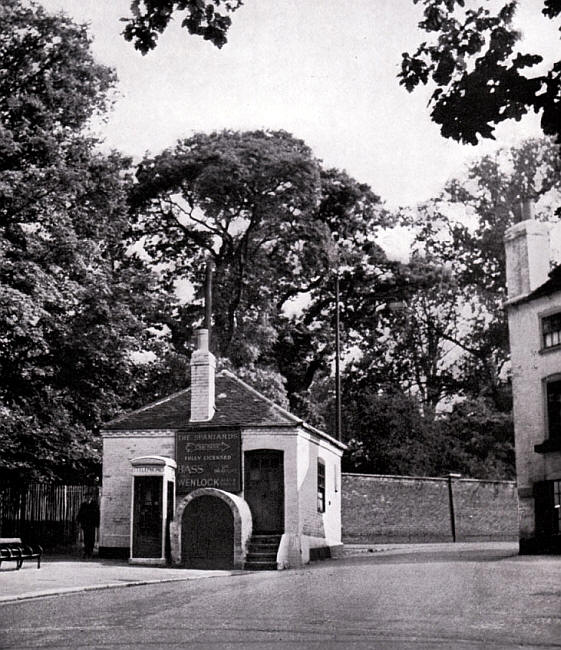 The Spaniards, Toll House - in the 1950s
Kindly provided by Colleen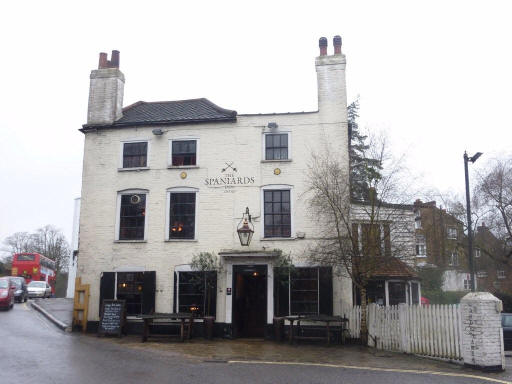 Spaniards Inn, Spaniards Road - in January 2010
Both kindly provided by Stephen Harris
The following entries are in this format:
Residents at this address
1839/John Chapman/../../../Pigot's Directory *

1841/John Chapman/Victualler/40/../Census *
1841/Sarah Chapman/../40/../Census
1841/William Dixon/../40/../Census
1841/George Powles/Merchant/50/Middlesex/Census
1841/John Powles/Merchant/25/../Census
1841/Thomas Talbot/Cook/20/../Census
1841/William Telling/Servant/40/../Census
1841/George Perry/Servant/25/../Census
1841/John Dabbs/Servant/20/Middlesex/Census
1841/Emma Wells/Servant/20/Middlesex/Census
1841/Fanny Shalford/Servant/20/Middlesex/Census
1841/Joseph Shelton/Servant/20/../Census

1851/John Chapman/../../../Post Office Directory *

1851/John Chapman/Innkeeper/51/Portsea, Hampshire/Census *
1851/Sarah Chapman/Wife/56/Houghton Bling, Dorset/Census
1851/Ann Biddle/Visitor (Widow), Annuitant/60/Exeter/Census
1851/William Seawell/Visitor, Annuitant/47/Headley, Surrey/Census
1851/Frederick Claudine/Visitor, Corresponding Clerk/28/Prussia/Census
1851/Caroline Claudine/Visitor, Corresponding Clerk/25/Leamington, Warwickshire/Census
1851/Marc Cauthdiere/Visitor, Traveller/40/France/Census
1851/Loyse Cauthdiere/Traveller/38/France/Census
1851/Mary Walters/Servant/30/London/Census
1851/Laura Wood/Servant/25/Croydon/Census
1851/John Warren/Ostler/24/Taunton, Somerset/Census

1855/John Chapman/../../../Post Office Directory **

1861/P H Connell/Licensed Victualler/48/Camberwell, Surrey/Census
1861/C Connell/Wife/41/Islington, Middlesex/Census
1861/Harry Connell/Son/14/Camberwell, Surrey/Census
1861/Horace Connell/Son/8/Camberwell, Surrey/Census
1861/Fanny Connell/Daughter/4/Rotherhithe, Surrey/Census
1861/Isabella Hutt/Servant/30/Oxford/Census

1866/Mrs C A Connell/../../../Post Office Directory

July 1869/Charles Everard/Outgoing Licensee/../../Era

July 1869/Thomas Clegg/Incoming Licensee/../../Era

1871/Thomas Clegg/Hotel Keeper/36/Manchester, Lancashire/Census
1871/Rose A Clegg/Wife/28/St Albans, Hertfordshire/Census
1871/Rose M A Clegg/Daughter/6/London, Middlesex/Census
1871/Thomas R Clegg/Son/4/London, Middlesex/Census
1871/Eliza D Clegg/Daughter/1/Hampstead, Middlesex/Census
1871/William H Betts/Visitor, Farmer/24/London, Middlesex/Census
1871/Willim J Playle/Barman/21/Sudbury, Suffolk/Census
1871/Louisa Vicary/Domestic Servant/17/London, Middlesex/Census

1872/Thomas Clegg/../../../Post Office Directory **

1874/Thomas Clegg/../../../Post Office Directory **

1878/Mrs Jane R White/../../../Post Office Directory

1881/Fanny Osborne / Barmaid /../../Proceedings of the Old Bailey **

1881/William Jas Hudson/Licensed Victualler/36/Warwick/Census
1881/Jane W Hudson/Wife/34/Lincoln/Census
1881/Elizabeth Osborne/Mother In Law, Widow/76/Lincoln/Census
1881/Fanny Osborne/Barmaid/29/Lincoln/Census
1881/George Young/Coachman/20/Colchester, Essex/Census
1881/Sarah Collyer/Domestic Servant/22/Middlesex/Census

1882/William Jas. Hudson/../../../Kelly's Directory **

1896/Miss S. E. R. White/../../../Kelly's Directory *

1901/Herbert Greer/Licensed Victualler/31/Sandymount, Ireland/Census
1901/Sarah A Greer/Wife/26/Wotton under Edge, Gloucester/Census
1901/Lucy A Lowden/Cook/34/Liskeard, Cornwall/Census
1901/Daisy A Franklin/Housemaid/19/Upper Baker Street, London/Census
1901/Ruby G Bradnam/Barmaid/19/Clerkenwell, London/Census
1901/Robert W Green/Barman/21/Norwich, Norfolk/Census
1901/August Clarkson/Boarder/32/Hornsey, Middlesex/Census

1904/Mrs Sarah E Greer/../../../Post Office Suburban Directory

1908/Mrs Sarah E Greer/../../../Post Office Suburban Directory **

1911/Mrs Sarah E Greer/../../../Post Office Suburban Directory

1911/Herbert Greer/Licensed Victualler/43/Sandy Mount, Dublin/Census *
1911/Sarah Elizabeth Greer/Assisting in the Business/38/Wotton-under-Edge, Gloucestershire/Census
1911/Alice Georgina Woolston/Cook/46/London/Census
1911/Grace Smith/Barmaid/25/South Kensington/Census

1914/Mrs Sarah E. Greer/../../../Post Office Directory *

1919/Mrs Elizabeth Rawlings Greer/../../../Post Office Suburban Directory

1921/Mrs Elizabeth Rawlings Greer/../../../Post Office Directory

1938/Chas E Spencer/../../../Post Office Directory

1944/Chas E Spencer/../../../Post Office Directory



* Provided By Ewan

** Provided By Stephen Harris