Vale of Health, Vale of Health, Hampstead NW3
Hampstead pub history index
A listing of historical public houses, Taverns, Inns, Beer Houses and Hotels in Hampstead, London.
This pub was demolished circa 1964 to make way for an apartment block known as Spencer House, named after the artist Stanley Spencer who had a studio in the pub. ***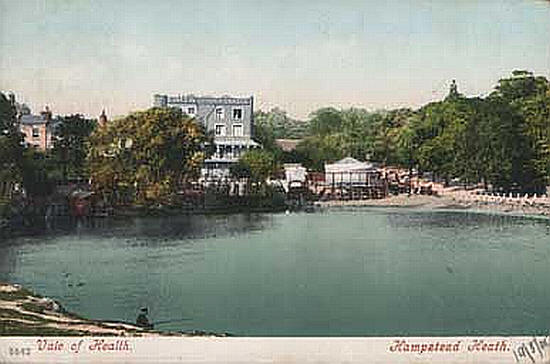 The Vale of Health had a beautiful verandah and expansive views over the Vale of Health pond. On the wall hung a stuffed carp, the largest caught at that time in the Hampstead ponds. - circa 1904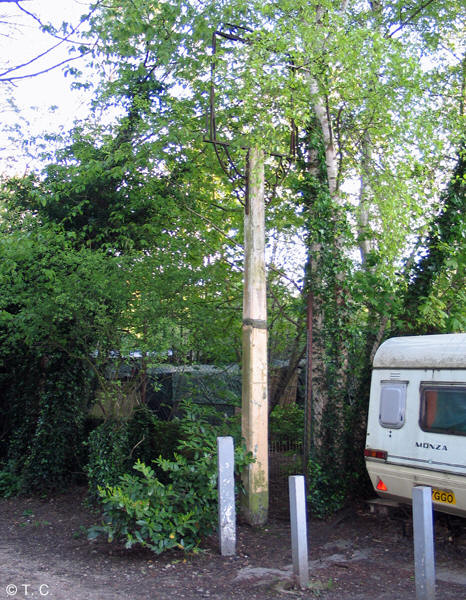 The photo shows the old sign post and frame on the Heath path between the pond and travellers' site.
Kindly provided by Tris
Residents at this address
1871/Horatio Orbell/Hotel Keeper/35/London, Middlesex/Census
1871/Emily L Orbell/Wife/33/London, Middlesex/Census
1871/Emily P Orbell/Daughter/10/London, Middlesex/Census
1871/Grace Orbell/Daughter/8/Blackheath, Kent/Census
1871/Alice Orbell/Daughter/6/Blackheath, Kent/Census
1871/Horatio G Orbell/Son/4/Brighton, Sussex/Census
1871/Louisa F Orbell/Daughter/2/London, Middlesex/Census
1871/John Orbell/Son/1/Lewisham, Kent/Census
1871/Francis Keeble/Barman/20/London, Middlesex/Census
1871/Charles Cooper/Cook/22/Henley on Thames/Census
1871/Eliza A Thompson/Nurse/41/London, Middlesex/Census
1871/Henry Mansell/Potman/36/Esher, Surrey/Census

1872/Horatio Orbell/../../../Post Office Directory **

1874/Richard Titcomb/../../../Post Office Directory **

1878/John Bernhard/../../../Middlesex Directory

1881/Minnie Peters / Tavern Keeper's Wife /../../Proceedings of the Old Bailey **

1882/Charles Peters / & General Supply Stores /../../Kelly's Directory **

1891/Charles Peters/Licensed Victualler/47/Hampstead, Middlesex/Census
1891/Sarah Ann Peters/Wife/34/Hampstead, Middlesex/Census
1891/Minnie Peters/Daughter/10/Hampstead, Middlesex/Census
1891/Charles Peters/Son/7/Hampstead, Middlesex/Census
1891/Kate Peters/Daughter/5/Hampstead, Middlesex/Census
1891/John Peters/Son/2/Hampstead, Middlesex/Census
1891/Fredk Peters/Son/1/Hampstead, Middlesex/Census
1891/Alfred Peters/Son/9 months/Hampstead, Middlesex/Census
1891/Harriet/Mother, Widow/83//Census
1891/Ada Jackson/Cook/45/Northampton/Census
1891/Maria Howe/Barmaid/27/Northampton/Census
1891/Louisa Crampton/Nurse/18/Middlesex/Census
1891/George Buckle/Potman, Widow/32/Edinburgh/Census

1896/Charles Peters/../../../Kelly's Directory *

1904/Charles Peters/../../../Suburban Post Office Directory

1911/John Warren & Richard Andrews/../../../Suburban Post Office Directory

1914/Werren & Enderby/../../../Post Office Directory *

1938/Frederick George Gray/../../../Post Office Directory

1944/Jn Miller/../../../Post Office Directory



* Provided By Ewan

** Provided By Stephen Harris

*** Provided By Tris