Pub history and pub wiki
Washington, 50 Englands Lane, Hampstead NW3
Hampstead pub history index
Address formerly 1 Elizabeth Terrace, Belsize Park Gardens until at least 1887 ** The address is also given as 84 Belsize Park Gardens in the 1896 Directory *.
A listing of historical public houses, Taverns, Inns, Beer Houses and Hotels in Hampstead, London.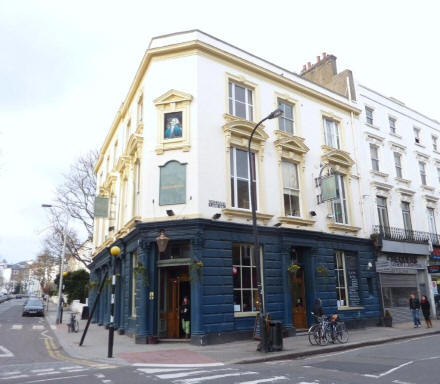 Washington, 50 Englands Lane, Hampstead - in January 2010
Kindly provided by Stephen Harris
The following entries are in this format:
Year/Publican or other Resident/Relationship to Head and or Occupation/Age/Where Born/Source.
1866/Daniel Tidey/../../../Post Office Directory

1871/Daniel Tidey/Licensed Victualler/54/Washington, Sussex/Census
1871/Miss Freade/Housekeeper/28/Beetley, Staffordshire/Census
1871/Miss Tidey/Daughter, Barmaid/20/London, Middlesex/Census
1871/Catherine Peters/Barmaid/18/Reading, Berkshire/Census
1871/Ellen Peters/General servant/22/Glastonbury, Somerset/Census
1871/Henry Wheatley/Potman/21/Stanford, Bedfordshire/Census
1871/Sydney Smith/Visitor, Captain Retired/31/Minchinhampton, Gloucestershire/Census
1871/Justrabo d'Angliss/Visitor, English & French Correspondence/28/Jersey/Census
1871/Henry M Molyneux/Visitor, Auctioneer/35/Tooting, Surrey/Census

1872/Daniel Tidey/../../../Post Office Directory **

1874/Daniel Tidey/../../../Post Office Directory *

1882/Frederick Hugh Price / & Wine Merchant /../../Kelly's Directory **

1887/Frederick Hugh Price / Hotel Keeper /../../Proceedings of the Old Bailey **
1887/Frederick Davey / Servant /../../Proceedings of the Old Bailey

1891/Walter Holman/Licensed Victualler/46/Crewkerne, Somerset/Census
1891/Maryann E Holman/Wife/44/Southwark, London/Census
1891/Jno Holman/Son, Decorator/19/Littlehampton/Census
1891/Eliz M Pugh/Daughter in Law, Dress Maker/19/Hampstead, Middlesex/Census
1891/Annie G Holman/Daughter/17/Littlehampton/Census
1891/Florence K Pugh/Daughter/16/Hampstead, Middlesex/Census
1891/Sam Holman/Son/14/Littlehampton/Census
1891/Edith W Pugh/Daughter/14/Hampstead, Middlesex/Census
1891/Janet J Pugh/Daughter/12/Hampstead, Middlesex/Census
1891/Harold Holman/Daughter/10/Hampstead, Middlesex/Census
1891/Walter Holman/Son/7/Littlehampton/Census
1891/Marion M Holman/Daughter/2/Hampstead, Middlesex/Census
1891/Richd J George/Billiard Marker/22/St Johns Wood/Census
1891/Annie E Brockway/Housemaid/23/Somerset/Census
1891/Elfredda P Collins/Barmaid/19/High Wycombe/Census
1891/Rosina K Turner/Barmaid/21/Hampstead/Census
1891/George Gilby/Barman/18/New Sampford, Essex/Census
1891/Kate Way/Nurse, Widow/33/Morchand Bishop, Devon/Census
1891/Emma A Crawley/Kitchenmaid/28/St James, Piccadilly/Census

1896/Walter Holman/../../../Kelly's Directory *

1915/Walter Henry Bishop/../../../Post Office Directory *

1938/Mrs Eleanor Hall/../../../Post Office Directory

1944/Ind Coope & Allsopp Ltd/../../../Post Office Directory



* Provided By Ewan

** Provided By Stephen Harris

Search for a pub, an address or person
And Last updated on: Wednesday, 03-Jul-2019 19:47:38 BST