Search London wiki and Pub wiki history sites
Brown Bear, Bear Road, Hanworth, Feltham
Hanworth pub history index
The Brown Bear' at the junction of Bear Road and Sunbury Way, Hanworth. This public House was demolished in 1973 to make way for the Motorway feeder road. The war memorial was also moved to a new location.
A listing of historical public houses, Taverns, Inns, Beer Houses and Hotels in Middlesex. The Middlesex listing uses information from census, Trade Directories and History to add licensees, bar staff, Lodgers and Visitors.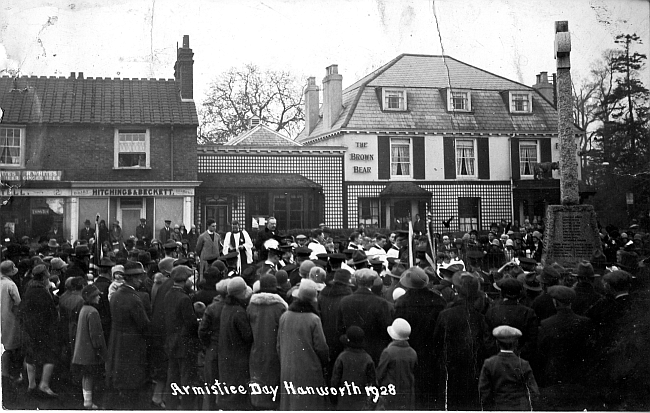 Brown Bear, Bear Road, Hanworth - on Armistice Day, 1928
Kindly provided by Kevin Frewin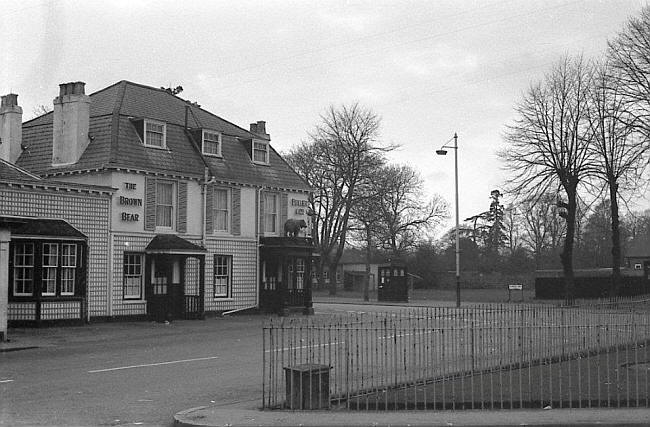 Brown Bear, Bear Road, Hanworth - in 1968 (demolished in 1973)
Kindly provided by Kathleen Hope - photo by Edward Ashmore
The following entries are in this format:
Year/Publican or other Resident/Relationship to Head and or Occupation/Age/Where Born/Source.
1851/Richard Lovell/../../../Post Office Directory

1851/Richard Lovell/Victualler/46/Bexley, Kent/Census
1851/Georgiana Lovell/Wife//Brighton, Sussex/Census
1851/William Lovell/Son/18/Brighton, Sussex/Census
1851/Edward Lovell/Son/6/Egham, Surrey/Census
1851/Eliza Lovell/Daughter/3/Hounslow, Middlesex/Census
1851/Ann Silverton/General Servant/11/Oakingham, Berkshire/Census

1855/Richard Lovell/../../../Post Office Directory

1866/R Lovell/../../../Post Office Directory

1871/Henry Lovell/Publican/32/Egham, Surrey/Census
1871/Annie M Lovell/Wife/30/Hockliffe, Bedfordshire/Census
1871/Alfred H Lovell/Son/3/Hanworth, Middlesex/Census
1871/George Lovell/Brother, Draper/28/Egham, Surrey/Census
1871/Susan Harris/Domestic Servant/16/Hanworth, Middlesex/Census
1871/William Evans/Domestic Servant/15/Reading, Berkshire/Census
1871/William Conquest/Lodger, Labourer/51/Hanworth, Middlesex/Census

1874/Henry Lovell/../../../Post Office Directory

1878/Henry Lovell/../../../Post Office Directory

1881/Henry Lovell/Licensed Victualer/43/Egham, Surrey/Census
1881/Annie Mc Lovell/Wife/38/Toddington, Bedford/Census
1881/Alfred Hy Lovell/Son/13/Hanworth, Middlesex/Census
1881/Frederick Hy Lovell/Son/8/Hanworth, Middlesex/Census
1881/Jonathan Porter/Boarder, Farm Labourer/66/Hanworth, Middlesex/Census
1881/Thomas Dickenson/Boarder, Coachman/33/Dorking, Surrey/Census
1881/William Condict/Boarder, Labourer/17/Coventry, Warwick/Census
1881/John Maynard/Domestic Servant/16/Hanworth, Middlesex/Census

1890/William Abrook/../../../Post Office Directory

1891/William Abrook/Inn Keeper/67/Feltham, Middlesex/Census
1891/Ann Abrook/Wife/65/Duxford, Cambridge/Census
1891/John Abrook/Son/22/Clapham, Surrey/Census
1891/Ann Abrook/Grand Daughter/14/Hackney, Middlesex/Census
1891/Charlotte Bentham/Visitor, Nurse, Widow/52/Duxford, Cambridge/Census

1894/William King/../../../Post Office Directory

1899/Edwin A H Dyer/../../../Post Office Directory

1901/Edwin Albert Robert Dyer/Licensed Victualler/36/Ratcliff, Middlesex/Census
1901/Julia Dyer/Wife/29/Brentford, Middlesex/Census
1901/Winifred Macy Dyer/Daughter/3/Hanworth, Middlesex/Census
1901/Edwin Alfred Dyer/Son/2/Ditton, Middlesex/Census
1901/Emma Mary Dyer/Mother/61/Bermondsey, London/Census

1911/Walter Alfred Fry/Licensed Victualler/33/Edmonton, Middlesex/Census
1911/Alice Elizabeth Fry/Wife, Assistant/33/Camden Town, Middlesex/Census
1911/Arthur William Fry/Son/9/Dulwich, Surrey/Census
1911/Doris Madeleine Fry/Daughter/6/Catford, Kent/Census
1911/Henry Capon/Visitor, Plumber & Decorator/26/Finsbury Park, Middlesex/Census
1911/Rose Winter/Wifes Sister, Collar Dresser/27/Hackney, Middlesex/Census
1911/Jessie Eves/General Servant/19/Sittingbourne, Kent/Census

1914/William Waters/../../../Post Office Directory

1926/Fred Green/../../../Post Office Directory

1937/Frederick M Green/../../../Post Office Directory