Search London wiki and Pub wiki history sites
Hope & Anchor, Hampton Road, Hanworth, Feltham
Hanworth pub history index
At the High Street in 1899. The old Hope and Anchor was on the other side of the Hampton Road and was demolished for road widening in the thirties, more or less at the same time as Arthur Angell retired. * The newly built Hope & Anchor (see pictire below) was demolished early 1990s and is now a Macdonalds drive through in 2017.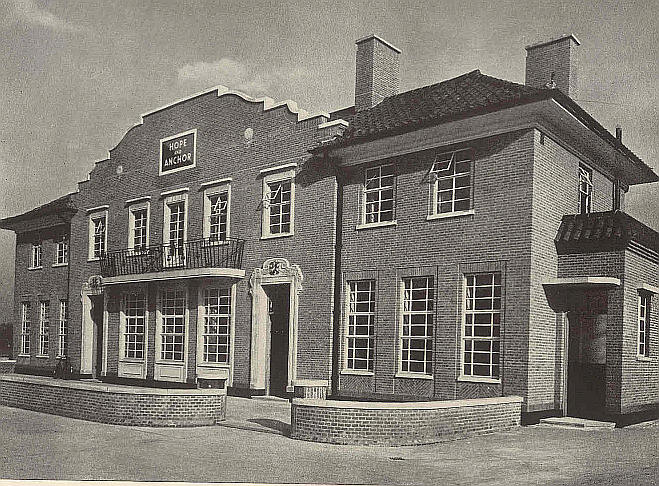 Hope & Anchor, Hanworth - for Messrs Friary, Holroyd & Healys Breweries Ltd
Kindly provided by Alex Wilkinson
A listing of historical public houses, Taverns, Inns, Beer Houses and Hotels in Middlesex. The Middlesex listing uses information from census, Trade Directories and History to add licensees, bar staff, Lodgers and Visitors.
The following entries are in this format:
Year/Publican or other Resident/Relationship to Head and or Occupation/Age/Where Born/Source.
1851/Robert Barleclow Waters/Beer House Keeper/73/Hoveton, St John, Norfolk/Census ****
1851/Mary Waters/Wife/59/Great Mongeham, Kent/Census
1851/Mary Waters/Daughter/32/Richmond, Surrey/Census
1851/Charles Waters/Son/27/Petersham, Surrey/Census

1855/Robert Barleclow Waters/Beer Retailer/../../Post Office Directory ****

1861/William Bickmore/Colt Breaker, Widow/60/Stistead, Essex/Census ****
1861/William Bickmore/Son, Publican/31/Staines, Middlesex/Census
1861/Emma Bickmore/Daughter in Law/27/Greenwich, Kent/Census
1861/William Bickmore/Grandson/8 months/Hanworth, Middlesex/Census

1866/William Bickmore/../../../Post Office Directory ****

1871/William Bickmore/Publican/41/Staines, Middlesex/Census ****
1871/Eliza Bickmore/Wife/31/Kingston, Surrey/Census
1871/William jun Bickmore/Son/10/Hanworth, Middlesex/Census
1871/James Bickmore/Son/6/Hanworth, Middlesex/Census
1871/Louisa Bickmore/Daughter/5/Hanworth, Middlesex/Census
1871/Louisa Hughes/Visitor, Artifivcial Florist/27/London, Middlesex/Census

1874/William Bickmore/../../../Post Office Directory ****

1878/William Bickmore/../../../Post Office Directory ****

1881/Edward Rogers/Publican/52/Hampshire/Census ****
1881/Emma Rogers/Wife/57/Harpendon, Hertford/Census
1881/Eliza Dickment/Visitor/50/London, Middlesex/Census
1881/Ernest Rogers/Visitor/10/London, Middlesex/Census
1881/Henry Dale/Visitor/42/Cheshire/Census

1890/F W Dimmack/../../../Post Office Directory ****

1891/Francis W Dimmack/Licensed Victualler/40/Barnsbury, London/Census ****
1891/Matilda Dimmack/Wife/34/Oxford Street, London/Census
1891/Alice M Dimmack/Daughter/3/Hanworth, Middlesex/Census
1891/Ada Dimmack/Daughter/1/Hanworth, Middlesex/Census
1891/Lilly Silvester/Domestic Servant/18/Twickenham, Middlesex/Census

1894/Francis William Dimmack/../../../Post Office Directory ****

1899/Francis William Dimmack/../../../Post Office Directory ****

1901/Arthur Hall/Publican/34/London, Middlesex/Census ****
1901/Esther Hall/Wife/34/London, Middlesex/Census
1901/Florence Hall/Daughter/11 months/Hanworth, Middlesex/Census
1901/William Hazell/Potman, Widow/39/Berkshire/Census
1901/Lottie Collins/Domestic Servant/15/London/Census

1911/Arthur Angell/Licensed Victualler/38/Woolwich, Kent/Census *
1911/Sarah Jane/Wife, Assistant/40/Redhill, surrey/Census
1911/Arth Frederick/Son/10/Plumstead, Kent/Census
1911/Elizabeth Gillett/Cook, widow/56/Plumstead, Kent/Census
1911/William Henry McQuinn/Barman/36/Sheerness, Kent/Census

1914/Arthur Angell/../../../Post Office Directory ****

1926/Arthur Angell/../../../Post Office Directory ****

1937/Arthur Angell/../../../Post Office Directory ****




* Provided By Andy Hoskins

**** Provided By Kevan