Search London wiki and Pub wiki history sites
Oxford Arms, Twickenham Road, Hanworth, Feltham
Hanworth pub history index
The address of the Oxford Arms until at least 1937 is Twickenham Road,
A listing of historical public houses, Taverns, Inns, Beer Houses and Hotels in Middlesex. The Middlesex listing uses information from census, Trade Directories and History to add licensees, bar staff, Lodgers and Visitors.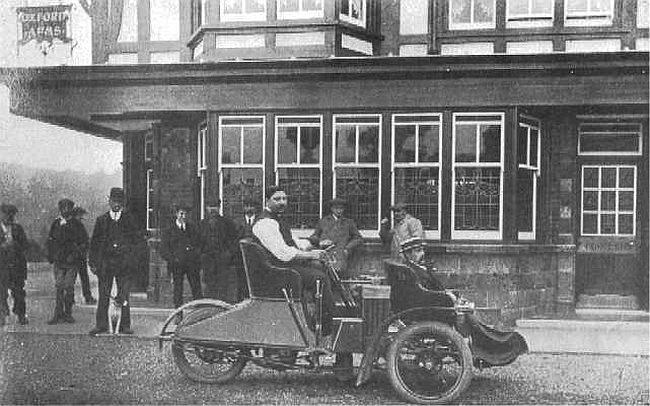 Oxford Arms, Twickenham Road, Hanworth - circa 1910
Kindly provided by Kathleen Hope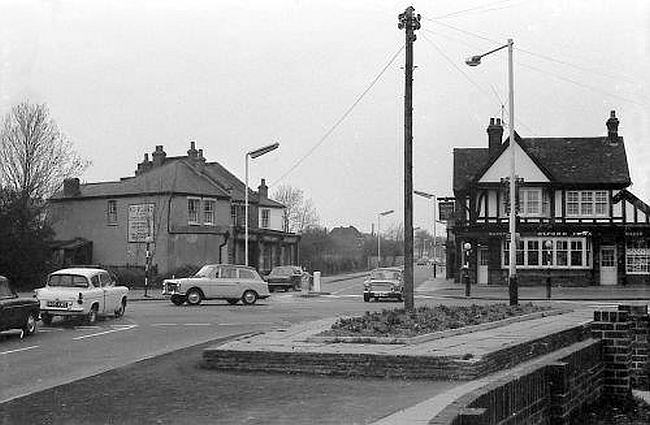 Oxford Arms,Twickenham Road, Hanworth - in 1968
Photo by Edward Ashmore
The following entries are in this format:
Year/Publican or other Resident/Relationship to Head and or Occupation/Age/Where Born/Source.
1861/Charles Brett/Carpenter/30/Dorchester, Dorset/Census ****
1861/Ann Brett/Wife/34/Norwood, Surrey/Census
1861/Charles Brett/Son/11/Deptford/Census
1861/Frederick Brett/Son/9/Westminster, Midlesex/Census
1861/Henery Brett/Son/12/Notting Hill, Midlesex/Census
1861/Benjamin Brett/Son/3 months/Bedfont, Midlesex/Census
1861/Mary Spicer/House Servant/15/Saleham, Midlesex/Census
1861/Henry J Townshed/Boarder, Millwright/60/Lewes, Sussex/Census

1878/Geo Reynolds/Beer Retailer/../../Post Office Directory ****

1881/James Reynolds/Beerhouse Keeper, Widow/75/St Albans, Hertford/Census ****
1881/Charlotte Reynolds/Grand Daughter/26/Hampton, Middlesex/Census
1881/William Reynolds/Grandson, General Labourer/19/Hanworth, Middlesex/Census
1881/John Gostling/Lodger, General Labourer/24/Hanworth, Middlesex/Census

1891/James F Reynolds/Publican, Widow/85/Smallford, Hertford/Census ****
1891/James Pearce/Grandson, Butcher/32/Hounslow, Middlesex/Census
1891/Charlotte Pearce/Grand Daughter/36/Hampton, Middlesex/Census
1891/William Pearce/Great Grandson/3/Hanworth, Middlesex/Census
1891/Caroline E Pearce/Great Grand Daughter/2/Hanworth, Middlesex/Census
1891/Charlotte J Pearce/Great Grand Daughter/4 months/Hanworth, Middlesex/Census

1894/Geo Reynolds/Beer Retailer/../../Post Office Directory ****

1901/James Reynolds/Beerhouse Keeper/44/Hampton, Middlesex/Census ****
1901/Ellen Reynolds/Wife/42/Hanworth, Middlesex/Census
1901/James Norris Reynolds/Son, Florist/22/Hanworth, Middlesex/Census
1901/William Reynolds/Son, Labourer/21/Hanworth, Middlesex/Census
1901/Nellie Reynolds/Daughter/19/Twickenham, Middlesex/Census
1901/Harry Reynolds/Son, Labourer/17/Twickenham, Middlesex/Census
1901/Arthur Reynolds/Son/14/Hanworth, Middlesex/Census
1901/Bernard Reynolds/Son/12/Hanworth, Middlesex/Census
1901/Leonard Reynolds/Son/11/Hanworth, Middlesex/Census
1901/Elsie Reynolds/Daughter/8/Hanworth, Middlesex/Census
1901/Bertie Reynolds/Son/6/Hanworth, Middlesex/Census

1914/Jas Norris Field Reynolds/Beer Retailer/../../Post Office Directory ****

1926/Jas Norris Field Reynolds/Beer Retailer/../../Post Office Directory ****

1937/Jas Norris Reynolds/../../../Post Office Directory ****




**** Provided By Kevan