Search London wiki and Pub wiki history sites
Swan, Swan road, Hanworth, Feltham
Hanworth pub history index
A listing of historical public houses, Taverns, Inns, Beer Houses and Hotels in Middlesex. The Middlesex listing uses information from census, Trade Directories and History to add licensees, bar staff, Lodgers and Visitors.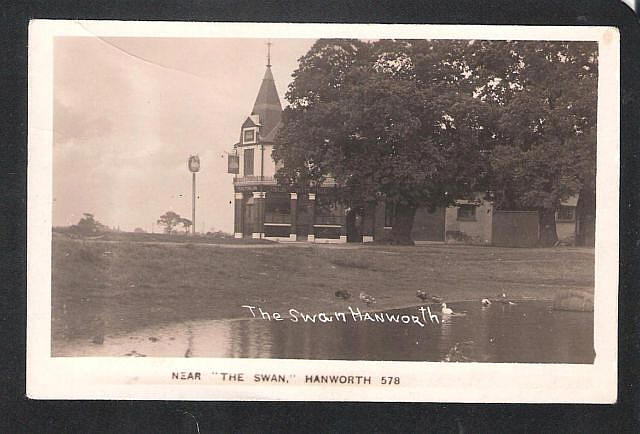 The Swan, Hanworth - early 1900s
Kindly provided by Colleen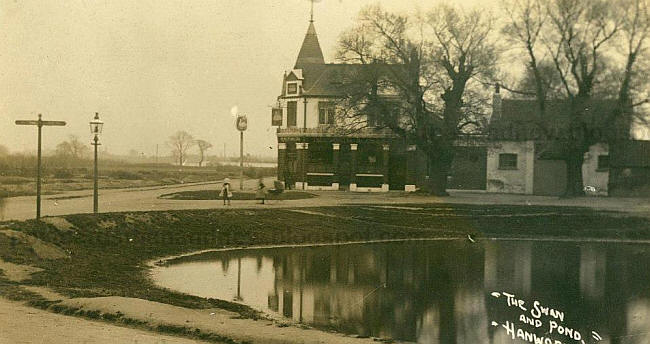 Swan, Swan Road, Hanworth - in 1910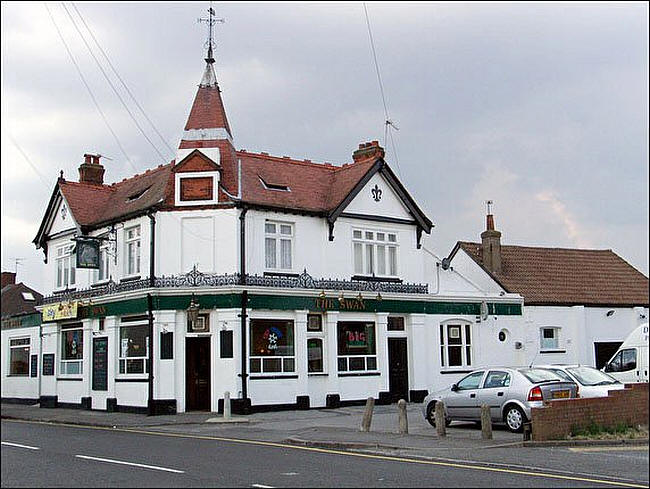 Swan, Green lane, Hanworth - still open
Kindly provided by Kathleen Hope
The following entries are in this format:
Year/Publican or other Resident/Relationship to Head and or Occupation/Age/Where Born/Source.
1851/William Blackwell/../../../Post Office Directory ****

1851/William Blackwell/Publican/55/Laleham, Middlesex/Census ****
1851/Ann Blackwell/Wife/50/Bradley, Yorkshire/Census
1851/James Blackwell/Son/17/Laleham, Middlesex/Census
1851/John Blackwell/Son/15/Laleham, Middlesex/Census
1851/Mary Blackwell/Daughter/13/Laleham, Middlesex/Census
1851/Ann Blackwell/Daughter/11/Hanworth, Middlesex/Census

1855/William Blackwell/../../../Post Office Directory ****

1861/Charles Weston/Licensed Victualer/49/Bath, Somerset/Census ****
1861/Jane Weston/Wife/49/Bath, Somerset/Census
1861/Kate Miller/Niece/17/Bath, Somerset/Census
1861/Thomas Horne/Servant/15/Hanworth, Middlesex/Census

1866/Charles Weston/../../../Post Office Directory ****

1874/Mrs Jane Weston/../../../Post Office Directory ****

1881/Charles Benn/Publican/47/Hanworth, Middlesex/Census ****
1881/Mary A Benn/Wife/45/Hampton Wick, Middlesex/Census
1881/Ann E Benn/Daughter, Dressmaker, Deaf & Dumb/26/Hanworth, Middlesex/Census
1881/Florence A Benn/Daughter, Barmaid/19/Hanworth, Middlesex/Census
1881/Charles Purdy/Boarder, General Labourer/31/Hanworth, Middlesex/Census

1891/Charles H Madocks/Licensed Victualler/55/Richmond, Surrey/Census ****
1891/Mary Ann Madocks/Wife/57/Richmond, Surrey/Census
1891/William Hayles/Potman/17/Hanworth, Middlesex/Census

1901/Christopher Jones/Publican/39/Twickenham, Middlesex/Census ****
1901/Sophia Anne Jones/Wife/39/Margate, Kent/Census
1901/George W Jones/Son/11/Twickenham, Middlesex/Census
1901/Alfred D Jones/Son/9/Twickenham, Middlesex/Census
1901/Sarah H Jones/Daughter/6/Hanworth, Middlesex/Census
1901/Caroline Lemon/Friend, Widow/65/Chertsey, Surrey/Census
1901/Edward Winen/Visitor, Widow/82/Sunbury, Middlesex/Census

1914/William Reynolds/../../../Post Office Directory ****

1926/William Reynolds/../../../Post Office Directory ****

1937/William Reynolds/../../../Post Office Directory ****




**** Provided By Kevan