Five Bells, Harmondsworth, West Drayton
Harmondsworth pub history index
The modern address is at High Street, Harmondsworth. * Listed as the Six Bells Inn in the 1871 census.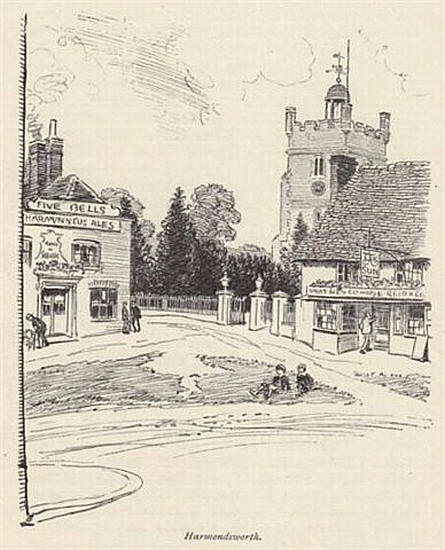 Five Bells, Harmondsworth - circa 1909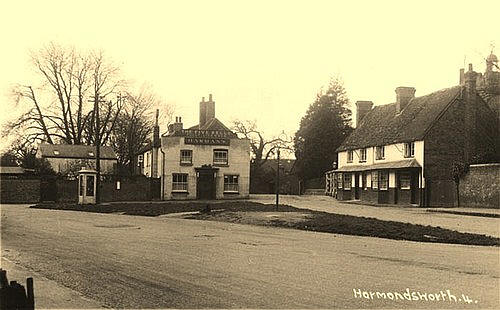 Five Bells, Harmondsworth
Kindly provided by Colleen
A listing of historical public houses, Taverns, Inns, Beer Houses and Hotels in Middlesex. The Middlesex listing uses information from census, Trade Directories and History to add licensees, bar staff, Lodgers and Visitors.
Residents at this address
1826/Daniel Brookman/../../../Pigot's Directory *

1839/Miriam Brookman/../../../Pigot's Directory *

1851/James Baker/../../../Post Office Directory *

1861/James Baker/Victualler/66/Harmondsworth, Middlesex/Census
1861/Hannah Baker/Wife/64/Harmondsworth, Middlesex/Census
1861/Ellen Baker/Daughter/32/Harmondsworth, Middlesex/Census
1861/Henry Baker/Son/30/Harmondsworth, Middlesex/Census
1861/George Edward Baker/Grandson/4/Harmondsworth, Middlesex/Census
1861/John Green/Lodger, Wheelwright/27/Drayton, Middlesex/Census
1861/William Reeves/Lodger, Ag Labourer/40/Marlow, Buckinghamshire/Census

1866/J Baker/../../../Post Office Directory

1871/James Baker/Publican, Widow/76/Harmondsworth, Middlesex/Census
1871/Ellen Baker/Daughter/42/Harmondsworth, Middlesex/Census
1871/Elizabeth Baker/Daughter/30/Harmondsworth, Middlesex/Census
1871/George Baker/Grandson/13/West Drayton, Middlesex/Census
1871/John Green/Lodger, Wheelwright/35/Marlow, Buckinghamshire/Census
1871/William Reaves/Sleeps on Cow House, Ag Labourer/40/Harmondsworth, Middlesex/Census

1874/James Baker/../../../Post Office Directory

1878/Frederick Thorpe/../../../Post Office Directory

1881/Frederick Thorpe/Licensed Victualler/28/Old Kent road, Surrey/Census
1881/Elizabeth Thorpe/Wife/38/Harmondsworth, Middlesex/Census
1881/Ellen Baker/Sister/32/Harmondsworth, Middlesex/Census
1881/Frederick Thorpe/Son/3/Harmondsworth, Middlesex/Census
1881/Nellie Thorpe/Daughter/3 months/Harmondsworth, Middlesex/Census

1890/Thomas Stanbrook/../../../Post Office Directory

1891/Thomas Stanbrook/Licensed Victualler/61/Colnbrook, Buckinghamshire/Census
1891/Ann E Stanbrook/Wife/56/Gainsborough, Lincolnshire/Census

1894/Frederick W Boniface/../../../Post Office Directory

1898/George Winch/../../../Kelly's Directory *

1899/George Winch/../../../Post Office Directory

1901/Henry T Mitchell/Licensed Victualler/30/Langley, Buckinghamshire/Census
1901/Ada Mitchell/Wife/25/Bromley by Bow, London/Census
1901/Henry T Mitchell/Son/3/Paddington, London/Census
1901/Charles Judd/Boarder, Gardener/30/Southall, Middlesex/Census

1911/Henry Thomas Mitchell/Publican/42/Langley, Buckinghamshire/Census
1911/Ada Mitchell/Wife/36/Bow, Middlesex/Census
1911/Henry Thomas Mitchell/Son/13/Bow, Middlesex/Census

Henry Thomas Mitchell dies at the Bachelors Arms, Victoria street, Windsor in 1942

1914/Charley Puddephatt/../../../Post Office Directory

1926/James Fowler/../../../Post Office Directory

1933/Walter James Rayfield/../../../Kelly's Directory *

1937/Walter Jas Rayfield/../../../Post Office Directory



* Provided By Ewan