Search London wiki and Pub wiki history sites
Old Oak Tree, North Hyde, Southall
Hayes pub history index
A listing of historical public houses, Taverns, Inns, Beer Houses and Hotels in Middlesex. The Middlesex listing uses information from census, Trade Directories and History to add licensees, bar staff, Lodgers and Visitors.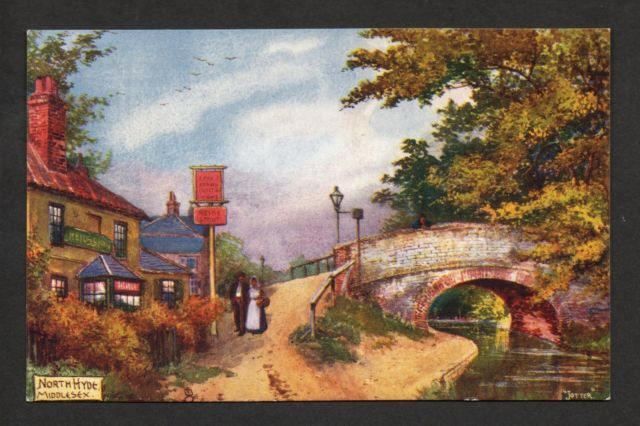 Old Oak Tree, North Hyde, Southall - by the canal
Kindly provided by Colleen
The following entries are in this format:
Year/Publican or other Resident/Relationship to Head and or Occupation/Age/Where Born/Source.
1861/Isaac Tildesley/Licensed Victualler/52/Willenhall, Staffordshire/Census ****
1861/Eleanor Tildesley/Wife/52/Willenhall, Staffordshire/Census
1861/Ellen Tildesley/Daughter/21/Willenhall, Staffordshire/Census
1861/Eliza J Tildesley/Daughter/20/Willenhall, Staffordshire/Census
1861/Sarah Tildesley/Daughter/18/Willenhall, Staffordshire/Census
1861/James Burn/Servant/28/Lambeth, Surrey/Census
1861/John William/Servant/18/Uxbridge, Middlesex/Census
1861/George Chilton/Servant/16/Heston, Middlesex/Census
1861/George Green/Servant/24/Oxfordshire/Census

1866/Mrs E Tildesley/../../../Post Office Directory ****

1871/Eleanor Tildesley/Licensed Victualler, Widow/63/Wettenhall, Staffordshire/Census ****
1871/Samuel Tildesley/Son, Farmer & Baker/25/Wettenhall, Staffordshire/Census
1871/William Tate/Bakers Man/55/Essendon, Hertfordshire/Census
1871/William H Brath/Nephew, Sailor/15/Wettenhall, Staffordshire/Census
1871/Harriet Douse/Servant/16/Heston, Middlesex/Census

1874/John Scruby/../../../Post Office Directory ****

1878/John Scruby/../../../Post Office Directory ****

1890/John New/../../../Post Office Directory ****

1891/John New/Publican/65/Hounslow, Middlesex/Census ****
1891/Sarah New/Wife/61/Marston, Leicestershire/Census
1891/Ada Battey/Niece, Barmaid/16/Hounslow, Middlesexx/Census
1891/William Ives/Lodger, Labourer Carman/32/Denham, Buckinghamshire/Census
1891/Elizabeth Crook/Lodger, Servant/15/Isleworth, Middlesex/Census

1894/John New/../../../Post Office Directory ****

1898/George Seabrook/../../../Post Office Directory ****

1899/George Seabrook/../../../Post Office Directory ****

1901/George Seabrook/Licensed Victualler/50/Tring, Hertfordshire/Census ****
1901/Eliza/Wife/50/Tring, Hertfordshire/Census
1901/George/Son, General Labourer/23/Tring, Hertfordshire/Census
1901/Ellen/Daughter, Barmaid/18/Tring, Hertfordshire/Census
1901/Frederick/Son/10/../Census

1914/Thomas Potter/../../../Post Office Directory ****

1926/Jethro Dines/../../../Post Office Directory ****

1933/Jethro Dines/../../../Post Office Directory ****

1937/Harold Edward Dines/../../../Post Office Directory ****




**** Provided By Kevan