Pub history and pub wiki
Red Lion Hotel, 34 High Road, Kilburn
Kilburn pub history index
A listing of historical public houses, Taverns, Inns, Beer Houses and Hotels in Middlesex. The Middlesex listing uses information from census, Trade Directories and History to add licensees, bar staff, Lodgers and Visitors.
Transcribed from a plaque on the parapet: "Established 1444. Rebuilt 1890". Now known as the Westbury, a large ceramic relief of a red lion can be seen towards the top of the left side. ***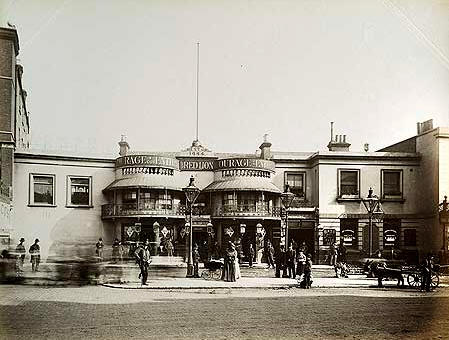 Red Lion, Kilburn circa 1890
Kindly provided by John Carnaby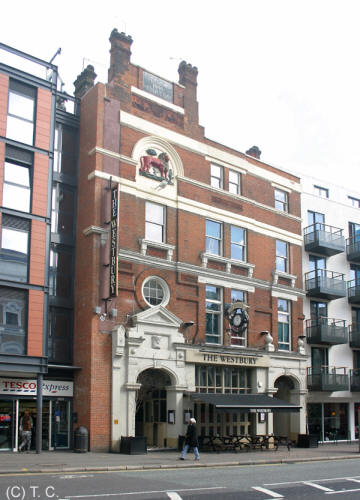 Red Lion, 34 Kilburn High Road, NW6 - 26th March 2010
Kindly provided by Tris
The following entries are in this format:
Year/Publican or other Resident/Relationship to Head and or Occupation/Age/Where Born/Source.
1805/Benj Batty, the Red Lion, Kilburn/../../Holdens Directory ****

1826/James Peters/../../../Pigots Directory ****

1839/Mary Pope/& Tea Gardens/../../Pigots Directory ****

October 1862/Mary Pope and John Pope/Outgoing Licensee/../../Morning Post ****

October 1862/John Osborne/Incoming Licensee/../../Morning Post ****

1866/J Osborne/../../../Post Office Directory ****

1869/John Osborne/../../../Post Office Directory ****

1874/Thos John Cribb/../../../Post Office Directory ****

1878/John Ellis/../../../Post Office Directory ****

1890/George Warman & Co/../../../Post Office Directory ****

1891/Fred Glaza/Hotel Manager/27/Birmingham, Warwick/Census ****
1891/Emily Dean/Manageress, Widow/34/London/Census
1891/Sarah Evans/Barmaid/30/London/Census
1891/Richards Phipps/Barman/19/London/Census
1891/George Murrey/Barman/19/London/Census
1891/Henry Shipsey/Barman/18/London/Census
1891/Florence Haughny/Barmaid/30/London/Census
1891/Maud Friend/Cook/40/London/Census
1891/Annie Gilliard/Housemaid/22/London/Census

1894/G Warman & Co/../../../Post Office Directory ****

1899/Charles Newman/../../../Post Office Directory ****

1915/Luke Brady/../../../Post Office Directory ****

1921/Luke Brady/../../../Post Office Directory ****

1934/Luke Brady & Patrick Kearney/../../../Kellys Directory ****

1938/Luke Brady & Jn F McDonell/../../../Post Office Directory ****



*** Provided By Tris

**** Provided By Kevan
Search for a pub, an address or person
And Last updated on: Wednesday, 03-Jul-2019 19:48:39 BST