Lion Inn, Barnet Road, Potters Bar
Potters Bar pub history index
This pub was established in 1761 and has also traded as the Red Lion (e.g. 1880 – but note there had earlier been a different Red Lion pub in Potters Bar). The lion Brewery in 1861 census. ** In the 1871 census it is named the White Lion.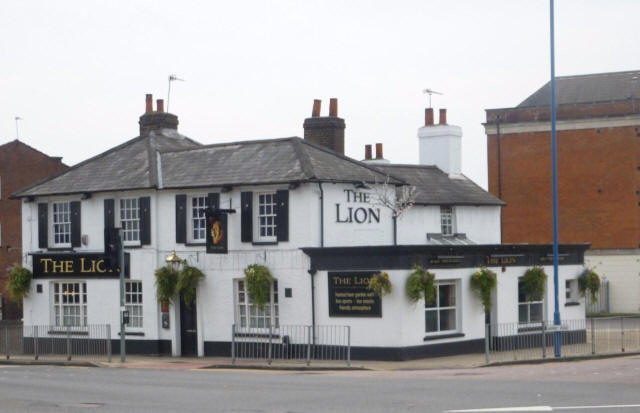 Lion, 2 Barnet Road, Potters Bar - in August 2010
Kindly provided by Stephen Harris
A listing of historical public houses, Taverns, Inns, Beer Houses and Hotels in Middlesex. The Middlesex listing uses information from census, Trade Directories and History to add licensees, bar staff, Lodgers and Visitors.
Residents at this address
1851/James Wanstall, beer retailer/../../Post Office Directory

1851/James Wanstall/Beer Retailer & Brewer/49/Chislett, Kent/Census
1851/Elizabeth Wanstall/Wife/48/Wheathampstead, Middlesex/Census
1851/James Wanstall/Son, Brewers Clerk/16/Borehamwood, Middlesex/Census
1851/Alfred Wanstall/Son/6/Potters Bar, Middlesex/Census
1851/John Prestlin/Servant/17/Tewin Green, Hertfordshire/Census

1861/James Wanstall/Beer Retailer & Brewer/48/Canterbury/Census
1861/Elizabeth Wanstall/Wife/40/Wheathampstead/Census
1861/Sarah Therman/Sister/38/Wheathampstead/Census

1866/J Wanstall/../../../Post Office Directory

1871/James Wanstall/White Lion Public House, Widow/68/Worth, Kent/Census
1871/J Freeman/Relative, Housekeeper/50/Wheathampstead, Hertfordshire/Census

1874/James Wanstall/../../../Post Office Directory

1878/James Wanstall/../../../Post Office Directory

1881/Elizabeth Wanstall/Housekeeper (D/S)/18/London, Middlesex/Census
1881/Henry Oliver Wanstall/Brother/17/London, Middlesex/Census
1881/Sydney Abbert Wanstall/Brother/13/London, Middlesex/Census

1890/Charles Stallibrass/../../../Post Office Directory

1891/C Stallabrass/Cattle Dealer & Publican/44/Hoddesdon, Middlesex/Census
1891/A Stallabrass/Wife/49/Nottingham/Census
1891/Florrie Stallabrass/Daughter/7/North Mimms, Hertfordshire/Census
1891/Mildred Stallabrass/Daughter/4/North Mimms, Hertfordshire/Census
1891/Rose Stallabrass/Daughter/2/North Mimms, Hertfordshire/Census
1891/W Mansell/Servant/16/Derby/Census
1891/E Cotton/Barmaid/18/Ware, Hertfordshire/Census

1894/Crosby Stallibrass/../../../Post Office Directory

1899/Henry John Temple/../../../Post Office Directory

1901/Thomas Arbour/Beer Retailer/34/Norfolk/Census
1901/Ada Arbour/Wife/29/Sussex/Census
1901/Lily Arbour/Daughter/7/Middlesex/Census
1901/Thomas Arbour/Son/4/Middlesex/Census
1901/George Brown/Potman/20/Hertfordshire/Census

In 1897 there is a marriage between a Percy George Parsons and a Cecilia Jessie Mayger in Hatfield.

1911/Percy G Parsons/Licensed Victualler/37/London/Census
1911/Cecelia J Parsons/Wife/37/London/Census
1911/Doris G Parsons/Daughter/10/London/Census

1914/Percy G Parsons/../../../Post Office Directory

1920/Cecilia Jessie Day, Lion Hotel, High road, Potters Bar/../../Electoral Register
1920/Harry Day, Lion Hotel, High road, Potters Bar/../../Electoral Register
1920/Charles Day, Dugdale hill, Potters Bar/../../Electoral Register
1920/Edith Day, Dugdale hill, Potters Bar/../../Electoral Register

1924/Cecilia Jessie Day, Lion Hotel, High road, Potters Bar/../../Electoral Register

1926/Mrs Cecilia J Day/../../../Post Office Directory

1929/Cecilia Jessie Day of the Lion Hotel Potters Bar Middlesex (wife of Harry Day) died 23 February 1929 Probate London 19 April to the said Harry Day licensed victualler. Effects £813 2s 9d.

1933/Harry Day, Lion, Barnet road/../../Post Office Directory

1937/Mrs Lilian Day/../../../Post Office Directory

1939/Lilian C Day/Licensed Victualler/Born 6 July 1899/../Electoral Register
1939/Bessie L Mayger/Assistant/Born 10 August 1871/../Electoral Register

1945 - 48/Lilian C Day, The Lion, 2 Barnet road/../Electoral Register
1945 - 48/Bessie L Mayger, The Lion, 2 Barnet road//../Electoral Register



** Provided By Stephen Harris