Pub history and pub wiki
Anchor Hotel, Shepperton
Shepperton pub history index
This pub was established before 1822. **
A listing of historical public houses, Taverns, Inns, Beer Houses and Hotels in Middlesex. The Middlesex listing uses information from census, Trade Directories and History to add licensees, bar staff, Lodgers and Visitors.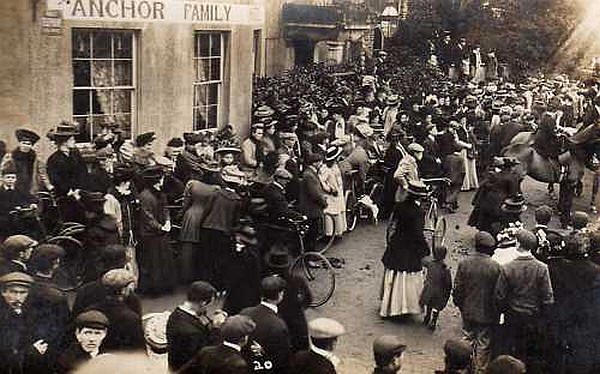 Anchor Hotel, Shepperton street scene - in 1909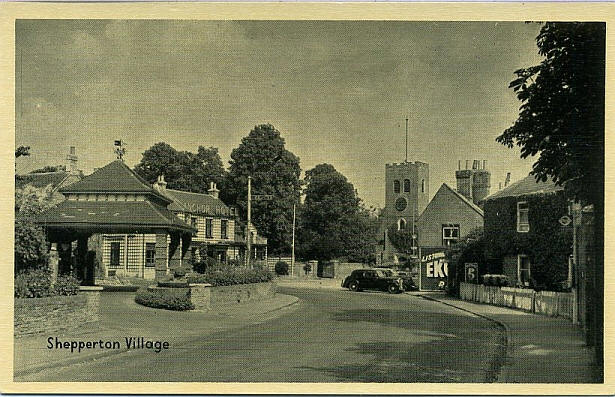 Anchor Hotel, Shepperton
Both kindly provided by Colleen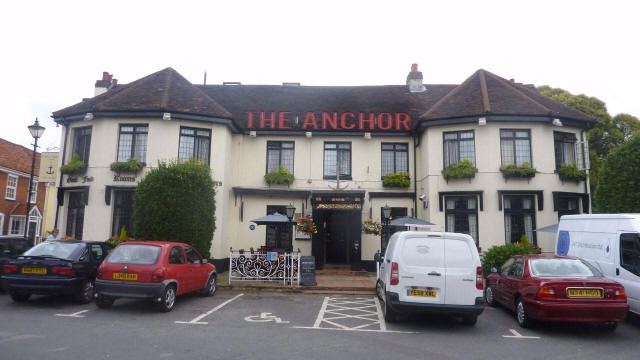 Anchor, Church Square, Shepperton - in July 2010
Kindly provided by Stephen Harris
The following entries are in this format:
Year/Publican or other Resident/Relationship to Head and or Occupation/Age/Where Born/Source.
1837/George Tebbutt/../../../Robsonís Directory **

1839/George Tebbutt/../../../Pigotís Directory **

1851/Thomas Hunt/Inn Keeper/49/Richmond, Surrey/Census **
1851/Augustine Hunt/Wife/47/Cholsey, Berkshire/Census
1851/Henry Hunt/Son, Scholar/9/ Shepperton, Middlesex /Census

1852/Thomas Hunt/../../../Post Office Directory **

1866/Miss E Steer/../../../Post Office Directory ****

1868/Eliza Steer / Hotel Keeper, Spinster/../../London Gazette, 10 April 1868 **

1871/William Hill/Hotel Keeper/42/Bury, Sussex/Census **
1871/Kezia Hill/Wife/44/Coldwaltham, Sussex/Census
1871/Fanny B Hill/Daughter/20/ Coldwaltham, Sussex /Census
1871/Emily Cripps/Domestic Servant/18/ Windsor, Berkshire /Census

1874/William Hill/../../../Post Office Directory ****

1878/William Hill/../../../Post Office Directory ****

1890/C R Bennett/../../../Post Office Directory ****

1891/Charles Bennett/Hotel Keeper & Coach Builder/48/Yeovil, Somerset/Census ****
1891/Amelia Bennett/Wife/45/Hampton Court, Middlesex/Census
1891/Henry H Hatchman/Brother in Law/43/Hampton Court, Middlesex/Census
1891/Martin Malden/Boarder, Widow/60/Worcester, Worcestershire/Census
1891/Elizabeth Thompson/Barman/25/Liverpool, Lancashire/Census
1891/Marion E Hayell/Housemaid/22/Hackney, Middlesex/Census
1891/Florence I Hawkes/Kitchenmaid/15/Stratford, Essex/Census
1891/George R Osborne/Fly Driver/19/Twickenham, Middlesex/Census

1894/Chas Richard Bennett/../../../Post Office Directory ****

1899/Warren Ellis/../../../Post Office Directory ****

1901/Thomas Page/Hotel Manager/49/Camberley, Surrey/Census ****
1901/Emma Page/Wife/51/Plymouth, Devon/Census
1901/Hilda J Page/Daughter, Barmaid/16/Stoke Newington, Middlesex/Census
1901/Lillian E Page/Daughter, Barmaid/23/Hoxton, Middlesex/Census

1926/Mrs Amy Tutpin/../../../Post Office Directory ****

1937/Eric Beasley/../../../Kellyís Directory **



** Provided By Stephen Harris

**** Provided By Kevan
Search for a pub, an address or person
And Last updated on: Wednesday, 03-Jul-2019 19:48:52 BST