Pub history, pubwiki and London
Angel & Crown, 24 High Street, Staines
This pub was established by 1309. Aka the Angel Hotel. After several years under the abbreviated name Angel, it has been renamed Baroosh since around 2004. **
Staines pub history index
A listing of historical public houses, Taverns, Inns, Beer Houses and Hotels in Middlesex. The Middlesex listing uses information from census, Trade Directories and History to add licensees, bar staff, Lodgers and Visitors.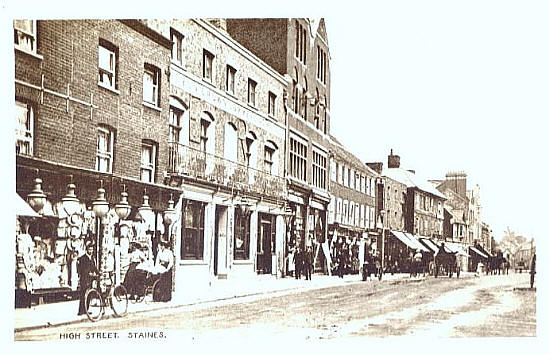 Angel & Crown, High Street, Staines - circa 1900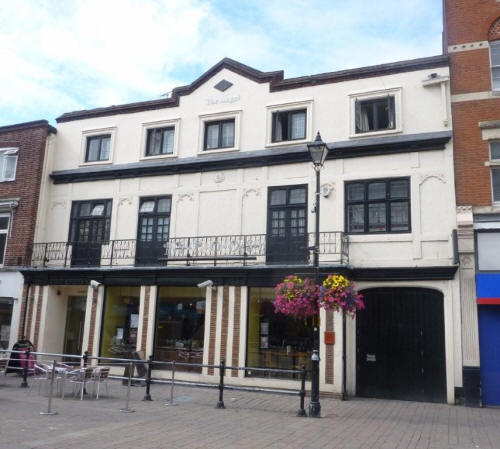 Angel & Crown, 24 High Street, Staines - in August 2010
Both kindly provided by Stephen Harris
The following entries are in this format:
Year/Publican or other Resident/Relationship to Head and or Occupation/Age/Where Born/Source.
1682/Matthew Peters / Innkeeper /../../Property records held at Surrey History Centre Archives **

1783/John Willett / Public House Keeper /../../Proceedings of the Old Bailey **

1783/Elizabeth Goodger / Servant /../../Proceedings of the Old Bailey **

1798/Thomas Truckell/../../../Universal British Directory 1793-98 **

1801/Henry Bolton / Public House Keeper /../../Proceedings of the Old Bailey **

1849/John Wayt / Inn Keeper /../../Records of Horne, Engall & Freeman (Solicitors), held by London Metropolitan Archives **

1853/L Emery/../../../The Travellers' Album & Hotel Guide **

1855/John Wayt/../../../Post Office Directory **

1860/John Wayt/../../../The Draper & Clothier - Travellers' Hand-Book **

1874/Richard Greenwood Jewell/../../../H.D. Miles London & Suburban Licensed Victuallers' Directory **

1874/Richard Greenwood Jewell/../../../Post Office Directory ****

1881/Henry Baker/Licensed Victualler/42/Reigate, Surrey/Census ****
1881/James Baker/Brother, Licensed Victualler/37/Reigate, Surrey/Census
1881/Ellen Gilbert/barmaid/46/Soho, Middlesex/Census
1881/Elizabeth G Shepherd/Cook/42/Stow On The Wold, Gloucester/Census
1881/John Earl/Waiter/19/Old Bond Street, London/Census
1881/Georgiana Shepherd/General Servant/15/Waterloo Road, London/Census

1891/John Norman Flood/Hotel Keeper/34/London/Census ****
1891/Annie C Flood/Wife/25/London/Census
1891/Robert Flood/Son/7/Brockley, Kent/Census
1891/Kathleen Flood/Daughter/5/Brockley, Kent/Census
1891/Josephine Flood/Daughter/3/Brockley, Kent/Census
1891/William Foster/Waiter/20/Englefield Green, Surrey/Census
1891/Emily Coombs/Cook/19/Middlemarch, Dorset/Census
1891/Alice Garard/Servant/18/Capel, Surrey/Census
1891/Blanch Hawkins/Servant/21/Bristol, Gloucester/Census
1891/William Stone/Servant, Groom/51/South Pool, Devon/Census
1891/Ellen Gilbert/Barmaid/53/Soho, London/Census

Angel Tap :
1891/George Berry/Ostler/35/Haslemere, Surrey/Census
1891/Alice Berry/Wife/32/Staines, Middlesex/Census
1891/George J Berry/Son/5/Wraysbury, Bucks/Census

1894/Mrs Annie Flood/../../../Kelly's Directory **

1901/Murray Smithers/Hotel Keeper/58/Brighton, Sussex/Census ****
1901/Catherine Smithers/Wife/56/Oxford/Census
1901/Helen Smithers/Daughter/11/Egham, Surrey/Census
1901/Emily K Payne/Niece, Visitor, Barmaid/26/Hampstead, London/Census
1901/Julia A Smith/Visitor, Barmaid/35/Bloomsbury, London/Census
1901/Fred Doten/Barman/23/Chiselhurst, Kent/Census
1901/Hans Gundersen/Waiter/24/Tronso, Norway/Census
1901/Eleanor A Absolon/Kitchenmaid/16/Reading, Berkshire/Census
1901/Minnie Salter/Housemaid/22/Woburn, Bucks/Census
1901/Harriet Butler/Housekeeper, Widow/62/Staines, Middlesex/Census

Angel Tap, High Street :
1881/Samuel Phillips/Ostler And Manager Of Angel Tap/38/South Pool, Devon/Census ****
1881/Emily A Phillips/Wife/26/Chilton, Buckingham/Census
1881/Charlotte A Phillips/Daughter/1/Staines, Middlesex/Census
1881/Daniel J Phillips/Son/2 months/Staines, Middlesex/Census
1881/Mary J Clutterbuck/General Servant/16/London, Middlesex/Census
1881/William Howes/Boots/18/London, Middlesex/Census

Angel Tap, 26 High Street :
1901/Henry Merritt/Ostler/31/Alresford, Hampshire/Census
1901/Amy Merritt/Wife/30/Alresford, Hampshire/Census
1901/Edith Merritt/Daughter/5/Alresford, Hampshire/Census
1901/Frank Merritt/Brother, Assistant Ostler/16/Alresford, Hampshire/Census

1926/Herbert Stanley Chandler/../../../Kelly's Middlesex Directory **



** Provided By Stephen Harris

**** Provided By Kevan