Pub history, pubwiki and London
Crooked Billet, 163 London Road, Staines
In Stanwell 1881 & 1891 census. This pub is now demolished. ** By the early 1970s, this pub was a Watney's Schooner Inn. * The first Schooner Inn was the Crooked Billet opened in October 1965.
A listing of historical public houses, Taverns, Inns, Beer Houses and Hotels in Middlesex. The Middlesex listing uses information from census, Trade Directories and History to add licensees, bar staff, Lodgers and Visitors.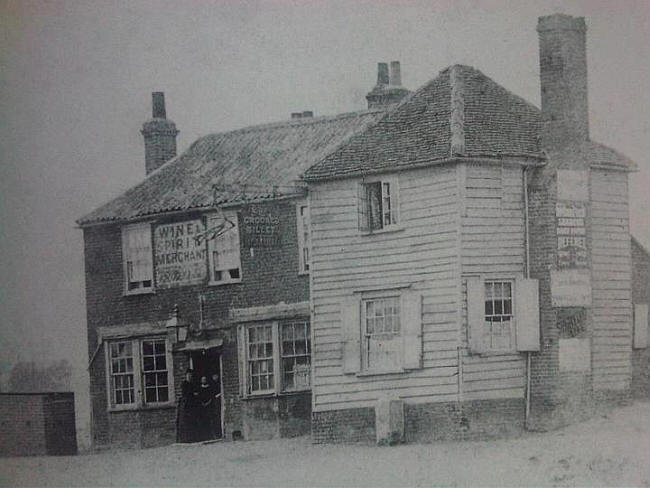 Crooked Billet, London Road, Staines - an early picture from 1880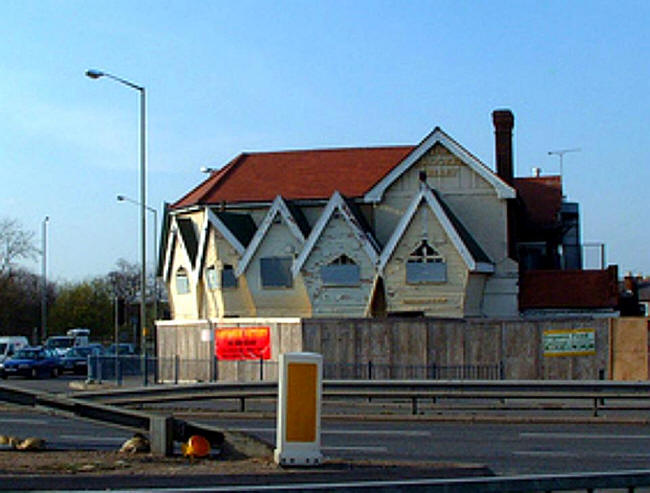 Crooked Billet, 163 London Road, Staines - delapidated in 2005
Both kindly provided by Kathleen Hope
The following entries are in this format:
Year/Publican or other Resident/Relationship to Head and or Occupation/Age/Where Born/Source.
1839/Samuel Hedge/../../../Pigots Directory ****

1839/Mr Hedger / Landlord /../../Windsor & Eton Express, 22 June 1839 **

1866/W Barrell/../../../Post Office Directory ****

1874/Henry Lord/../../../Post Office Directory ****

1878/Hy Lord/../../../Post Office Directory ****

1881/Henry Lord/Licensed Victualler/35/London, Middlesex/Census ****
1881/Charlotte Lord/Wife/33/Tunbridge Wells, Kent/Census
1881/Henrietta Lord/Daughter/7/Stanwell, Middlesex/Census
1881/Harriett Lord/Daughter/5/Stanwell, Middlesex/Census
1881/Henry Lord/Son/3/Stanwell, Middlesex/Census
1881/John Lord/Son/1/Stanwell, Middlesex/Census
1881/Lottie Lord/Daughter/3 months/Stanwell, Middlesex/Census
1881/Emily MacMaster/Servant/15/Stanwell, Middlesex/Census
1881/Arthur Waine/Servant/16/Egham, Surrey/Census

1890/James Andrews/../../../Post Office Directory ****

1891/James Andrews/Licensed Victualler/60/Pershore, Worcestershire/Census ****
1891/Mary Andrews/Wife/54/London, Middlesex/Census
1891/Ada Nightingale/Daughter, General Servant/14/Chalvey, Bucks/Census
1891/James Andrews/Grandson, Barman/15/London, Middlesex/Census
1891/Joe Tallent/Potman/27/Stanwell, Middlesex/Census

1894/George Smith/../../../Post Office Directory ****

1899/Frank C Nicholls/../../../Post Office Directory ****

1901/Frank Nicholls/Licensed Victualler/40/Acton, Warwickshire/Census ****
1901/Emily J Nicholls/Wife/39/Upton Pine, Devon/Census
1901/Ann Nicholls/Mother, Widow/72/Southwark, London/Census
1901/William R West/Barman/34/Staines, Middlesex/Census
1901/Harry Hollingsworth/Barman/33/Canterbury, Kent/Census

1914/Geo Dunkley/../../../Post Office Directory ****

1926/Harry Benn/../../../Post Office Directory ****

1937/George Frederick Rollings/../../../Post Office Directory ****



* Provided by Tris

** Provided By Stephen Harris

**** Provided By Kevan