Search London wiki and Pub wiki history sites
All public house, restaurants, bars etc closed for the forseeable future on 20th March 2020, but this is a history site. But how about the landlords give their tenants a break, no business, then please charge them no rent.
Ship, Strand on the Green, Chiswick W4
Strand on the green pub index
At River Side in the 1881 census. I have seen a document which suggest that this pub closed in 1907. It is now in use as a private residence called 'Ship House' **
A listing of historical public houses, Taverns, Inns, Beer Houses and Hotels in Middlesex. The Middlesex listing uses information from census, Trade Directories and History to add licensees, bar staff, Lodgers and Visitors.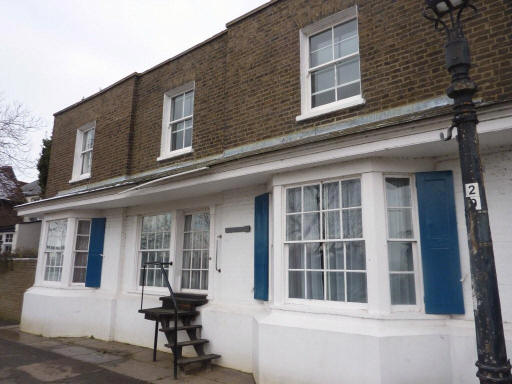 Ship, 56 Strand-on-the-Green - in January 2010
Kindly provided by Stephen Harris
The following entries are in this format:
Year/Publican or other Resident/Relationship to Head and or Occupation/Age/Where Born/Source.
1826/John Smith, Ship, Strand on the Green/../../Middlesex Directory

1839/John Smith, Ship, Strand on the Green/../../Pigots Directory

1841/John Smith/Publican/55/Middlesex/Census
1841/Ann Smith/../60/Middlesex/Census
1841/Esther Wise/../35/Middlesex/Census
1841/Charles Wise/Tailor/25/Middlesex/Census

1851/Ann Smith/Victualler, Widow/71/Chiswick, Middlesex/Census
1851/John Smith/Son, Bargeman/26/Chiswick, Middlesex/Census
1851/Ester Wise/Daughter, Barmaid/46/Chiswick, Middlesex/Census
1851/Thomas Wise/Son, Lighterman/36/Chiswick, Middlesex/Census
1851/Emily Wise/Grand Daughter, Servant/14/Chiswick, Middlesex/Census

1855/Mrs Esther Ann Wise/../../../Post Office Directory **

1861/John W Cummins/Victualler/20/St James, Middlesex/Census
1861/Mary R Cummins/Wife/25/St Georges, Surrey/Census
1861/Matilda Perkins/House Servant/18/Chiswick, Middlesex/Census

1866/W Harradine/../../../Post Office Directory

1871/Edna Harradine/Licensed Victualler, Widow/52/Chiswick, Middlesex/Census
1871/William Harradine/Son, Painter/30/Chiswick, Middlesex/Census
1871/Edna Harradine/Daughter/28/Chiswick, Middlesex/Census
1871/Alfred Harradine/Son/23/Chiswick, Middlesex/Census
1871/Miles Gregson/Boarder/18/Liverpool, Lancashire/Census

1874/Edna Harradine/../../../Post Office Directory

1878/Edna Harradine/../../../Post Office Directory

1881/John Lawrence/Licensed Victualler/44/Brentford, Middlesex/Census
1881/Martha Lawrence/Wife/44/Brentford, Middlesex/Census
1881/Alfred Lawrence/Son, Porter/19/Brentford, Middlesex/Census
1881/George Lawrence/Son, General Labourer/17/Brentford, Middlesex/Census
1881/Walter Lawrence/Son/14/Brentford, Middlesex/Census
1881/Ada Lawrence/Daughter/14/Brentford, Middlesex/Census
1881/Edward Lawrence/Son/4/Brentford, Middlesex/Census
1881/Ernest Lawrence/Son/2/Brentford, Middlesex/Census
1881/Emily Ayres/Step Daughter, Dressmaker/18/Brentford, Middlesex/Census
1881/Arthur Ayres/Step Son/11/Brentford, Middlesex/Census

1890/John Lawrence/../../../Post Office Directory

1894/John Lawrence/../../../Post Office Directory

1899/A Lawrence/../../../Post Office Directory

1901/Alfred Laurence/Licensed Victualler/39/Brentford, Middlesex/Census
1901/Emily Laurence/Wife/37/Brentford, Middlesex/Census
1901/Alfred J Laurence/Son/15/Brentford, Middlesex/Census
1901/Emily A Laurence/Daughter/12/Brentford, Middlesex/Census
1901/Walter E Laurence/Son/10/Brentford, Middlesex/Census
1901/May Laurence/Daughter/7/Brentford, Middlesex/Census



** Provided By Stephen Harris