Dukes Head, 93 Colne Road, Twickenham
At Twickenham Green in 1866, Back Road in 1874, Park Road in 1878, Albion Road in 1899 and Colne Road by 1914. This pub closed in 2008 and is now in private residential use.
Twickenham pub history index
A listing of historical public houses, Taverns, Inns, Beer Houses and Hotels in Middlesex. The Middlesex listing uses information from census, Trade Directories and History to add licensees, bar staff, Lodgers and Visitors.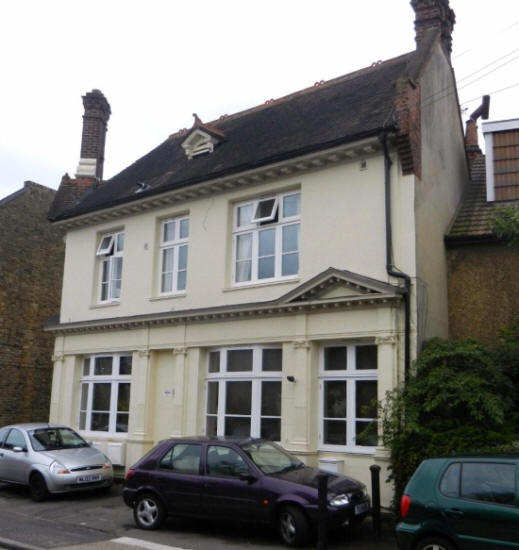 Dukes Head, 93 Colne Road, Twickenham - in June 2011
Kindly provided by Stephen Harris
Residents at this address
1746 - 1748/John Parrott/../../../Licensed Victuallers Records ***

1751 - 1764/Joseph Parrott/../../../Licensed Victuallers Records ***

John Heirons (son of William and Elizabeth Wills married Nov 29th 1727) (1771 Thomas Heirons listed so assume Thomas is his middle name) ***

1768 - 1794/John Heirons/../../../Licensed Victuallers Records ***

1794/Hannah Heirons/Widow/../../Licensed Victuallers Records ***

1795/William Heirons/Son/../../Licensed Victuallers Records ***

1808/William Alsop/../../../Licensed Victuallers Records ***

1828/Nicholas Ginman/../../../Licensed Victuallers Records ***

1837/Thomas Webster Hearne/../../../Kellys Directory ***

1839/Thomas Hearne/../../../Pigots Directory ***

1841/George Hillier/../../../Census ***

1847/William Adams/../../../Kellys Directory ***

1852/James Adams/../../../Kellys Directory ***

1853/James Adams/../../../Mason Directory ***

1859/Henry Glover/../../../Kellys Directory ***

1861/Henry Glover/../../../Kellys Directory ***

1866/J Coules/../../../Post Office Directory ****

1870 - 1872/George Stevens/../../../Kellys Directory ***

1874/George Stevens/../../../Post Office Directory ****

1878/George Stevens/../../../Post Office Directory ****

1881/George Stevens/Publican/60/Carshalton, Surrey/Census ****
1881/Anne Stevens/Wife/64/Standish, Gloucester/Census
1881/Sarah Stevens/Daughter, Assistant/27/Carshalton, Surrey/Census

1885 - 1899/Albert Ridgley/../../../Kellys Directory ***

1890/Albert Ridgley/../../../Post Office Directory ****

1894/Albert Ridgley/../../../Post Office Directory ****

1899/Albert Ridgley/../../../Post Office Directory ****

1901/Albert Ridgley/Licensed Victualler/53/Tisbury, Wiltshire/Census ****
1901/Sarah Ridgley/Wife/44/Epsom, Surrey/Census
1901/Ann Beall/Boarder, Widow/84/Epsom, Surrey/Census
1901/Olive Beall/Niece/16/Epsom, Surrey/Census

1902/Arthur E Eldridge/../../../Kellys Directory ***

1914/Frederick Morrell/../../../Post Office Directory ****

1922/John Hoare/../../../Kellys Directory ***

1926/John Hoare/../../../Post Office Directory ****

1937/Mrs Caroline Hoare/../../../Post Office Directory ****

1943/Caroline Hoare/../../../Kellys Directory ***



*** Provided By Kenneth Lea