Pub history
Kings Head, 2 Kings Street, Twickenham
Twickenham pub history index
A listing of historical public houses, Taverns, Inns, Beer Houses and Hotels in Middlesex. The Middlesex listing uses information from census, Trade Directories and History to add licensees, bar staff, Lodgers and Visitors.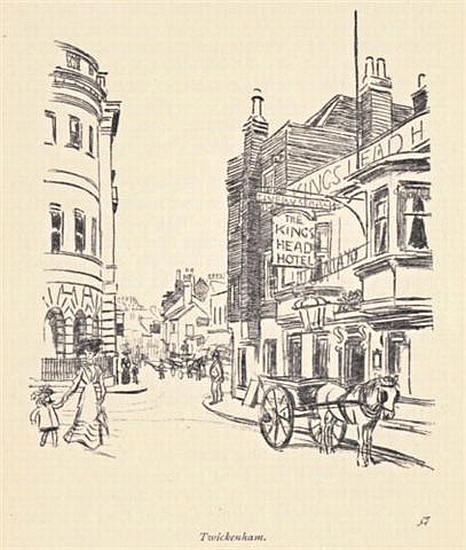 Kings Head, Twickenham - circa 1909
Kindly provided by Colleen
Originally the Feathers in 1723, and the Kings Head by 1743; Demolished & re-built due to widening of Kings Street in 1928, then finally demolished in 1970 ***
The following entries are in this format:
Year/Publican or other Resident/Relationship to Head and or Occupation/Age/Where Born/Source.
1723/William Lofts/../../../Licensed Victuallers Records ***

1743/Samuel Wood/../../../Licensed Victuallers Records ***

1760/James How/../../../London Chronicle ***

1763 - 1764/John Rogerson/../../../Licensed Victuallers Records ***

1765/Gregory White/../../../Licensed Victuallers Records ***

1766 - 1771/Catherine White/../../../Licensed Victuallers Records ***

1774 - 1787/Samuel Haycock/../../../Licensed Victuallers Records ***

1791/James Hooper/../../../Licensed Victuallers Records ***

1813/Hannah Morris/../../../Licensed Victuallers Records ***

1814 - 1826/John Tapps/../../../Licensed Victuallers Records ***
1814 - 1826/Ann Roberts/Owner/../../Licensed Victuallers Records ***

1837 - 1840/William Wallis/../../../Kellys Directory ***
1837 - 1840/Coles/Owner/../../Kellys Directory ***

1845/Charlotte Willis/../../../Kellys Directory ***

1847/James Lindsey/../../../Kellys Directory ***

1851 - 1855/William R. Webber/../../../Kellys Directory ***

November 1856/executors of W R Webber/Outgoing Licensee/../../Era Newspaper ****

November 1856/J A Mann/Incoming Licensee/../../Era Newspaper ****

1861/James Bowditch/../../../Kellys Directory ***

1870 - 1872/William Daniel Merry/../../../Kellys Directory ***

1881/Edward Burke/../../../Kellys Directory ***

1881/Edward Burke/Licensed Victualler/52/Castlebar, Ireland/Census ****
1881/Mary Ann Burke/Wife/43/Richmond, Surrey/Census
1881/Mary Ann Burke/Daughter/20/Gosport, Hampshire/Census
1881/Emma Reading/Barmaid/19/Belgrave Square, London/Census
1881/Ellen Daniels/Barmaid/18/Croydon, Surrey/Census
1881/Fanny Wiggins/Domestic Servant/21/Reading, Berkshire/Census
1881/Albert Ballen/Domestic Servant/19/Norbiton, Surrey/Census

1885 - 1886/George Hill/../../../Kellys Directory ***

1888/Osbert Smith/../../../Kellys Directory ***

1890 - 1891/Henry Barton/../../../Kellys Directory ***

1899/Charles Rogers/../../../Kellys Directory ***

1901/William James Thomas/Licensed Victualler/35/London/Census ****
1901/Grace Haidee Thomas/Wife/30/Bury St Edmunds, Suffolk/Census
1901/Alice Hobson/Barmaid/24/West Hartlepool, Durham/Census
1901/Rose Mary Tyatt/Barmaid/18/West Ham, Essex/Census
1901/Ellen Myer Preswick/Cook/33/Sheffield, Yorkshire/Census
1901/Nellie Smith/Housemaid/15/Sunbury, Middlesex/Census

1902/William James Thomas/../../../Kellys Directory ***

1914/Joseph Mayo/../../../Kellys Directory ***

1922/George Jones Calder/../../../Kellys Directory ***

1930 - 1933/William Henry Hall/../../../Kellys Directory ***

1935/Thomas Gullett/../../../Kellys Directory ***

1940/Leslie Woolveridge/../../../Kellys Directory ***



*** Provided By Kenneth Lea

**** Provided By Kevan