Pub history, pubwiki and London
Pope's Grotto, Cross Deep, Twickenham
Listed as the Grotto Hotel in the 1901 census. Now a large and much altered hotel. Opened in 1852 the original building was destroyed by a V rocket in 1944. The current pub opened in 1959. *
A listing of historical public houses, Taverns, Inns, Beer Houses and Hotels in Middlesex. The Middlesex listing uses information from census, Trade Directories and History to add licensees, bar staff, Lodgers and Visitors.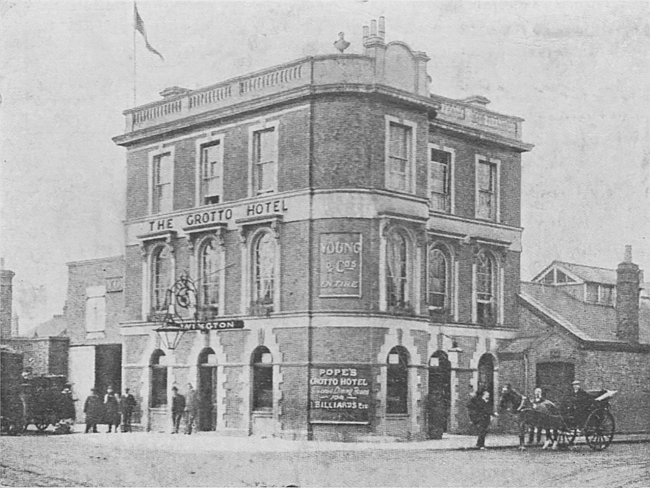 Popes Grotto Hotel, Cross Deep, Twickenham - circa 1910 with landlord Joseph Frank Ewington
Kindly provided by Vincent O'Loughlin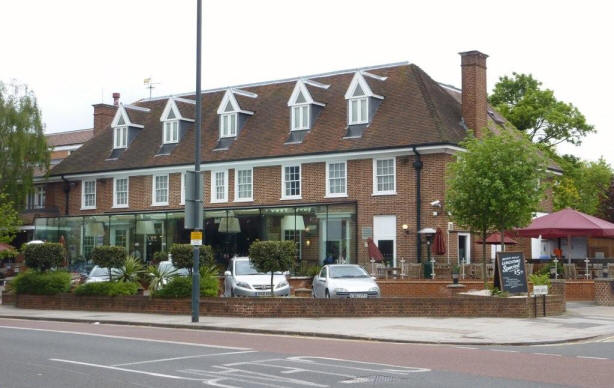 Pope's Grotto, Cross Deep, Twickenham - in May 2010
Kindly provided by Stephen Harris
The following entries are in this format:
Year/Publican or other Resident/Relationship to Head and or Occupation/Age/Where Born/Source.
1853 - 1855/Jonathon Turner/../../../Kellys Directory ***

1861/Robert Collard/../../../Kellys Directory ***

1870 - 1872/Thomas Bendy/../../../Kellys Directory ***

1872/Mrs Elizabeth Bendy/../../../Kellys Directory ***

1874/George Powell/../../../Kellys Directory ***

1881/Edmond D Garwood/Licensed Victualler/63/Clerkenwell, Middlesex/Census
1881/Mary Ann Garwood/Wife/62/St Lukes, Middlesex/Census
1881/Robert J Garwood/Son, Assistant To Head/31/St James, Middlesex/Census
1881/Sarah A Garwood/Daughter In Law, Inn Servant, Widow/23/Braintree, Essex/Census
1881/Edmond J Garwood/Grandson/6/St Giles, Middlesex/Census
1881/Alice A Garwood/Grand Daughter/5/St Giles, Middlesex/Census

1882/Edmund Denham Garwood/../../../Kellys Directory ***

1885 - 1888/Frederick John Thompson/../../../Kellys Directory ***

1890 - 1894/Mrs Sarah Thompson/../../../Kellys Directory ***

1899/Mrs Elizabeth Hall (owner since pre 1885)/../../../Kellys Directory ***

1900/Robert Jay/../../../Kellys Directory ***

1901/Robert Jay/Publican/54/Dorking, Surrey/Census
1901/Elizabeth Jay/Wife/47/Strood, Kent/Census
1901/Ethel Money/Barmaid/20/Kesford, Lincolnshire/Census
1901/Alver Rolls/Domestic Servant/18/Wycombe, Bucks/Census
1901/Charles Saunders/Domestic Servant/24/Windsor, Berks/Census

1907/Joseph Frank Ewington/../../../Electoral Register

1911/Joseph Frank Ewington/Licensed Victualler/34/Kennington, Surrey/Census
1911/Hettie Marian Johns/Housekeeper/37/Cardiff, Glamorganshire/Census
1911/Margaret Flora Nash/Housemaid/15/Croydon, Surrey/Census

1914/Joseph Frank Ewington/../../../Kellys Directory ***

On 30 September 1914, Joseph Frank Ewington marries Florence Amelia Smith at Hockley St Saviour

1915/Joseph Frank Ewington of the Popes Grotto public house Twickenham Middlesex died 24 February 1915 Admin London 10 April to Florence Amelia Ewington widow. Effects £3280 14s 8d

1922/Mrs Ewington/../../../Kellys Directory ***

1937/William Ansell/../../../Kellys Directory ***

1940/John Ansell/../../../Kellys Directory ***



* Provided By Vincent O'Loughlin

*** Provided By Kenneth Lea