Pub history, pubwiki and London
Prince Albert, 30 Hampton Road, Twickenham
Inside this pub, the words "J. Wiffen / Spirit Merchant" can still be seen above the bar.
Twickenham pub history index
A listing of historical public houses, Taverns, Inns, Beer Houses and Hotels in Middlesex. The Middlesex listing uses information from census, Trade Directories and History to add licensees, bar staff, Lodgers and Visitors.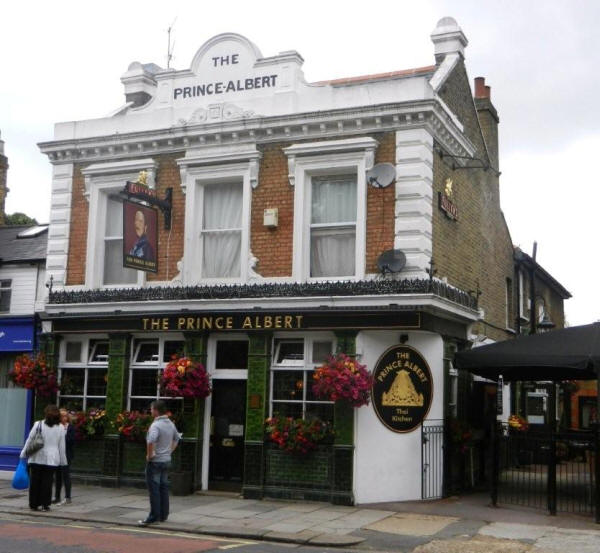 Prince Albert, 30 Hampton Road, Twickenham - in June 2011
Kindly provided by Stephen Harris
The following entries are in this format:
Year/Publican or other Resident/Relationship to Head and or Occupation/Age/Where Born/Source.
1840 - 1855/Joseph Pendry/../../../Kellys Directory ***

1866/J Pendry/../../../Post Office Directory ****

1870/William Taylor/../../../Kellys Directory ***

1872/George Lloyd Edwards/../../../Kellys Directory ***

1874/A W Marshall/../../../Post Office Directory ****

1878/Alfred Loft/../../../Post Office Directory ****

1881/Alfred Lofts/Licensed Victualler/36/London, Middlesex/Census ****
1881/Mary J Lofts/Wife/28/Southwark, Surrey/Census
1881/William Lofts/Son/5/Lambeth, Surrey/Census
1881/Florence Lofts/Daughter/4/Twickenham, Middlesex/Census
1881/Frederick Lofts/Son/2/Twickenham, Middlesex/Census
1881/Edith Lofts/Daughter/1/Twickenham, Middlesex/Census
1881/Sarah Lyons/Sister In Law/26/Old Kent Road, Surrey/Census

1882 - 1894/Alfred Loft/../../../Kellys Directory ***

1890/Alfred Loft/../../../Post Office Directory ****

1893/Richard Ives/../../../Thames Valley Times ***

1894/Wm Palmer/../../../Post Office Directory ****

1899/Wm Palmer/../../../Post Office Directory ****

John Wiffen (name above the bar) was my great grandfather. *

1900/John Wiffen/../../../Kellys Directory ***

1901/John Whiffen/Licensed Victualler/55/Pebmarsh, Essex/Census ****
1901/Hephzebah Whiffen/Wife/52/Huttoft, Lincoln/Census
1901/Edward M Whiffen/Son, Carpenter/22/Romford, Essex/Census
1901/Mary G Whiffen/Daughter, Barmaid/20/Romford, Essex/Census
1901/John W Whiffen/Son, Butcher/19/Romford, Essex/Census
1901/Frank Whiffen/Son/15/Romford, Essex/Census
1901/Elsie Whiffen/Daughter/10/Romford, Essex/Census
1901/Harry Stapley/House Boy/15/Hastings, Sussex/Census

1914/Edward Milton Wiffen/../../../Post Office Directory ****

1926/Edward Milton Wiffen/../../../Post Office Directory ****

1937/Edward Milton Wiffen/../../../Post Office Directory ****

1945/Edward Milton Wiffen/../../../London Gazette, 21 June 1946 **

1952/Mabel Jessie Wiffen/../../../London Gazette, 13 January 1953 **

Jessie Wiffen died in 1952. Since the war the pub had been run by her daughter Vera Olive Piggott (nee wiffen) and her husband Howard Charles Piggott.
1952 also saw the arrival of their son, Kenneth Howard Piggott (me). The Piggotts retired and left the pub in 1981 (give or take a year) after which the brewery put in a manager instead of another tenant. Vera is now 93. *



* Provided By Ken Howard

** Provided By Stephen Harris

*** Provided By Kenneth Lea

**** Provided By Kevan