Prince Blucher, 124 The Green, Twickenham
This pub is said to have been established in 1815.
Twickenham pub history index
A listing of historical public houses, Taverns, Inns, Beer Houses and Hotels in Middlesex. The Middlesex listing uses information from census, Trade Directories and History to add licensees, bar staff, Lodgers and Visitors.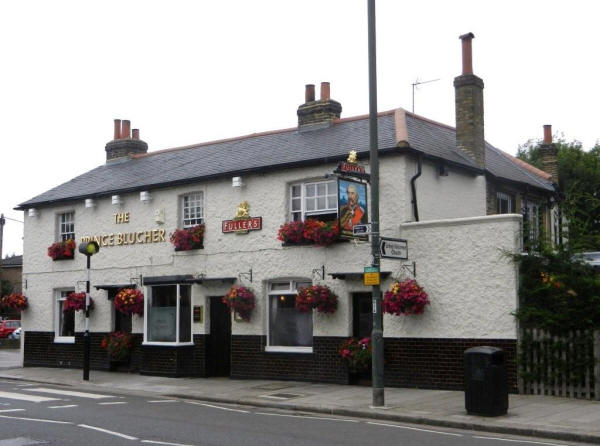 Prince Blucher, 124 The Green, Twickenham - in June 2011
Kindly provided by Stephen Harris
Residents at this address
1815/Thomas West/../../../Kellys Directory ***

1818/Thomas Williams/../../../Kellys Directory ***

1821/Stanley Harris/../../../Kellys Directory ***

1837 - 1855/William Richards/../../../Kellys Directory ***

1866/J Boreham/../../../Post Office Directory ****

1870 - 1872/James Boreham/../../../Kellys Directory ***

1874/James Boreham/../../../Post Office Directory ****

1878/John Hannon/../../../Post Office Directory ****

1878/George Seaborn/../../../London Gazette, 27 February 1878 **

1879/George Seaborn/../../../London Gazette, 26 February 1879 **

1881/John Hanson/Publican/40/Newington, Middlesex/Census ****
1881/Rebecca Hanson/Wife/44/Tunbridge Wells/Census
1881/Amelia Crossdale/Servant/20/Peckham/Census
1881/Fanny Sims/Niece, Dressmaker/17/Wantage, Berkshire/Census
1881/Edward Eldridge/Visitor/7/Clapham/Census
1881/Frederick W Child/Potman/26/Winchester, Hampshire/Census
1881/Jane Russel/Cook/23/West Bromwich/Census

1881/John Hannon/Former Licensed Victualler/../../London Gazette, 22 November 1881 **

1882/Robert Cox/../../../Kellys Directory ***

1885/Thomas Charles Rogers/../../../Kellys Directory ***

1890/Wm Jas Lyons/../../../Post Office Directory ****

1894/Wm J Lyons/../../../Post Office Directory ****

1899/Wm J Lyons/../../../Post Office Directory ****

1901/Harvey C Eldred/Publican/29/Alphamstone W Bures, Essex/Census ****
1901/Lizzie B Eldred/Wife/36/Bassingham, London/Census
1901/Charlotte Stacey/Domestic Servant/23/London EC/Census

1902 - 1933/Harry Charles Eldred/../../../Kellys Directory ***

1914/Harry C Eldred/../../../Post Office Directory ****

1926/Harry C Eldred/../../../Post Office Directory ****

1937/Harry C Eldred/../../../Post Office Directory ****

1940/Henry Mottram/../../../Kellys Directory ***



** Provided By Stephen Harris

*** Provided By Kenneth Lea