Queens Head, Embankment, Twickenham
At Church Lane in 1899. In 1977 this pub was renamed the Barmy Arms.
Twickenham pub history index
A listing of historical public houses, Taverns, Inns, Beer Houses and Hotels in Middlesex. The Middlesex listing uses information from census, Trade Directories and History to add licensees, bar staff, Lodgers and Visitors.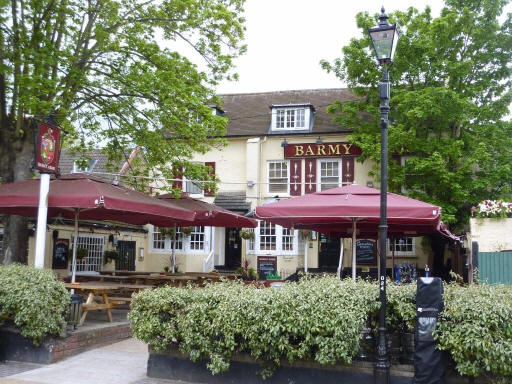 Queens Head, The Embankment, Twickenham - in May 2010
Kindly provided by Stephen Harris
Residents at this address
1727/Henry Shears/../../../Licensed Victuallers Records ***

1743/Edward Hubbard/../../../Licensed Victuallers Records ***

1760 - 1764/John May/../../../Licensed Victuallers Records ***

1770/Thomas Spencer/../../../Licensed Victuallers Records ***

1771 - 1784/Abraham Foggitt/../../../Licensed Victuallers Records ***

1786 - 1792/John Carter/../../../Licensed Victuallers Records ***

1810/Robert Vose/../../../Licensed Victuallers Records ***

1813/Benjamin Oldrin/Company of Clothmakers listed as owners/../../Licensed Victuallers Records ***

1826/Ferdinand Goodale/../../../Kellys Directory ***

1828/William Richards/../../../Kellys Directory ***

1837 - 1841/John Harper/../../../Kellys Directory & Census ***

1851 - 1855/James Bowyer/../../../Kellys Directory & Census ***

1861/James Phillips Hall/../../../Kellys Directory ***

1872/George Colless/../../../Kellys Directory ***

1882/Charles Miles/../../../Kellys Directory ***

1891/Mina Edwards/../../../Census ***

1895/Robert Barnsby/../../../Kellys Directory ***

1899/Henry Chown/../../../Post Office Directory ****

1901/John Brown/Fishmonger & Licensed Victualler/39/Bethnal Green/Census ****
1901/Margaret Brown/Wife/36/Southgate/Census
1901/Lilian Strickland/Domestic Servant/19/Bermondsey/Census

1900/John Brown/../../../Kellys Directory ***

1909/Aquila Hancock/../../../Kellys Directory ***

1914/Henry L Gray/../../../Post Office Directory ****

1926/Philip Benton/../../../Post Office Directory ****

1937/J C McKellar/../../../Post Office Directory ****

1940/Sydney Whitlock/../../../Kellys Directory ***



*** Provided By Kenneth Lea