Audley Arms, 85 High street, Uxbridge
Uxbridge pub history index
The Audley Arms was originally the Brewery Tap for the Colne Brewery. * Named the Audry Arms in the 1891 census, and the Audley Arms on the postcard.
A listing of historical public houses, Taverns, Inns, Beer Houses and Hotels in Middlesex. The Middlesex listing uses information from census, Trade Directories and History to add licensees, bar staff, Lodgers and Visitors.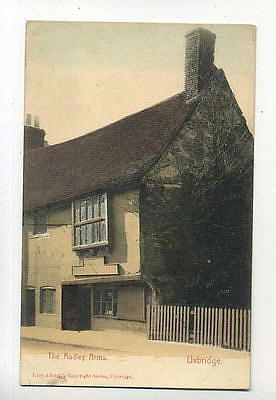 The Audley Arms, Uxbridge - early 1900s
Kindly provided by Colleen
Year/Publican or other Resident/Relationship to Head and or Occupation/Age/Where Born/Source.
1866/Mrs Susan Grant/Beer Retailer/../../Post Office Directory

1871/Susan Grant/Beer Retailer, Widow/39/Cambridge, Cambridgeshire/Census
1871/Catherine Grant/Daughter/10/Uxbridge, Middlesex/Census
1871/Alice Grant/Daughter/8/Uxbridge, Middlesex/Census

1874/Mrs Susan Grant/Beer Retailer/../../Post Office Directory

1878/Mrs Susan Grant/Beer Retailer/../../Post Office Directory

1881/Susan Grant/Beer Retailer, Widow/57/Cambridge/Census
1881/Hanah Perryman/Wife Of Coachman/56/Hoxton, Middlesex/Census
1881/Fanny Perryman/Daughter/34/../Census
1881/Thomas Edwin Perryman/Son, Baker/36/Hillingdon, Middlesex/Census
1881/Hannah M Perryman/Daughter/23/Uxbridge, Middlesex/Census
1881/John Perryman/Son, Grocers Assistant/19/Uxbridge, Middlesex/Census

1890/William Perryman/beer retailer/../../Kelly's Directory **

1891/William Perryman/Publican/37/Uxbridge, Middlesex/Census
1891/Fanny Perryman/Sister, Dressmaker/44/London, Middlesex/Census
1891/Sarah L Perryman/Sister, Dressmaker/30/Uxbridge, Middlesex/Census

1898/Miss Fanny Perryman/Beer Retailer/../../Post Office Directory

1901/Fanny Perryman/Beer Seller/54/Hoxton/Census **

1911/Graham Wright/Manager of Brewery Stores/45/Westerham, Kent/Census **
1911/Jane Wright/Wife/44/West Norwood, Surrey/Census
1911/Graham Wright/Son, Clerk/18/Croydon, Surrey/Census
1911/Francis James Wright/Son, Engineer Pattern Maker/16/Croydon, Surrey/Census
1911/Dorothy Wright/Daughter/5/Uxbridge, Middlesex/Census
1911/Clara Hill/General Servant/16/Yiewsley, Middlesex/Census

1914/Graham Wright/Beer Retailer/../../Post Office Directory



* Provided By Tony Mitchell

** Provided By Ewan