Grapes, 22 High Street, Uxbridge
Uxbridge pub history index
A listing of historical public houses, Taverns, Inns, Beer Houses and Hotels in Middlesex. The Middlesex listing uses information from census, Trade Directories and History to add licensees, bar staff, Lodgers and Visitors.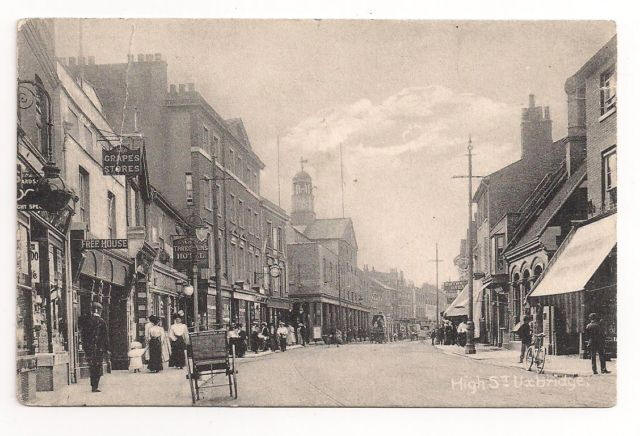 Three Tuns, 24 High Street, Uxbridge and Grapes, 22 High Street - posted in 1910
Kindly provided by Colleen
Year/Publican or other Resident/Relationship to Head and or Occupation/Age/Where Born/Source.
1826/William Drinkwater/Grapes, London Street/../../Pigot's Directory

1839/Benj Drinkwater/Grapes, London street/../../Pigots Directory

1851/Benjamin Drinkwater/Grapes & wine & spirit merchant, London street/../../Post Office Directory

1851/Benjamin Drinkwater/Wine & Spirit Merchant/51/Uxbridge, Middlesex/Census
1851/Mary R Drinkwater/Wife/44/Isleworth, Middlesex/Census
1851/Sophia Drinkwater/Daughter/18/Uxbridge, Middlesex/Census
1851/Sarah Drinkwater/Daughter/16/Uxbridge, Middlesex/Census
1851/Mary A Drinkwater/Daughter/13/Uxbridge, Middlesex/Census
1851/Matilda Drinkwater/Daughter/8/Uxbridge, Middlesex/Census
1851/John Drinkwater/Brother, Proprietor of Houses, Widow/59/Uxbridge, Middlesex/Census
1851/Emma Adamson/Visitor/12/London, Middlesex/Census
1851/Louisa Dixon/House Servant/22/Windsor, Berkshire/Census
1851/Caroline Lawrence/House Servant/19/Middlesex/Census
1851/Benjamin Howard/House Servant/14/Uxbridge, Middlesex/Census

1855/Benjamin Drinkwater/Grapes inn, London street/../../Post Office Directory

1861/George Drinkwater/Licensed Victualler/56/Uxbridge, Middlesex/Census
1861/Eliza Drinkwater/Wife/57/Brentford, Middlesex/Census
1861/John Drinkwater/Brother, Landowner/70/Brentford, Middlesex/Census
1861/William Drinkwater/Brother, Retired Tailor/65/Brentford, Middlesex/Census
1861/Joseph Drinkwater/Brother, Assistant, widow/63/Uxbridge, Middlesex/Census
1861/Mary E Burnham/Barmaid/26/Brentford, Middlesex/Census
1861/Rosina Filkins/Cook/23/Lambeth, Surrey/Census
1861/Phoebe Hill/Housemaid/17/Gedding, Middlesex/Census
1861/Charles Horrod/Pot Boy/17/Cowley, Middlesex/Census

1866/George Drinkwater/Grapes inn/../../Post Office Directory

1871/Matilda R Drinkwater/Licensed Victualler, Widow/64/Brentford, Middlesex/Census
1871/Benjamin Drinkwater/Son, Assistant/31/Uxbridge, Middlesex/Census
1871/Eliza Drinkwater/Daughter in Law/36/Kensington, Middlesex/Census
1871/William Drinkwater/Grandson/7/Finsbury, Middlesex/Census
1871/Joseph Drinkwater/Grandson/4/Hillingdon, Middlesex/Census
1871/Matilda Drinkwater/Grand Daughter/7 months/Uxbridge, Middlesex/Census
1871/William H Kingdon/Grandson/10/Exeter, Devon/Census
1871/Janet M Redford/Grand Daughter/10/London, Middlesex/Census
1871/Joseph Drinkwater/Brother in Law, Asistant/73/Uxbridge, Middlesex/Census
1871/George Drinkwater/Nephew, Assistant/43/Kensington, Middlesex/Census
1871/Eliza Hill/Domestic Servant/22/Uxbridge, Middlesex/Census
1871/Caroline Bainbridge/Domestic Servant/16/Watford, Hertfordshire/Census
1871/John Chilton/Pot Boy/23/Uxbridge, Middlesex/Census

1874/Benjamin Drinkwater/../../../Post Office Directory

1878/William Cahill/../../../Post Office Directory

1881/William P Cahill/Licensed Victualler/40/Dublin, Ireland/Census
1881/CAroline Cahill/Wife/40/Shepherds Bush, Middlesex/Census
1881/Nelly Cahill/Daughter/9/Hatton, Middlesex/Census
1881/Ada Cahill/Daughter/4/Notting Hill, Middlesex/Census
1881/Maud Cahill/Daughter/2/Uxbridge, Middlesex/Census
1881/David Erejoon/Errand Boy/16/Uxbridge, Middlesex/Census
1881/Jane Tollett/Domestic Servant/40/Bridport, Dorset/Census
1881/Emily Smith/Barmaid/19/Lambeth, Surrey/Census
1881/Alice Thomas/Nursegirl/13/North Hyde, Middlesex/Census

1890/Harry Taylor/../../../Post Office Directory

1891/Fred Blandford/Publican/37/Ireland/Census
1891/Grace Blandford/Wife/26/Bermondsey, Surrey/Census
1891/Tom S Blandford/Son/9/Brixton, Surrey/Census
1891/Beatrice Lloyd/Visitor/6/Norwood, Surrey/Census
1891/Matilda Talbot/Barmaid/22/Uxbridge, Middlesex/Census
1891/Louisa Cox/Cook/24/Southsea, Hampshire/Census
1891/Tom Powell/Potman/35/Uxbridge, Middlesex/Census

1898/George Clifford/../../../Post Office Directory

1899/George Clifford/../../../Post Office Directory

1901/Francis S collins/Licensed Victualler, Widow/34/Brentford, Middlesex/Census
1901/Emma Pearce/House Keeper/50/Broadway, Worcester/Census

1914/E G S Hamilton/../../../Post Office Directory

1926/Mrs Hamilton/../../../Post Office Directory