Search London wiki and Pub wiki history sites
All public house, restaurants, bars etc closed for the forseeable future from 20th March 2020, but this is a history site.
Crown, 335-339 High Road, Willesden NW10
Willesden pub history index
The The Crown, Chapple place in the 1861 and 1871 census. Not to be confused with the Crown Hotel, 34 High Street. Closed and boarded up before September 2010 and still in the same state as of September 2014. ***
A listing of historical public houses, Taverns, Inns, Beer Houses and Hotels in Middlesex. The Middlesex listing uses information from census, Trade Directories and History to add licensees, bar staff, Lodgers and Visitors.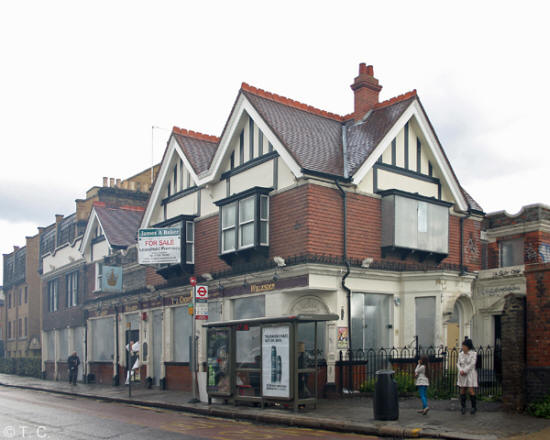 Crown, 335-339 High Road, NW10 - in September 2010
Kindly provided by Tris
Some of the people who lived here :
1861/William Cannon/Grocer & Beer House Keeper/40/Buckingham/Census
1861/Emily Cannon/Wife/39/Buckingham/Census
1861/Sarah Cannon/Daughter/13/Buckingham/Census
1861/Mary Cannon/Daughter/11/Buckingham/Census
1861/Rosena Cannon/Daughter/6/Middlesex/Census
1861/Ann Cannon/Daughter/3/Middlesex/Census
1861/Edward Watts/Nephew/2/Middlesex/Census
1861/Lydia Watts/Grandmother, Widow/65/Buckingham/Census

1871/William Cannon/Beer Retailer/54/Penn, Buckinghamshire/Census
1871/Emily Cannon/Wife/51/Penn, Buckinghamshire/Census
1871/Mary Cannon/Daughter/23/Penn, Buckinghamshire/Census
1871/Rosina Cannon/Daughter/17/Willesden, Middlesex/Census
1871/Annie Cannon/Daughter/14/Willesden, Middlesex/Census
1871/Edward Penny/Lodger, Coachman/53/Shropshire/Census
1871/Charles Penny/Lodger, Coachbuilder/57/Bristol, Somerset/Census

1881/Thomas Chapman/Beer House Keeper (Seller)/41/Willesden, Middlesex/Census
1881/Elizabeth Chapman/Wife/35/Goudhurst, Kent/Census
1881/Elizabeth Chapman/Daughter/14/Goudhurst, Kent/Census
1881/Ellen Chapman/Daughter/12/Willesden, Middlesex/Census
1881/Ada Chapman/Daughter/10/Carshalton, Surrey/Census
1881/Alice Chapman/Daughter/8/Carshalton, Surrey/Census
1881/Thomas Chapman/Son/7/Willesden, Middlesex/Census
1881/Eliza Chapman/Daughter/5/Willesden, Middlesex/Census
1881/Emily Chapman/Daughter/3/Willesden, Middlesex/Census
1881/Albert Chapman/Son/10 months/Willesden, Middlesex/Census
1881/Ellen Coster/General Servant/22/Poplar, London/Census

1911/Edward Goodes/Beer House Keeper/47/Willesden/Census
1911/Emma Goodes/Wife/42/Oving, Buckinghamshire/Census
1911/Charles Edward Goodes/Son/14/Willesden/Census
1911/Wilfred Harold Goodes/Son/4/Willesden/Census
1911/Amy Emerton/Servant/48/Oving, Buckinghamshire/Census
1911/Beatrice Spratt/Servant/22/Swindon, Wiltshire/Census

1938/Albert Geo Taylor Crane/../../../Post Office Directory

1944/George Hy Davies/../../../Post Office Directory



*** Provided By Tris