Search London wiki and Pub wiki history sites
All public house, restaurants, bars etc closed for the forseeable future from 20th March 2020, but this is a history site.
Willesden Junction Hotel, 47 Station road, Harlesden NW10
Willesden pub history index
The Junction Hotel in 1914; at 37 Station road in the 1891 census
A listing of historical public houses, Taverns, Inns, Beer Houses and Hotels in Middlesex. The Middlesex listing uses information from census, Trade Directories and History to add licensees, bar staff, Lodgers and Visitors.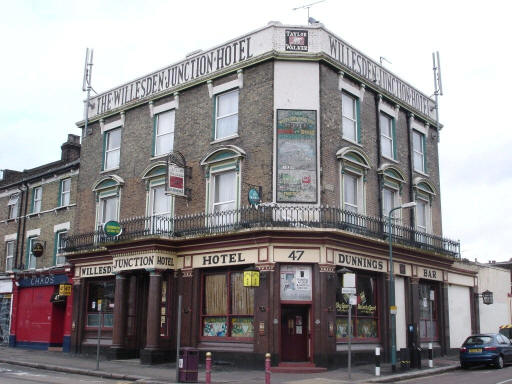 Willesden Junction Hotel, 47 Station Road, NW10 - in December 2006
Kindly provided by Stephen Harris
Some of the people who lived here :
1881/John Empson/Hotel Keeper/54/Bishops Thorpe, York/Census
1881/Rosa Empson/Wife/59/London, Middlesex/Census
1881/Alice Bullock/Barmaid/21/London, Middlesex/Census
1881/Julia Thompson/Barmaid/20/London, Middlesex/Census
1881/James Alexander/Barman/35/London, Middlesex/Census
1881/Alfred J Wilt/Waiter/17/London, Middlesex/Census
1881/Jane Schollar/Cook/38/London, Middlesex/Census
1881/Elizabeth Glasgow/Housemaid/22/Ayr, Scotland/Census
1881/Walter Richards/Housemaid/22/London, Middlesex/Census
1881/George Lasenby/Coachman/32/Richmond, Surrey/Census
1881/Lucy Lasenby/Coachmans Wife/28/Deptford, Surrey/Census

1884/Mrs Anderson/../../../Proceedings of the Old Bailey **
1884/William Price / Head Barman /../../Proceedings of the Old Bailey

1890/W J Curry/../../../Post Office Directory

1891/William J Curry/Hotel Keeper/59/Holborn, London/Census
1891/Emma M Curry/Wife/43/Greenwich, Kent/Census
1891/Florence E Curry/Daughter/33/Blackwall, London/Census
1891/Maggie Curry/Daughter/12/Blackwall, London/Census
1891/Elizabeth Allen/Barmaid/31/Stepney, London/Census
1891/Henry Onyett/Barman/24/Huntingdon/Census
1891/John J Clark/Barman/19/Stratford, Essex/Census
1891/William A Fox/Barman/20/London Fields, Hackney/Census
1891/Ernest Rutt/Potman/25/East Harling, Norfolk/Census
1891/Elizabeth Curtis/Cook/31/Waltham Abbey, Essex/Census
1891/Ada S Hunt/Kitchenmaid/18/Sheerness, Kent/Census
1891/Fanny Miles/Housemaid/28/Rochester, Kent/Census
1891/Annie M Fuller/Barmaid/24/Hackney, London/Census

1894/Henry George Curry/../../../Post Office Directory

1899/Henry Stephenson Homewood/../../../Post Office Directory

1901/William J Smith/Licensed Victualler/34/Colyton, Devon/Census
1901/Alice Smith/Wife/35/Colyton, Devon/Census
1901/Dorrist Smith/Daughter/11 months/Willesden, Middlesex/Census
1901/Edith Wills/Manageress/22/Marlborough, Wiltshire/Census
1901/Rachel Hunter/Barmaid/23/Ramsbury, Wiltshire/Census
1901/John Foster/Barman/28Eyrefield, Hertfordshire//Census
1901/James A Hembury/Barman/21/Islington, London/Census
1901/Henry Farnell/Barman/30/Peckham, London/Census
1901/Henry Lewis/Barman/24/Somerton, Somerset/Census
1901/Frank Prowse/Barman/20/Acton, Middlesex/Census
1901/Jane Hutchings/Housekeeper/65/Ringwood, Hampshire/Census
1901/Ada Slatter/Housemaid/24/Ivor, Buckinghamshire/Census
1901/Jeannie K Tunbridge/Kitchenmaid/30/Victoria, Australia/Census

1911/Arthur Lyne/Licensed Victualler/48/Pimlico, London/Census
1911/Lucie Lyne/Wife, Assistabt/49/Stratton, Gloucestershire/Census
1911/Winnifred Lyne/Daughter, Barmaid/20/Fulham, London/Census
1911/Alexander Kennedy/Head Barman/31/Strathgarry, Scotland/Census
1911/Jack De Costa/Barman/28/Bow, London/Census
1911/Percy Harrison/Barman/24/Smallheath, Birmingham/Census
1911/Henry Brudshaw/Barman/27/Ealing, London/Census
1911/Reginald Gourlay/Barman/19/Hounslow, London/Census
1911/Emily Spencer/Barmaid/28/Brackley, Northampton/Census
1911/Charlotte Leader/Barmaid/21/Peckham, London/Census
1911/Charlotte Lansdale/Barmaid/24/Peckham, London/Census
1911/Marie Gisin/Cook, Widow/44/Switzerland/Census
1911/Nellie Green/Housemaid/19/Aldershot, Hampshire/Census
1911/Hilda Lacy/Kitchenmaid/17/Harlesden, London/Census

1914/Chas Baron/../../../Middlesex Directory

1938/Peter Langan/../../../Post Office Directory

1944/Peter Langan/../../../Post Office Directory



** Provided By Stephen Harris