Kings Head, The Green, Winchmore Hill N21
The Kings Head & Railway Hotel in 1878. Listed in Palmers Green in 1926.
Winchmore Hill index
A listing of historical public houses, Taverns, Inns, Beer Houses and Hotels in Middlesex. The Middlesex listing uses information from census, Trade Directories and History to add licensees, bar staff, Lodgers and Visitors.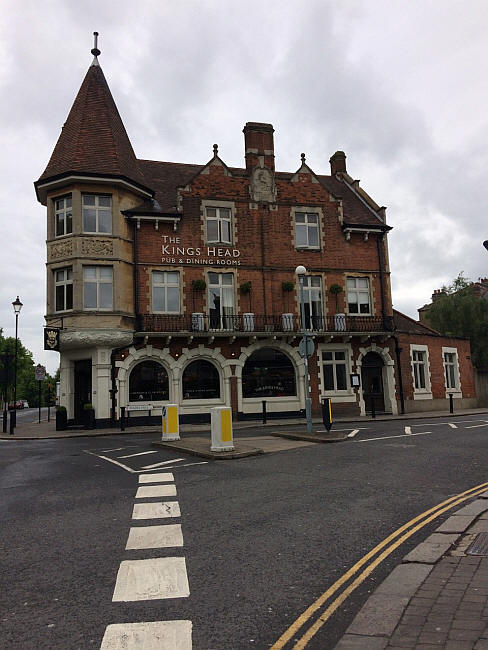 Kings Head, The Green, Winchmore Hill N21 - in March 2017
Kindly provided by Dolores Dilley
The following entries are in this format:
Residents at this address
1866/J Palmer/../../../Post Office Directory

1874/Job Palmer/../../../Post Office Directory

1878/Hugh Ballantyne/../../../Post Office Directory

1881/Hugh Ballantyne/Hotel Keeper/52/Lanark, Scotland/Census
1881/Alexandrina Ballantyne/Wife/42/Lanark, Scotland/Census
1881/James A Ballantyne/Son/16/Islington, Middlesex/Census
1881/Hugh L Ballantyne/Son/14/Islington, Middlesex/Census
1881/William L Ballantyne/Son/10/Islington, Middlesex/Census
1881/John M Ballantyne/Son/7/Islington, Middlesex/Census
1881/Emma Nelsons/General Servant/16/Stepney, Middlesex/Census

1890/Francis Butt/../../../Post Office Directory

1891/Charles R Robinson/Licensed Victualler/22/Stoke Newington, London/Census
1891/Laura C Robinson/Sister, Housekeeper/24/Stoke Newington, London/Census
1891/Lilian J Robinson/Sister, Visitor/20/Stoke Newington, London/Census
1891/George Day/Visitor, House Decorator/40/Marylebone, London/Census
1891/Mary A Scheaffer/Nurse/43/Spalding, Lincolnshire/Census

1894/Charles Robert Robinson/../../../Post Office Directory

1899/William Fred Terry/../../../Post Office Directory

1901/William F Terry/Licensed Victualler/39/Hackney, Middlesex/Census
1901/Margaret J Terry/Wife/41/Kingsland, Middlesex/Census
1901/Fanny Ann Terry/Mother, Widow/72/Whitehall, Middlesex/Census
1901/Alfred W R Terry/Son, Rating Clerk St Pancras/21/Penrith/Census
1901/Thomas H Terry/Son, Diamond Setter - Gold/19/Penrith/Census
1901/John Brown/Public House Manager/26/London, Middlesex/Census
1901/Arthur Mills/Groom/41/Southgate, Middlesex/Census
1901/Beatrice Meacham/Barmaid/21/Yarmouth, Norfolk/Census
1901/Nellie Alexander/Barmaid/23/Littlebourn, Kent/Census
1901/Rose Jennings/Cook/23/Kentish Town, Middlesex/Census

1914/Jas Cashin/../../../Post Office Directory

1926/Ernest G Pont/../../../Post Office Directory

1937/Walter K Booth/../../../Post Office Directory