Orange Tree, Highfield Row, Green Lanes, Winchmore Hill N21
Winchmore Hill index
A listing of historical public houses, Taverns, Inns, Beer Houses and Hotels in Middlesex. The Middlesex listing uses information from census, Trade Directories and History to add licensees, bar staff, Lodgers and Visitors.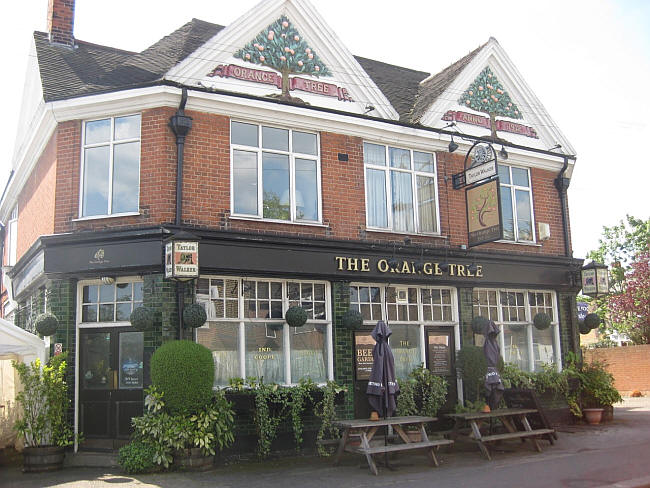 Orange Tree, Highfield Row, Green Lanes, Winchmore Hill N21
Kindly provided by Dolores Dilley
Year/Publican or other Resident/Relationship to Head and or Occupation/Age/Where Born/Source.
1866/F Matthews/../../../Post Office Directory

1871/Charles Davis/Inn Keeper/59/Southampton/Census
1871/Jane Davis/Wife/51/Winchester/Census
1871/George Cobb/Pot Boy/13/Middlesex/Census
1871/Henry Keen/Lodger, Builder/52/Broadway, Deptford/Census
1871/William Davis/Lodger, Carpenter/56/Broadway, Deptford/Census
1871/Henry Davis/Lodger, Plasterer/40/Broadway, Deptford/Census

1874/Charles Davis/../../../Post Office Directory

1878/Mrs Jane Davis/../../../Post Office Directory

1881/William Abbott/Licensed Victualler/28/Martlesham, Suffolk/Census
1881/Susannah Abbott/Wife/28/Edmonton, Middlesex/Census
1881/Florence Abbott/Daughter/1/Edmonton, Middlesex/Census
1881/Hannah Barratt/General Servant/13/Hatfield, Hertford/Census
1881/George Williams/Lodger, Ag Labourer/23/Hull, York/Census
1881/Charles Goy/Lodger, Bricklayers Labourer/18/Marylebone, Middlesex/Census

1890/William Abbott/../../../Post Office Directory

1891/William Abbott/Publican/38/Martlesham, Suffolk/Census
1891/Susannah Abbott/Wife/36/Edmonton, Middlesex/Census
1891/Florence Abbott/Daughter/11/Winchmore Hill, Middlesex/Census
1891/George Abbott/Son/9/Winchmore Hill, Middlesex/Census
1891/Gaby Siviselton/Lodger, Gardener/48/Grafton Street, Northampton/Census

1894/William Abbott/../../../Post Office Directory

1899/William Abbott/../../../Post Office Directory

1901/Susannah Abbott/Licensed Victualler, Widow/48/Edmonton, Middlesex/Census
1901/Florence S Abbott/Daughter, Assistant/21/Southgate, Middlesex/Census
1901/William G Abbott/Son, Assistant/19/Southgate, Middlesex/Census
1901/Leonard J Abbott/Son/8/Southgate, Middlesex/Census
1901/Jpseph Burrows/Boarder, General Labourer/22/Southgate, Middlesex/Census
1901/John E Smith/Boarder, General Labourer/27/Wainfleet, Lincolnshire/Census

1911/Susannah Abbott/Licensed Victualler, Widow/58/Edmonton, Middlesex/Census
1911/Florence Sarah Abbott/Daughter, Assistant/30/Southgate, Middlesex/Census
1911/William George Abbott/Son, Assistant/28/Southgate, Middlesex/Census
1911/Leonard John Abbott/Son, Greengrocer/18/Southgate, Middlesex/Census
1911/Joseph Burrows/Boarder, Cartage Contractor/31/Southgate, Middlesex/Census

1914/Mrs Susannah Abbott/../../../Post Office Directory

1926/Mrs Susannah Abbott/../../../Post Office Directory

1937/William Geo Abbott/../../../Post Office Directory