Queens Head, 41-43 Station road, Winchmore Hill N21 3AB
Winchmore Hill index
The arly address is at Middle lane, at Station road by 1911
A listing of historical public houses, Taverns, Inns, Beer Houses and Hotels in Middlesex. The Middlesex listing uses information from census, Trade Directories and History to add licensees, bar staff, Lodgers and Visitors.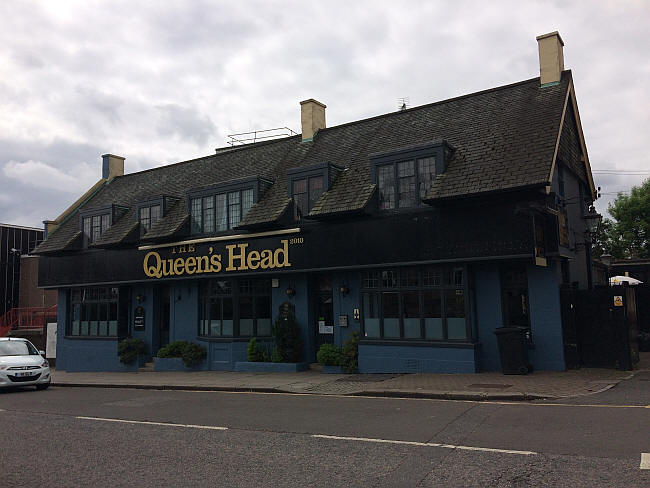 Queens Head, 41-43 Station road, Winchmore Hill N21 3AB
Kindly provided by Dolores Dilley
Year/Publican or other Resident/Relationship to Head and or Occupation/Age/Where Born/Source.
1871/John King/Beer Shop Keeper, widow/44/Gillingham, Dorset/Census
1871/Charlotte Gray/Sister, Housekeeper/44/Gillingham, Dorset/Census
1871/Joseph King/Son/14/Winchmore Hill, Middlesex/Census
1871/Janet Ann King/Daughter/11/Winchmore Hill, Middlesex//Census

1881/Christopher Richardson/Beer Retailer/28/Spalding, Lincoln/Census
1881/Jenny Richardson/Wife/28/Soho, Middlesex/Census
1881/Annie Leggott/Step-Daughter/9/Finchley, Middlesex/Census
1881/Alice Leggott/Step-Daughter/8/Finchley, Middlesex/Census
1881/Ada Leggott/Step-Daughter/7/Finchley, Middlesex/Census
1881/Frank Richardson/Son/3/Winchmore Hill, Middlesex/Census
1881/Harry Richardson/Son/2/Winchmore Hill, Middlesex/Census
1881/George Richardson/Son/9 months/Winchmore Hill, Middlesex/Census

1891/James Barnes/Beer House keeper/30/Cockfosters, Middlesex/Census
1891/Ellen Barnes/Wife/30/Dereham, Norfolk/Census
1891/Henry J Barnes/Son/3/Winchmore Hill, Middlesex/Census
1891/Edith E Barnes/Daughter/1/Winchmore Hill, Middlesex/Census
1891/Minnie A Wilds/Niece/18/New Southgate, Middlesex/Census

1901/James Barnes/Beer Retailer/40/Cockfosters, Middlesex/Census
1901/Ellen Barnes/Wife/40/East Darham, Norfolk/Census
1901/Henry Jas Barnes/Son/13/Winchmore Hill, Middlesex/Census
1901/Edith E Barnes/Daughter/11/Winchmore Hill, Middlesex/Census
1901/Winifred G Barnes/Daughter/8/Winchmore Hill, Middlesex/Census
1901/Bertie F Barnes/Son/4/Winchmore Hill, Middlesex/Census
1901/Doratha A Barnes/Daughter/1/Winchmore Hill, Middlesex/Census

1937/Henry James Barnes/../../../Post Office Directory