Nags Head, 203 High Road, Wood Green N22
Wood Green pub history index
At Theresa Terrace, Green Lanes in 1899.
A listing of historical public houses, Taverns, Inns, Beer Houses and Hotels in Middlesex. The Middlesex listing uses information from census, Trade Directories and History to add licensees, bar staff, Lodgers and Visitors.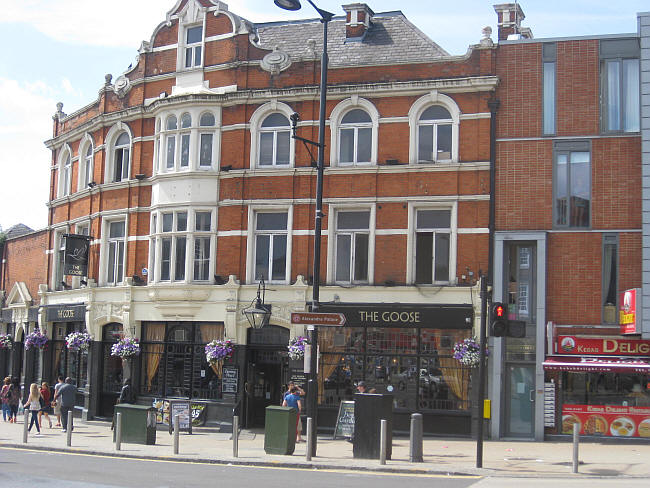 Nags Head, High Road, Wood green - in July 2013
Kindly provided by Dolores Dilley
The following entries are in this format:
Year/Publican or other Resident/Relationship to Head and or Occupation/Age/Where Born/Source.
1861/James Reynolds/Publican/31/Tottenham, Middlesex/Census
1861/Marianne Reynolds/Wife/38/Tottenham, Middlesex/Census
1861/Marianne Reynolds/Daughter/1/Tottenham, Middlesex/Census
1861/Eliza Tilly/Servant/16/Islington, Middlesex/Census

1866/C Proughton/../../../Post Office Directory

1871/Harry T Brunton/Licensed Victualler/41/Clerkenwell, Middlesex/Census
1871/Elizabeth Brunton/Wife/46/St Lukes, Middlesex/Census
1871/Westwood Flask/Father in Law, Retired Butcher/78/Bethnal Green, Middlesex/Census
1871/William Pitt/Barman/32/Pembridge, Cambridgeshire/Census

1874/Henry Thomas Brunton/../../../Post Office Directory

1878/Henry Thomas Brunton/../../../Post Office Directory

1881/Henry T Brunton/Licenced Victualler/51/Clerkenwell, Middlesex/Census
1881/Elizabeth Brunton/Wife/55/St Lukes, Middlesex/Census
1881/Ann Cooper/General Servant/16/Devizes, Wiltshire/Census

1890/Samuel William Acomb/../../../Post Office Directory

1891/Samuel W Acomb/Publican/29/Westminster, London/Census
1891/Elizabeth Acomb/Wife/29/Lowestoft, Suffolk/Census
1891/Samuel W Acomb/Son/7/New Southgate, Middlesex/Census
1891/Alfred Acomb/Son/7/New Southgate, Middlesex/Census
1891/Maggie Acomb/Daughter/4/New Southgate, Middlesex/Census
1891/Leonard Acomb/Son/1/Wood Green, Middlesex/Census
1891/Minnie S Balls/Sister in Law/32/Lowestoft, Suffolk/Census
1891/Annie R Tutt/Nurse/14/Dalston, Middlesex/Census
1891/Henry D Nash/Barman/23/New Cross, Surrey/Census
1891/Henry G Cale/Barman/23/Walworth/Census
1891/William H H Phillips/Barman/18/Notting Hill, Middlesex/Census

1894/William Henry Worton/../../../Post Office Directory

1899/Edwin Archer/../../../Post Office Directory

1902/Edwin Archer/../../../Kellys Directory

1911/Luke Brady/Licensed Victualler/33/Lurgan, Cavan, ireland/Census
1911/Joel Radford Sparke/Assistant/25/Stafford/Census
1911/Joseph Michael Watts/Assistant/27/Chelsea, London/Census
1911/George Charles Bligh/Assistant/20/Islington, London/Census
1911/Thomas Joseph Grimsby/Assistant/21/Whetstone, Middlesex/Census
1911/Eleanor Milborow Waters/Assistant/22/Poplar, London/Census
1911/Florence Milborow Waters/Assistant/20/Poplar, London/Census
1911/Lilly Edith Cloato/Housekeeper/36/Peckham, London/Census
1911/Lilly Cox/Servant/27/Horsham, Sussex/Census

1914/Luke Brady/../../../Post Office Directory

1926/Luke Brady/../../../Post Office Directory

1937/Luke Brady/../../../Post Office Directory