Racehorse, 17 West Street, Carshalton SM5 2PT
Carshalton pub history index
The name is given as the Running Horse in the 1871 census, but is the Racehorse by 1881. *
Directory of Pubs in the UK, historical public houses, Taverns, Inns, Beer Houses and Hotels in Surrey . The Surrey listing uses information from census, Trade Directories and History to add licensees, bar staff, Lodgers and Visitors.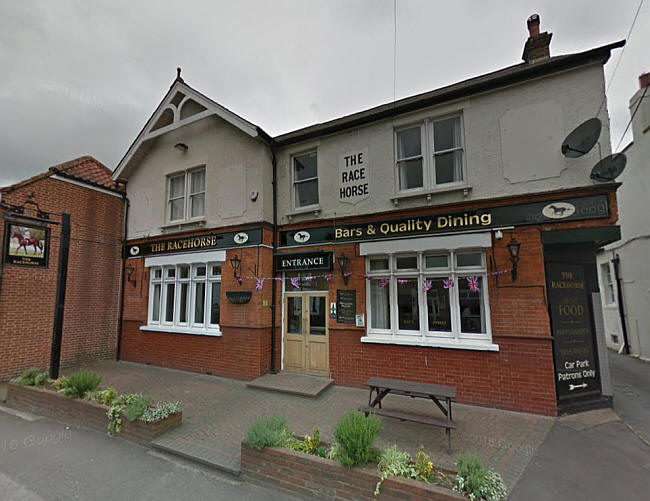 Racehorse, 17 West Street, Carshalton SM5 2PT
The following entries are in this format:
Year/Publican or other Resident/Relationship to Head and or Occupation/Age/Where Born/Source.
1851/Sarah Letchfield/Beer Retailer (Widow)/45/Wallington, Surrey/Census *
1851/Sarah Letchfield/Daughter/16/Carshalton, Surrey/Census
1851/William Holiday/Lodger (Widower)/70/Merstham, Surrey/Census

1861/William C. Shepherd/Beer Retailer/28/Carshalton, Surrey/Census *
1861/Sarah Shepherd/Wife/26/Carshalton, Surrey/Census
1861/Charles L. Shepherd/Son/4/Carshalton, Surrey/Census
1861/William H. Shepherd/Son/2/Carshalton, Surrey/Census
1861/Sidney A. Shepherd/Son/1/Carshalton, Surrey/Census
1861/Sarah Holliday/Mother-in-Law (Widow), Formerly Beer Retailer/57/Wallington, Surrey/Census

1867/William Shepherd/beer retailer/../../Post Office Directory *

1871/William Sheppard/Fly Master/42/Carshalton, Surrey/Census *
1871/Sarah Sheppard/Wife/35/Carshalton, Surrey/Census
1871/Charles L. Sheppard/Son, Assistant/15/Carshalton, Surrey/Census
1871/William H. Sheppard/Son/12/Carshalton, Surrey/Census
1871/Sidney A. Sheppard/Son/10/Carshalton, Surrey/Census
1871/Albert G. Sheppard/Son/9/Carshalton, Surrey/Census
1871/Mary Sheppard/Daughter/5/Carshalton, Surrey/Census
1871/James Sheppard/Son/1/Carshalton, Surrey/Census
1871/Sarah Holliday/Wife's Mother (Widow)/68/Wallington, Surrey/Census

1878/Edward Coleman/beer retailer/../../Post Office Directory *

1881/Auford Rowley/Beer Retailer/43/Morden, Surrey/Census ****
1881/Harriet Rowley/Wife/40/Atcham, Shropshire/Census
1881/Thomas A Rowley/Son/12/Carshalton, Surrey/Census
1881/Ellen E Rowley/Daughter/10/Carshalton, Surrey/Census
1881/William H Rowley/Son/8/Carshalton, Surrey/Census
1881/Frederick J Rowley/Son/6/Carshalton, Surrey/Census
1881/George Rowley/Son/3/Carshalton, Surrey/Census
1881/Edward A Rowley/Son/4 months/Carshalton, Surrey/Census

1891/Anford Rowley/Hairdresser & Beer Retailer/52/Morden, Surrey/Census *
1891/Harriett Rowley/Wife/49/Wroxeter, Shropshire/Census
1891/Ellen E. Rowley/Daughter/19/Carshalton, Surrey/Census
1891/William H. Rowley/Son, Porter's Apprentice/17/Carshalton, Surrey/Census
1891/Frederick J. Rowley/Son, Errand Boy/15/Carshalton, Surrey/Census
1891/George Rowley/Son, Errand Boy/13/Carshalton, Surrey/Census
1891/Edward A. Rowley/Son/10/Carshalton, Surrey/Census
1891/Charles Rowley/Son/8/Carshalton, Surrey/Census

1896/Anford Rowley/beer retailer/../../Kelly's Directory *

1901/Charles J. Norman/Publican/42/Wilton, Wiltshire/Census *
1901/Fanny A.E. Norman/Wife/43/Clerkenwell/Census
1901/Arthur H. Norman/Son, Barman/19/Clerkenwell/Census
1901/Florence E. Norman/Daughter/9/Clerkenwell/Census
1901/William J. Norman/Son/8/Islington/Census
1901/Harold A. Norman/Son/5/Lewisham, Kent/Census

1902/William Beaumont/grocer & beer retailer/../../Kelly's Directory *

1911/Mrs Elizabeth S. Nash/beer retailer/../../Kelly's Directory *

1913/Edmund Barker/Beer Retailer/../../Kellys Directory ****

1918/John Bartlett/Beer Retailer/../../Kellys Directory ****

1937/John Cottier Robinson/../../../Kellys Directory ****



* Provided By Ewan

**** Provided By Kevan