Catherine Wheel Hotel, 85 High Street, Egham, Surrey
Egham Pubs history index
This pub was present by 1668 and is now demolished. **
Directory of Pubs in the UK, historical public houses, Taverns, Inns, Beer Houses and Hotels in Surrey . The Surrey listing uses information from census, Trade Directories and History to add licensees, bar staff, Lodgers and Visitors.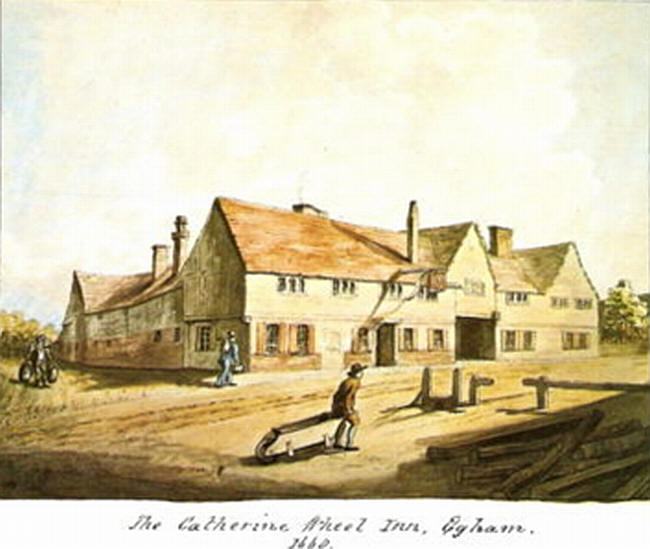 The Catherine Wheel, Egham, Surrey - 1660
Kindly provided by Colleen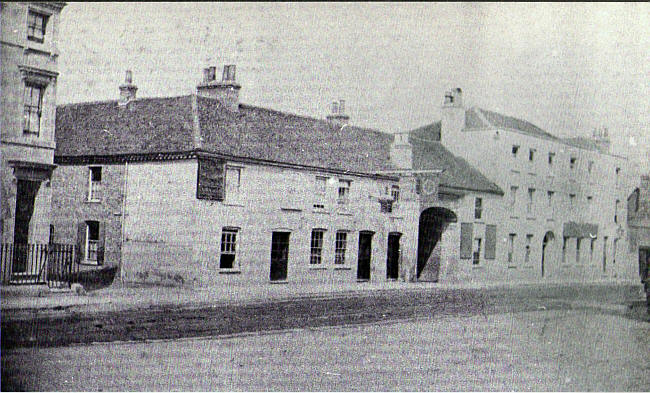 The Catherine Wheel, High street, Egham, Surrey - 1895
The stucco-faced early Georgian (pre-1750) inn replaced an earlier inn of the same name which had been listed in a 17th Century Parliamentary Survey as one of the principal inns of Egham. In 1828 there were 19 horse-drawn coaches every day that stopped at the Catherine Wheel so that travellers could take refreshments while the horses' needs were seen to through the archway to the right. This building was demolished in 1898 and replaced with a grand Victorian building.
Kindly provided by Bob Inman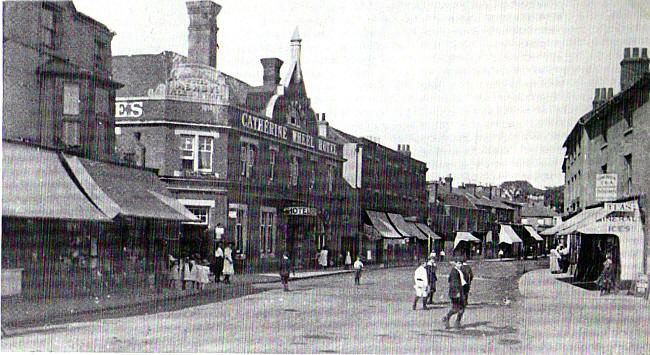 The Catherine Wheel, High street, Egham, Surrey - 1910
The replacement Victorian hostelry was built in 1898 and the stables behind were no longer required. The pub proudly proclaims its products: "Ashby's Ales & Stout" on the corner façade. This wonderful building was demolished in the mid-1990s to be replaced with a faceless office block, despite the pub being listed!!
Kindly provided by Bob Inman
Residents at this address
1820/Mr Cooper / Public House Keeper/../../Proceedings of the Old Bailey **
1820/James Hughes / Servant/../../Proceedings of the Old Bailey

1822/Robert Cooper/Catherine Wheel/../../Petty Sessions

1825/William Tapp/Catherine Wheel/../../Petty Sessions

1839/Thomas Lambert/../../../Pigots Directory

1855/William Pike/Catherine Wheel/../../Post Office Directory **

1878/John James Boddy / & Carrying Agent/../../Post Office Directory of Surrey **

1881/Thomas Armstrong/Hotel Keeper/47/Bristol/Census
1881/Sarah Armstrong/Wife, Hotel Keeper/40/Huntingdon/Census
1881/Janette Armstrong/Daughter/13/Newark, Nottingham/Census
1881/Kate Armstrong/Daughter/12/Lincoln/Census
1881/Minnie Armstrong/Daughter/10/Lincoln/Census
1881/Tom Armstrong/Son/9/Lincoln/Census
1881/Frank Armstrong/Son/7/Market Harbro/Census
1881/William Armstrong/Son/2/Egham, Surrey/Census
1881/Elizabeth Tuckwell/Nursemaid/20/London, Middlesex/Census
1881/Sophia Philips/Housemaid/21/Maltingley, Hampshire/Census
1881/Alice Martin/Kitchenmaid/24/Reading, Berkshire/Census
1881/Edward Clarke/Barman/17/Market Harbro/Census
1881/Alfred Holman/Potboy/15/Tottenham, Middlesex/Census
1881/George Sutherly/Lodger, Fundholder/37/Chesham, Buckingham/Census

1891/Frank Marsden / & Posting House/../../Kelly's Directory **

The February 1892 Petty sessions lists the Catherine Wheel, High street. George Phelps is the current licensee; Hotel accommodation, Good stabling, it is 150 yards from White Lion, alehouse

The 1903 Petty sessions lists the Catherine Wheel, High Street, Ambrose Phelps is the current licensee; it is 140 yards from Kings Head, 236 yards from White Lion, with 5 rooms and stabling for 8 horses

1911/Harry Loe/Licensed Victualler/37/Ryde, Hampshire/Census
1911/Laura Annie Maria Loe/Wife/26/Egham, Surrey/Census
1911/Gertrude Aneta Brooks/Servant/23/Argentine/Census
1911/Caroline Jane Waters/Servant/25/Handcross, Sussex/Census

1913/Harry Lee/../../../Kelly's Directory of Surrey **

1934/Harry Loe of 47 Station road Egham Surrey died 13 June 1934 at the Cottage Hospital Englefield Green Surrey Administration London 2 August to Florence Ada Jackson widow. Effects £216 10s 5d/Probate

1938/Mrs Florence Gates/../../../Kelly's Directory of Surrey **



* Provided By Bob Inman

** Provided By Stephen Harris