Wheatsheaf, 14 Mount Street, Guildford, Surrey
Guildford pub history index
The Wheatsheaf, in Mount Street, closed circa 1955, and became offices.
Directory of Pubs in the UK, historical public houses, Taverns, Inns, Beer Houses and Hotels in Surrey . The Surrey listing uses information from census, Trade Directories and History to add licensees, bar staff, Lodgers and Visitors.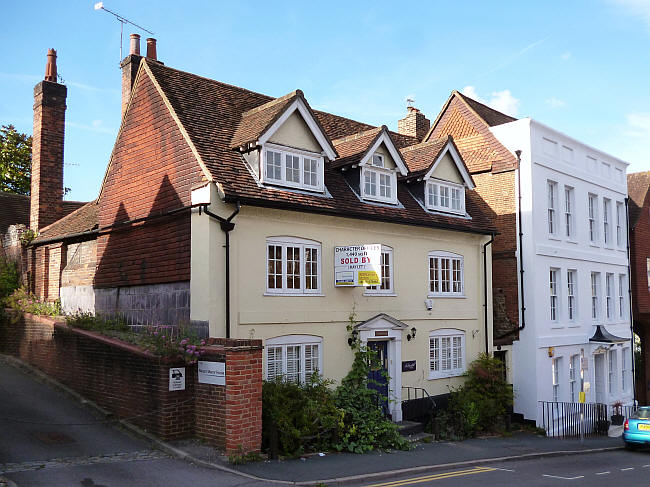 Wheatsheaf, 5 Mount Street, Guildford, Surrey
Kindly provided by David Fisher
Residents at this address.
1855/Thomas Richards, Wheatsheaf, Mount street/../../Kelly's Directory

1867/G Smith, Wheatsheaf, Mount street, Guildford/../../Kelly's Directory

1871/William A Durnford/Licensed Victualler & Plasterer/28/Lewisham, Kent/Census
1871/Frances A Durnford/Wife/28/Woolwich, Kent/Census
1871/Susanah A Durnford/Daughter/5/Woolwich, Kent/Census
1871/Ada A Durnford/Daughter/1/Woolwich, Kent/Census
1871/Rachel A Durnford/Daughter/2 months/Guildford, Surrey/Census
1871/Mary Andrews/Sister in Law, Assistant, widow/32/Woolwich, Kent/Census
1871/Mary S Andrews/Niece/9/London, Middlesex/Census
1871/Elizabeth Clark/Visitor, Dressmaker, Widow/47/London, Middlesex/Census
1871/Elizabeth Clark/Visitor/11/Brighton, Sussex/Census
1871/Jane MacReady/Visitor, Staymaker/36/London, Middlesex/Census
1871/Jane Wilkins/Servant/49/Midhurst, Surrey/Census
+ Lodgers

1878/Frederick Perkins/.. /../../Kelly's Directory

1881/William Greenfield/Inn keeper, Chelsea Pensioner/64/Horsham, Sussex/Census
1881/Eliza Greenfield/Wife/49/Rugdwick, Sussex/Census
1881/John Stanford/Nephew, Milk Boy/16/Horsham, Sussex/Census
1881/William Sandford/Boarder, Widow/48/Belfast, Ireland/Census
1881/William Ady/Lodger, Drover/28/Stoke, Surrey/Census
1881/William Allan/Lodger, Labourer/41/East Indies/Census
1881/John Parker/Lodger, Labourer/42/Brighton, Sussex/Census
1881/Eliza Parker/Lodger/37/Bisley, Surrey/Census
1881/Mary Parker/Daughter/16/Bagshot, Surrey/Census
1881/Rosa Parker/Daughter/2/Staines, Middlesex/Census
1881/William Harding/Lodger, Labourer/27/Bagshot, Surrey/Census

1913/John Mattia/../../../Kelly's Directory

1937/Joseph Martin/.. /../../Kelly's Directory