London & Paris Hotel, Railway Road, Newhaven
Built in the 1870s as part of the Railway Hotels at Termini. Claim to fame is that Charles Wells (the man who broke the bank at Monte Carlo) was chucked out due to the riotous parties he held. Requisitioned in WW2 and used as Port Offices and accommodation it received some bomb damage. After the war mainly used for offices and allowed to run down until finally demolished late 1960s **
Newhaven pub history index
Directory of Pubs in the UK, historical public houses, Taverns, Inns, Beer Houses and Hotels in Newhaven, Sussex . The Newhaven, Sussex listing uses information from census, Trade Directories and History to add licensees, bar staff, Lodgers and Visitors.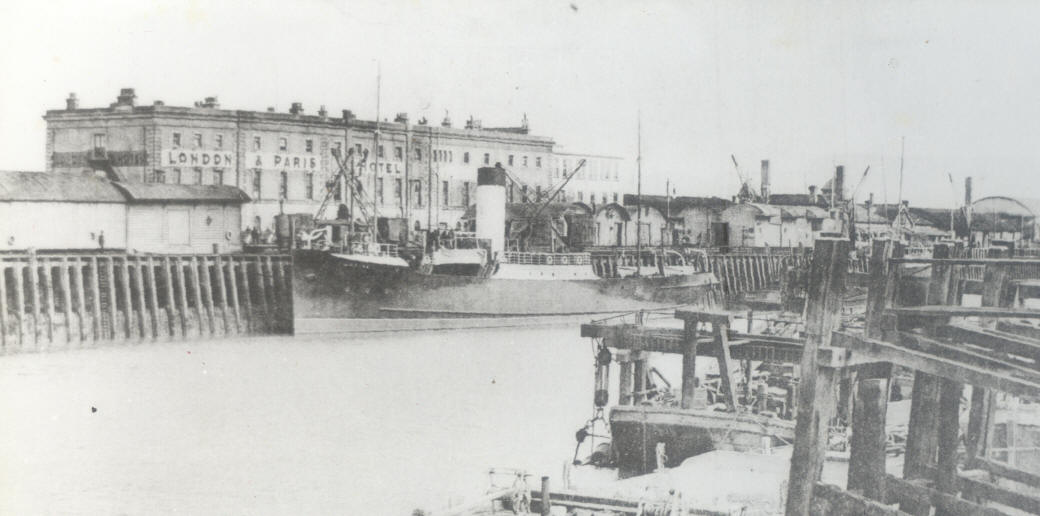 London & Paris Hotel, Railway Road, Newhaven - circa 1900
Kindly provided by Peter Mason
The following entries are in this format:
Year/Publican or other Resident/Relationship to Head and or Occupation/Age/Where Born/Source.
London & Paris Tap
1861/Charles Stone/Inn Keeper/69/Arundel, Sussex/Census ****
1861/Mary Stone/Wife/67/Arundel, Sussex/Census
1861/James Burfield/House Servant/13/Denton, Sussex/Census
1861/Emily Barnes/House Servant/18/Lewes, Sussex/Census

London & Paris Hotel
1861/Elizabeth Knight/Hotel Manager/52/Dover, Kent/Census ****
1861/Caroline Knight/Daughter/11/Newhaven, Sussex/Census
1861/Elizabeth S Hall/Barmaid/23/Dover, Kent/Census
1861/Adelaide F Hagnere/Sempstress/33/France/Census
1861/Alice Page/Chambermaid/34/Westham, Sussex/Census
1861/Elizabeth Standbridge/under hambermaid/21/Newhaven, Sussex/Census
1861/Mary A Waters/Housemaid/24/Newhaven, Sussex/Census
1861/Josephine Stallemand/Cook/39/Belguim/Census
1861/Maria Jarman/Kitchen maid/17/Mordan, Cambridgeshire/Census
1861/Peter Geering/Waiter/24/Crumpsall, Lancashire/Census
1861/Edward Hayward/Porter/19/Bishopstone, Sussex/Census
+ Lodgers

1891/Alfred J Lewis/Manager (Hotel), Widow/58/Hammersmith/Census ****
1891/Mary J Lewis/Sister/50/Hammersmith/Census
1891/Louisa Lewis/Daughter/30/Greenwich/Census
1891/Ethel F Lewis/Daughter/21/Greenwich/Census
1891/Annie Richie/Barmaid/27/Dublin/Census
1891/Francis Haryoll/Barmaid/24/Alfriston, Sussex/Census
1891/Anni Woods/Cook/21/East Grinstead, Sussex/Census
1891/George Hawkins/Visitor, Living on own means/58/Hitchin, Sussex/Census
1891/Ellen Miller/Scullery Maid/17/Fishersgate, Sussex/Census
1891/Sarah Balnrep/Chambermaid/19/Tunbridge Wells, Sussex/Census
1891/Annie Pring/Housemaid/16/Newhaven, Sussex/Census
1891/Henery Reeds/Porter/19/Littlehampton, Sussex/Census
1891/Joseph Lucas/Porter/17/Holland, Sussex/Census
1891/John Simmons/Barman/30/Newhaven, Sussex/Census
1891/Alice Simmons/Servant/29/Brighton, Sussex/Census
1891/Emily Simmons/../2/Newhaven, Sussex/Census
1891/John F Simmons///Newhaven, Sussex/Census
1891/Alice Wender/Stillroom Maid/28/Newhaven, Sussex/Census
1891/Bruno Tylorb/Waiter/17/Plessor, Saxony/Census
1891/Nellie Kennard/General Servant/14/Seaford, Sussex/Census

1901/Frederick Groom/Hotel Manager/54/Islington, London/Census ****
1901/Margaret Groom/Wife/32/Lambeth, London/Census
1901/Florence Harris/Barmaid/24/Chippenham, Wilts/Census
1901/Margaret M Scanlon/Barmaid/23/Aberfeals, Ireland/Census
1901/Gladys J Williams/Barmaid/21/Moriston, Glamorgan/Census
1901/Eugenie Baldy/Barmaid/23/Geneva/Census
1901/Gertrude Stewart/Barmaid/21/Brighton, Sussex/Census
1901/Kate Davis/Barmaid/24/Burbage, Wilts/Census
1901/Rebecca M Hancock/Chambermaid/23/Brixton, Surrey/Census
1901/Hannah R Short/Chambermaid/18/Brighton, Sussex/Census
1901/Louisa Street/Cook/32/Whitechapel, London/Census
1901/Rose A Tuckworth/Kitchenmaid/16/Newhaven, Sussex/Census
1901/Annie E Stapleton/Pantry Maid/42/Brighton, Sussex/Census
1901/Fritz Reichman/Waiter/23//Census
1901/Percival H White/Boots/25/Lewes, Sussex/Census
1901/Hubert Morris/Boots/19/Newhaven, Sussex/Census
1901/Mary Lewis/Visitor/63/Hammersmith, Middlesex/Census
1901/Fanny Lewis/Visitor/61/Hammersmith, Middlesex/Census
1901/George B Robbins/Visitor, Lieut Col Army/41/Weston Super mare, Somerset/Census
1901/Francois Lopes/Visitor, Doctor of Medicine/30/Nantes (French)/Census
1901/Kate Markwick/Visitor/24/Pimlico, London/Census
1901/James Baldwin/Visitor, Baker/30/Luxembourg/Census
1901/William Edwards/Visitor, Railway Guard/43/Leatherhead, Surrey/Census

1905/Andrew W Paterson/Manager/../../Post Office Directory ****

1938/Mrs A E Kimberley/proprietoress/../../Post Office Directory ****



** Provided By Peter Mason

**** Provided By Kevan