Pub history and pub wiki
Vale Hotel, High street, Cricklade, Wiltshire
For all entries of 1895 and earlier, this is the White Horse Hotel.
Cricklade pub history index
Directory of Pubs in the UK, historical public houses, Taverns, Inns, Beer Houses and Hotels in Wiltshire. The Wiltshire listing uses information from census, Trade Directories and History to add licensees, bar staff, Lodgers and Visitors.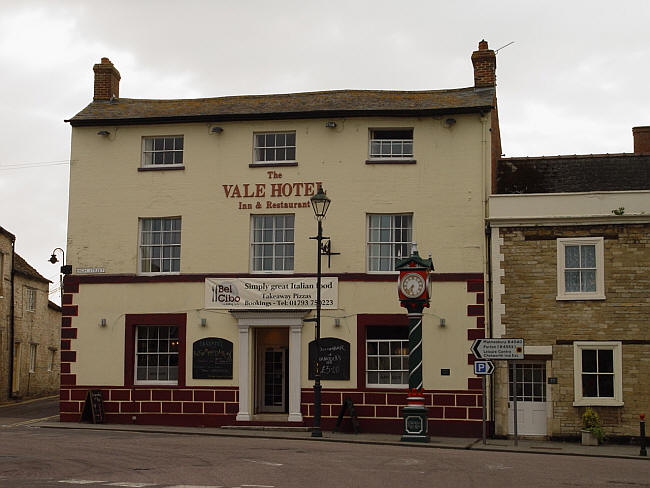 Vale Hotel, High street, Cricklade - in June 2013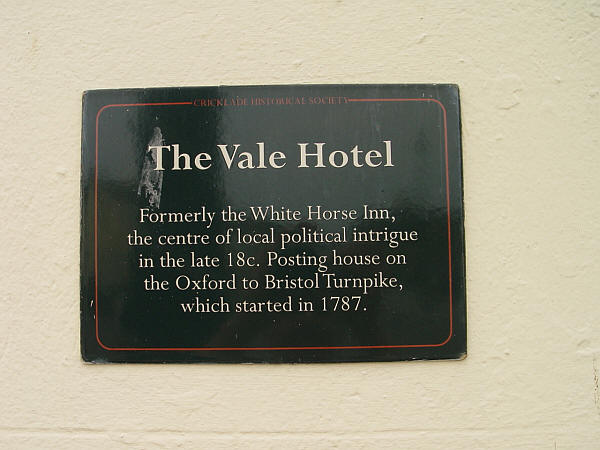 Vale Hotel plaque, High street, Cricklade - in June 2013
Formerly the White Horse Inn, the centre of local political intrigue in the late 18 c. Posting house on the Oxford to Bristol Turnpike, which started in 1787.
Kindly provided by Paul Best
The following entries are in this format:
Year/Publican or other Resident/Relationship to Head and or Occupation/Age/Where Born/Source.
White Horse Hotel, High street :

1855/Edwin Lansdown/White Horse, High street/../../Post Office Directory ****

1859/Edwin Lansdown/White Horse, High street/../../Post Office Directory ****

1867/Edwin Lansdown/White Horse commercial inn & posting house, High street/../../Kellys Directory ****

1871/Edwin Lansdown/Inn Keeper/43/Cricklade, Wiltshire/Census ****
1871/Amy Lansdown/Wife/43/Down Ampney, Gloucestershire/Census
1871/Edwin Lansdown/Son/19/Cricklade, Wiltshire/Census
1871/Priscilla Norton/Domestic Servant/19/Diddington, Gloucestershire/Census

1875/Frank Laing/White Horse Inn, High street/../../Post Office Directory ****

1891/George Griffin/Hotel Keeper/45/Pucklechurch, Gloucestershire/Census ****
1891/Sarah Griffin/Wife/47/Whitchurch, Dorset/Census
1891/Everard Griffin/Son, Assistant/21/Badminton, Gloucestershire/Census
1891/Georgie Griffin/Daughter, Assistant/19/Corsham, Wiltshire/Census
1891/Albert Griffin/Son, Assistant/18/Corsham, Wiltshire/Census
1891/Hilda Griffin/Daughter/11/Corsham, Wiltshire/Census
1891/Sarah Griffin/Daughter/9/Corsham, Wiltshire/Census
1891/Una Griffin/Daughter/7/Corsham, Wiltshire/Census

1895/Geo Griffin/White Horse family & commercial hotel, High street/../../Kellys Directory ****

Vale Hotel, High street :

1903/Frank Lawrence Stephens/Vale Hotel, High street/../../Kellys Directory ****

1907/Arthur Sadler/Vale Hotel, High street/../../Kellys Directory ****

1911/Arthur J Sadler/Hotel Proprietor/39/Cricklade, Wiltshire/Census ****
1911/Gracie E Sadler/Wife/36/Torrington, Devon/Census
1911/W Brewer/Barmaid/29/Swindon, Wiltshire/Census
1911/E Broadwell/General Servant/20/Tewkesbury, Gloucestershire/Census

1915/Alfred Edwards/Vale Hotel, High street/../../Kellys Directory ****

1920/Alfred Edwards/Vale Hotel, High street/../../Kellys Directory ****

1927/Alfred Edwards/Vale Hotel, High street/../../Kellys Directory ****

1939/J C Bottomley/../../../Kellys Directory ****



**** Provided By Kevan
Search for a pub, an address or person
And Last updated on: Wednesday, 03-Jul-2019 20:07:50 BST