Researching the history of a pub.
The pub history and wiki site covers all of Essex, London, Kent, Hertfordshire, Cambridgeshire, Middlesex, Suffolk, Berkshire, Buckinghamshire, Sussex, Oxfordshire, Gloucestershire, Hampshire. Wiltshire, Cornwall, Devon, Somerset and parts of Lincoln and Leicester.
My first article touched on modern day pub history. Most of my records stop around 1944. The later trade directories for many areas are invaluable in naming a pub, particularly the beer houses. Many of these early beer houses were actually businesses, such as a blacksmiths, and for many, the revenue from selling beer was in addition to their normal trade revenues.
In more modern times, many of these beer houses became the modern pub as we know it today, with a far wider range of drinks; others closed or remained as an off-licence. The problems researchers often have is that beer houses are rarely named, but they do have a sign outside the door advertising that they are available for a drink. I also rely heavily on the 1911 census summaries for any area, which often name these beer houses, but not always.
The level of detail is down to an individual enumerator, but this rule is fairly standard, check 1891 and 1911 census if you are looking for a named premises.
Trade Directories
As mentioned previously, some of the later trade directories, e.g. from about 1937, are also very useful sources, as they start for the first time ever to name these beer houses as pubs. Remember that these directories are rarely accurate as far as date in concerned, and often a year or more out of date.
There are numerous creators of the Trade Directories (Post Office, Kellys, Holdens, Brabner, Pigots etc).
Researching a Person
I spend quite a lot of time researching a specific individual. If I am searching for a specific name, or just working through a census for a specific area, there is often some lack of clarity as to where a person lives, or I may also be looking for a specific birth or marriage.
Sometimes, the free sites are far better at providing this detail. If I am looking for a marriage or birth, the freebmd site far surpasses any other sites that exist. It is superb, and vastly superior than trying to find the detail on a paid site such as ancestry.
If in a census, you are unclear about the place of birth, the Genuki sites are amazing. I regularly type genuki + county name into google, to list the names of towns and parishes in a particular area. Genuki is brilliant for this, and this is a regular activity. The GENUKI sites are quite difficult to find items, use my tip above, as they are brilliant sources of information.
Petty Sessions Victuallers records.

Many of the record offices hold the victuallers records from the petty sessions for their specific local area. The petty sessions are the court records which each usually cover about a ten year period in a hand-written bound volume, and name the licensee or beer retailer, plus the actual name of an establishment. The downside to these court records are the fact you need to visit a record office to view them, as they are rarely online, and this presumes they actually still exist. I have seen the original records in both the Essex Record Office, and the LMA (London Metropolitan Archive) - they are amazing and factual records of dates of licensing, details of minor misdemeanours, and also give a name to the beer retailers premises.
Additional excellent sites worth searching.
Many publicans became bankrupt. I am sure you will find many cases in question where a publican either 'tries' the pub trade for a year or two, or in other instances just makes too larger an investment and ends up bankrupt, and there are obviously those whom are on the darker side of publican life, i.e the crooks. There is an excellent site which lists the bankrupts in society, and these are listed in the London Gazette. The London Gazette also lists a whole lot more interesting detail, particularly relating to military records.
Another good place to look for pub names and publicans etc is obviously at the Old Bailey online.. I say this is is obviously a good place to search, as many crimes were perpetrated in and around the London pubs, and I am not denigrating the publicans themselves! I am sure there was the odd dodgy publican, but this is London history.
There are an amazing number of sites which now list all of the modern pubs. Many are good, others are just 'scraper sites' which copy information from the better resources. Amongst the best sites are mine, Ewans pubology site, beer in the evening, and the Lost pubs project. Let me know if I am missing any good sites.
Another great site is the access to archives which allows you to search anything, but is particularly well tuned for early pubs and the fire insurance records.
Local forums and chat sites
There are an amazing number of blogs, chat sites, forums which relate to an area or areas. One of my favourite sites is rootschat.com ; it covers every county in the UK.
Date of a building.
It is often able to note the date of a building from the stonework, i.e. there is often a year emblazoned into the upper stonework of a building. I have seen many examples of this. The year is not guaranteed until comparing with a picture of the building some years previously. I state this, as I am aware that many of the breweries are quite clever in 're-designing' an old building. There are many cases currently where a pub is described as being probably from the middle ages (for example), when it may just be an original building from that time, and has only been a pub for the last few years. Do not trust the age of an 'alleged historic' pub until you have found it listed in my mainly Victorian list of pubs and beer retailers as actually operational. I believe I now have enough listed evidence of all the pubs in operation between at least 1856 and 1944 on the pubshistory site. More detail is added every day.
Wills & document sales.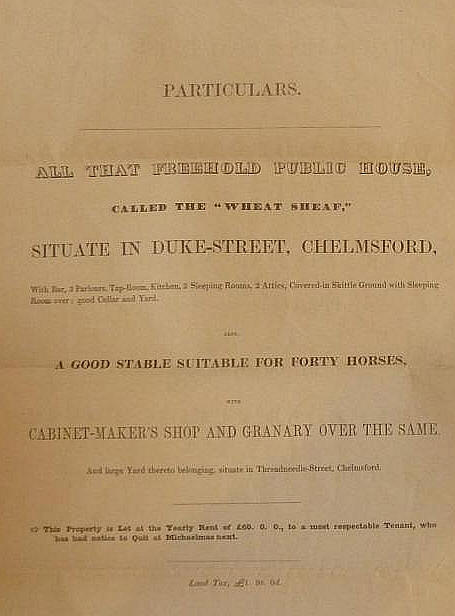 Sale of the freehold of the Wheatsheaf, Duke Street, Chelmsford - in July 1849
Kindly provided by Colleen
A great source for any research is if you can find a relevant will for a person, "I leave my estate to my wife, and sons, daughters etc...". The other official documents are the sale of items, either the relevant building, or its contents.
Again, there are a number of wills available, and Ancestry appears to be quite good at listing these, but this is part of their premium service, i.e. it costs more than the basic service that they offer.