Dartmouth Arms, 162 Bidder Street, Canning Town E16
It was first built in around 1867 and remains open *** It was rebuilt in 1939.
A listing of historical public houses, Taverns, Inns, Beer Houses and Hotels in Essex. The Essex listing uses information from census, Trade Directories and History to add licensees, bar staff, Lodgers and Visitors.
Canning Town index
Also see the History of Canning Town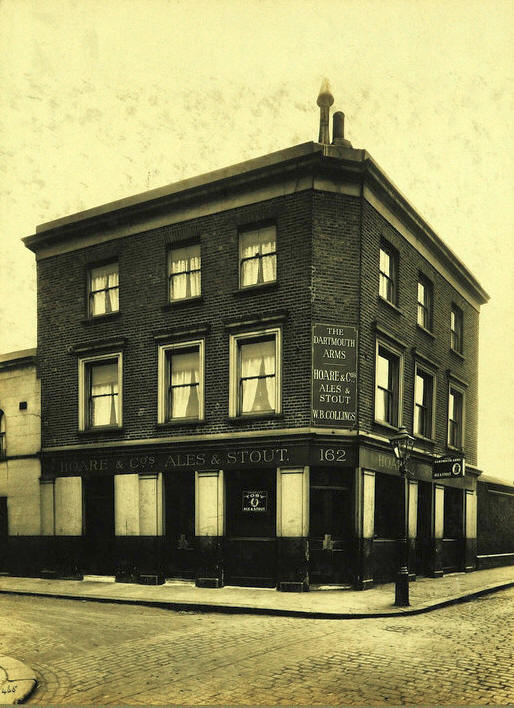 Dartmouth Arms, 162 Bidder Street, Canning Town E16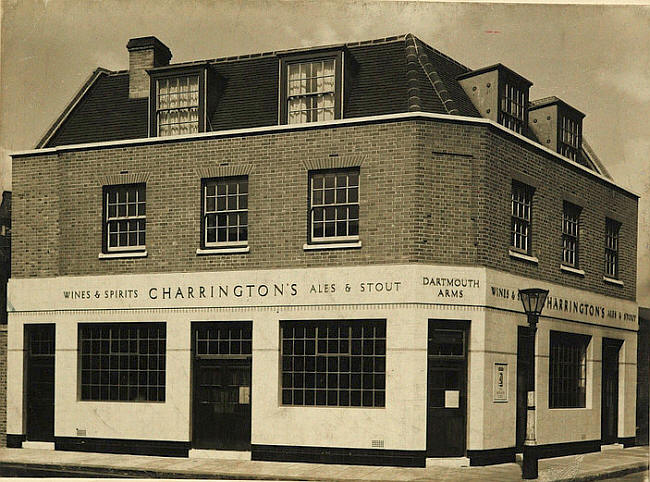 Dartmouth Arms, 162 Bidder Street, Canning Town E16 - rebuilt 1939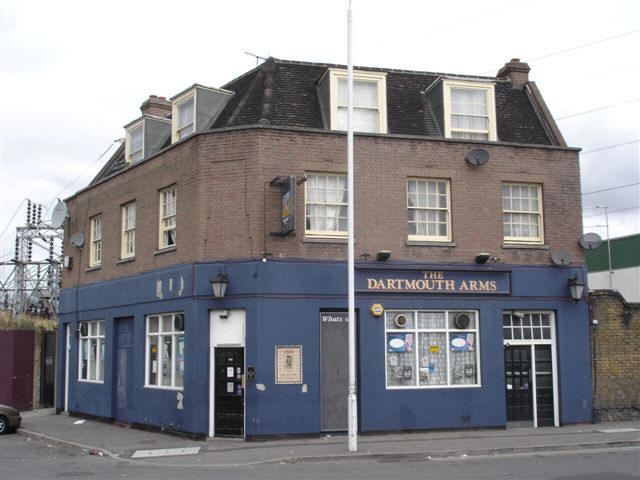 Dartmouth Arms, 162 Bidder Street, E16 - in September 2007
Kindly provided by Stephen Harris
Residents at this address
1870/George Heritage/../../../Kelly's Directory

1871/George Heritage/../../../Post Office Directory

1871/George F Maynard/Manager of Dartmouth Arms/29/Maldon, Essex/Census
1871/Clarissa/Wife, Assistant/30/Hardingham, Norfolk/Census

1872/Reuben Woodes/../../../Kelly's Directory

Charles Adams is previously at the Britannia, Canning Town and dies here in 1877; whilst sons Charles & Frank are both barmen, at the Cock, 45 Whitechapel High Street in 1881 *
1874/Charles Adams/../../../Kelly's Directory

1878/Mrs. Anna Maria Caroline Adams/../../../Kelly's Directory

1881/Frederick Southgate/Licensed Victualler/30/Lower Kirby, Essex/Census
1881/Mary Southgate/Wife/23/South Hackney, Middlesex/Census
1881/Frederic Southgate/Son/10m/Canning Town, Essex/Census
1881/Walter Southgate/Brother, Visitor/23/Lower Kirby, Essex/Census
1881/Clara Genge/Friend, Visitor/15/Mile End/Census
1881/Susannah Ridgeway/Domestic Servant/20/Canning Town, Essex/Census
1881/Elizabeth Southgate/Mother, Visitor/55/Lower Kirby, Essex/Census

1882/Frederick James Southgate/../../../Kelly's Directory

1886/Frederick James Southgate/../../../Kelly's Directory

1896/Frederick James Southgate/../../../Post Office Directory

1902/George W Deveson/../../../Kelly's Directory

1908/William Young/../../../Kelly's Directory

1912/William Young/../../../Kelly's Directory

1914/William Barnaby Collings/../../../Kelly's Directory

1917/William Barnaby Collings/../../../Kelly's Directory

1925/William Barnaby Collings/../../../Kelly's Directory

1934 - 1942/Mrs Collings/../../../Freehold

1934/Mrs Lucy A Collings/../../../Kelly's Directory

1943 - 1948/G Chown/../../../Freehold

1949 - 1955/W H Wiltshire/../../../Freehold

1957/R Wiltshire/../../../Freehold

1958 - 1959/D E Halliday/../../../Freehold

1960 - 1961/E Y Thomson/../../../Freehold

1962 - 1965/L W Spence/../../../Freehold

October 1965/J J McClesky/../../../Freehold

October 1966/E E Smith/../../../Freehold



** Provided by Stephen Harris